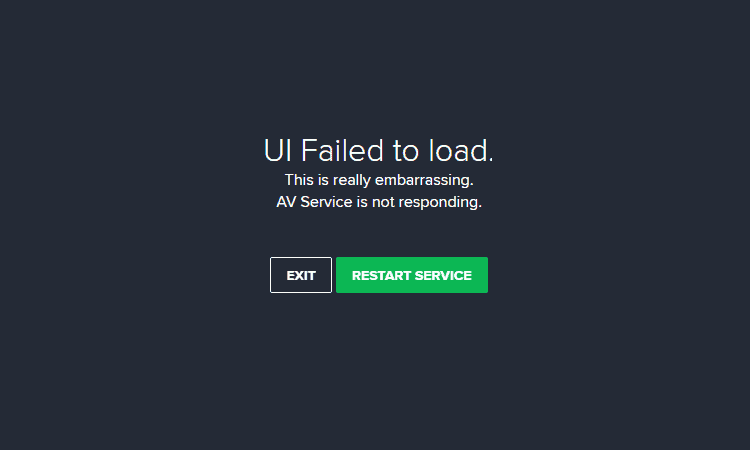 Did you just encountered Avast UI failed to load error on your Windows 10? Avast offers its free version of antivirus software which may not be robust antivirus software but does provides decent protection without shelling out single penny. Unfortunately, being free solution, the support isn't great and you are on your own if you ever come across errors like failed to load ui or a service is not responding. The error is also know to affect avast pro users as well
What is Avast UI?
Avast 's valid AvastUI.exe file is an Avast Free Antivirus software module. Here, UI stands for User Interface. Avast Free Antivirus is an open-source that offers information security protection against viruses, trojans, spyware and malware. AvastUI.exe begins the Avast Free Antivirus user experience. This is not a significant Windows system and can be deactivated if complications are produced. Avast Free Antivirus is a free security software for charity and home use only. The software provides antivirus system including a Home Network Security Scanner, DeepScreen, antiphishing, ransomware, automatic updates, HTTPS testing and much more. It is available on Microsoft platforms including Windows, Mac OS and Ios.
Avast Software is a Czech company that provides software products for Internet security. Pavel Baudiš and Eduard Ku?era formed the firm in 1988 as ALWIL Software after they dealt with the Viennese virus. Avast Antivirus is one of the most common and highly regarded cybersecurity programs in the industry. Avast Platform is located in Prague, Czech Republic.
Why does the error 'failed to load' occurs?
Some of the most common causes of this error are-
Remote access services that do not run on a computer can occur. Such remote access software provides a customer with a virtual network to control another device. It happens that Avast uses this program and, if there is any problem, it ceases running.
Application of Avast can be tainted. · There are also examples of files being lost or incomplete.
Avast tech interferes with third-party services.
How to Fix Avast UI Failed to Load
If you are using Avast UI, and this problem occurs, look no further. There are a few ways that you can resolve this issue on your own. The easiest and least complicated step is to follow the given instructions-
Method 1- Uninstall Avast
Since the software has failed to load on your device, the most convenient way is to simply uninstall it and try again. In order to do so, just go by the following guidelines-
Firstly, you will need to open the Control Panel on your computer. To do that, first, click the start button on your screen. It is the one with the windows logo on it as you can see from the given image.

2. Then you will need to open the settings options that you see once you click on the above button. The settings option will take you to the further procedure required for the task.
3. Once you open the settings page, you will see the following image on your screen. What you need to do is navigate to the search bar and type in 'control panel' as you can see in the given image.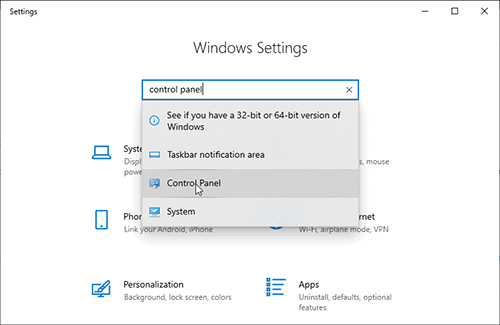 3. Click on it to open the control panel. Now, you will see the following options on your screen as given below. You will now be required to click on the fourth option that you see on your screen. That is, you need to open 'Programs'.
4. On opening this, you will now see a list of programmes and applications that are present on your device. Click on the Avast app option.
5. Upon clicking this, you will see the above options on your screen. You will now need to click on 'uninstall'.
6. After this step, you will have successfully uninstalled the application from your device. Once you have uninstalled it, you are ready to install it again. In order to do so, you can visit their original website to reinstall the application. This is done in order to avoid any further complications.  You can use this link in order to do so- https://www.avast.com/en-in/index#pc.
7. Download and complete the Avast free antivirus installation.
Method 2 – Repair Option
This method is similar to the first method you tried. Follow the same process as followed before. But do not continue with the uninstallation process. Now, unlike the previous method, you will not uninstall the software. Instead, you will click the repair button on the far left side that you see in the screenshot seen above. Now all you need to do is wait for the app to continue with the repair. The repair will happen automatically on your device once you have completed the above steps.  All you need to do now is be patient until the required changes have been made. Finally, the newest version of the app will be ready for you to install!