Voice changing software & apps are becoming more useful in present-day conditions. Whether your goal is to prank your mates or to disguise your voice during online gaming, Voice Changers come handy in all of these situations. And, with more and more games, including audio chat among players, Voice Changing software & Apps are also recording high download figures.
There are hundreds of voice changers available in the app stores. If you have minimal knowledge of these matters, you might get overwhelmed with the available options. That's why we have come to your rescue by making a list of the best available software and apps for both your PC and Mobile devices. But first, let me give a usage list for voice changer software.
Why do You Need a Voice Changer?
There are various applications available for changing your voice. The list of things you can do with them as follows,
The main benefit of a Voice Changer is voice masking. If you want to mask your voice over phone calls, a voice changer is what you need.
Some voice changers offer celebrity voices as options. So you can use those to prank your buddies or to make funny videos by dressing up as the said celebrity and making a stand-up performance in the celebrity voice.
Sometimes voice changers are used for witness protection during interviews.
Some voice changers like the famous Talking Tom app repeats your words but in a humorous way.
These are the prime use of a Voice Changer. Without further ado, let's know about the best voice changing software for your PC, Android, iOS, and Discord.
Note: Alongside this, if you want to know about best audio enhancer/equalizer software, click here.
Best Voice Changing software for Your PC
Here are 3 best voice changing software you can use on your PC.
1. Clownfish Voice Changer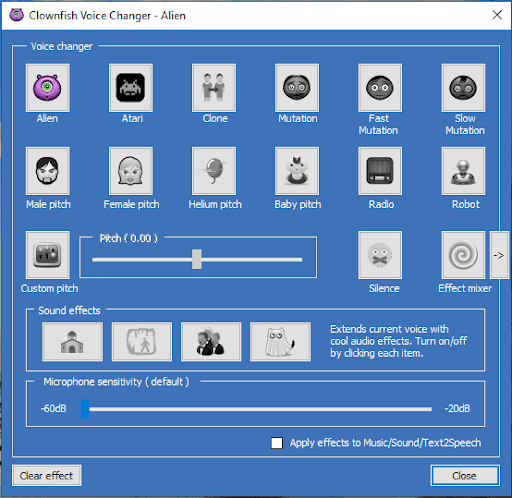 Clownfish Voice Changer is dubbed as one of the best voice changers that you can avail for free of cost. Once you download it from the official site, it gets installed on the system level. This means, all the programs that use the microphone will get a deferred voice.
Top Features
It has 12 different sound effects including some interesting ones like Robot, Helium Pitch
You can create your custom pitch and even add some mixture effects into it
It comes with four unique sound effects
You can adjust the microphone sensitivity as per your requirement
Supported Platforms:  Clownfish Voice Changer is suitable with any 32 or 64 bit Windows 7 or higher OS
Cost Factor" It is a Free of Cost Software
How to Download?
Follow this link – https://clownfish-translator.com/voicechanger/
2. Voxal Voice Changing Software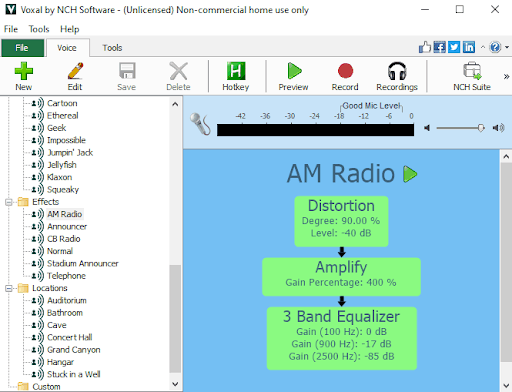 Voxal Voice Changing Software is a powerful real-time voice-altering tool which is loved by many users. It not only disguises your voice but adds an extra dimension of creativity with the voice output. It has a wide range of vocal effects library that contains multiple added sound effects.
Top Features
It has almost 50 different sound effects stacked under 6 subdivision i.e., People, Fantasy, Sci-fi, Strange & Silly, Special Effects, & Location
You can record audios with this app
Microphone level is also adjustable for better sound output
With the help of this app, you can add background noise along with voice makeover
Supported Platforms: Windows XP, 7, Vista, 8, 8.1, 10
Cost Factor: The normal version is free of cost. But, the Pro version charges $16.97 annually
How to Download? Follow this link – https://www.nchsoftware.com/voicechanger/index.html
3. Voicemod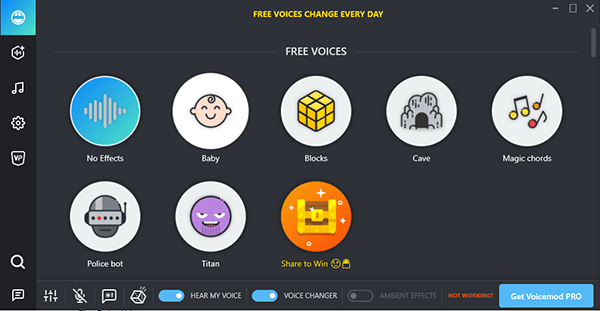 This is another great Voice Changing software that we can safely recommend to you. The Pro version of this Software has an unlimited number of different voice mods. Voicemod is also capable of changing audio in many popular games like Fortnite, Minecraft, & PUBG
Top Features
Voicemod not only modify voices during Skype or other PC software, but it can also work properly with Discord
It has six free voices along with additional 70 or odd extra unique voices, which can be unlocked by paying extra.
It has an in-built Meme Sound Maker, which can transform any sound into funny sounds.
An app variant is also available in Apple's App Store.
Supported Platforms: 64 bit Windows 7,8,8.1, 10, & iPhones.
Cost Factor: While the base variant is free for all, the Pro variant requires billing. The basic package costs $9.95 for three months
How to Download? Click on this link – https://www.voicemod.net/
Best Voice Changing Apps for Your iPhone
You can find many voice changers in the App Store. However, we chose the best three of all.
1. Voice Changer Plus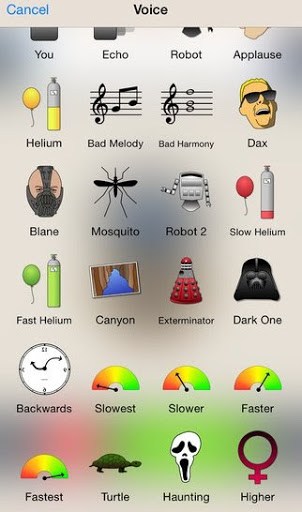 This is one of the leading voice changers that is only available in Apple's App Store. With this app, you have the option to select from dozens of funny voices. Be it singing in bad harmony or listening to your voice backward; this app can handle all your requirements regarding voice makeover.
Top Features
With more than 55 audio effects and background sounds, you are spoiled with choices
It is an absolutely free service to save and share your recordings in social media
You can add multiple layers of sound effect in your already recorded audio
Trim Control and 24×7 voice-over support are also USPs of this product
Supported Platforms : iOS 8 and above.
Cost Factor: While the normal variant is free for all, the Premium ad-free variant will cost around $5.
How to Download? Follow this link- – https://apps.apple.com/in/app/voice-changer-plus/id339440515?ign-mpt=uo%3D8
2. Celebrity Voice Changer
As the name suggests, Celebrity Voice Changer changes your voice to that of a famous celebrity of your choice. This is the first-ever celeb voice changer developed for iOS. Also, the average 4.0 ratings from more than 11k people make this app a worthy contender for the best iOS voice changer.
Top Features
you can tell whatever you want in English, and this app will change it back to you in a celebrity A-listers' voice.
You can choose from almost 100 celebrity voices.
You can shoot a video of yourself while recording your voice.
Unlike other apps, this one has all the voices available in the free version also
Supported Platform: iOS 8 or later version of iOS.
Cost Factor: This is a totally free app.
How to Download? Follow this link- https://apps.apple.com/ca/app/celebrity-voice-changer-funny/id1111710488?ign-mpt=uo%3D8&l=fr
3. Call Voice Changer – IntCall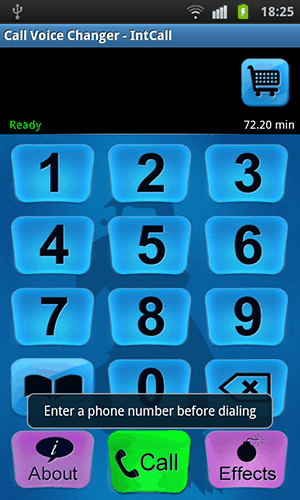 With the Call Voice Changer app, make your voice high, deep, funny, or creepy during phone calls and prank your loved ones. Additionally, you can add various sound effects like honks, bells, and toilet sounds during a call.
Top Features
Funny phone calls are made easy with this app's changeable voice pitch feature
Change the sound effect any number of times during a call
Play funny sound effects like cartoon sound in the middle of a call
This app also provides a call recorded feature
Supported Platforms: iOS 7 or higher
Cost Factor: The first three days are free to try out. Then you have to pay a subscription charge depending on your plan
How to Download? : Follow this link – https://apps.apple.com/in/app/call-voice-changer-intcall/id535048805
Best Voice Changing Apps for Your Android Devices
After iOS, it's time for its counterpart, Android-based devices. Here are the top 3 Android Voice Changing Apps.
1. Snapchat
Snapchat is undoubtedly the most popular voice changing app in any mobile platform. Though it is classified as an image messaging app, it can also change your voice along with appearance and environment. It is one of the leading messaging service apps, so it's the capability of changing voices sometimes are overlooked.
Top Features
Among its tons of features, the best one is the unlimited and unique filters
Snapchat also lets you share images instantly with your contacts
Voice changing option comes during a video shoot. You can also change multiple things in a video
This app lets you view your friends' real-time location if they share it with you
Supported Platforms : Android 5.0 or newer and iOS 8 and newer
Cost Factor: It is completely free of cost to use Snapchat
How to Download?
Follow this link for Android – https://play.google.com/store/apps/details?id=com.snapchat.android&hl=en_IN
And Follow this one for iOS – https://apps.apple.com/in/app/snapchat/id447188370
2. Voice Changer by KidsAppBox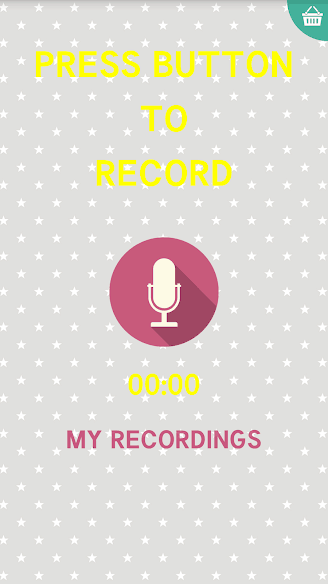 This is another decently popular android voice changing app. Despite being a fairly old app, developers have kept it quite relevant with time to time updates. This app uses a Fmod sound engine to change the voices.
Top Features
This app has a bunch of distinctive sound effects such as Robot, Wolf, and Old Radio
Record your voice first, then apply as many filters you like
Instantly share your modified voice with your friends in social media
A small-sized app with a clean user interface
Supported Platforms: Android 5.0 or higher
Cost Factor: It is generally free, but if you want to remove ads, you have to pay extra
How to Download?
Follow this link – https://play.google.com/store/apps/details?id=com.androbaby.voicechanger
3. AndroidRock's Voice Changer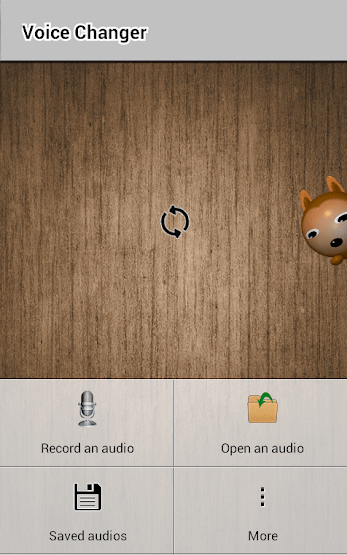 This is a decent voice changing app created by AndroidRock. It supports a number of eccentric voice filters and effects, like Old Man, Martian, and Bees. It works like most other voice changers and is pretty reliable when changing voices are concerned.
Top Features
You can apply the effect on either current recordings or past recording stored locally on the phone
This app gives you multiple audio editing options
Share the recently-created audios with your buddies via the one-click social media share option
Create audio with a ton of different effects by applying multiple effects on a single audio
Supported Platforms: Android 6.0 or higher
Cost Factor: Like Snapchat, this is also completely free to use
How to Download?
Here is the download link – https://play.google.com/store/apps/details?id=com.androidrocker.voicechanger
Best Voice Changing software for Discord
Discord is a VoIP chat application that allows real-time chatting, image sharing, & verbal communication among users. It was designed to keep gamers' needs in mind. It enables gamers to discuss tactics with one another during a live game. All three Software discussed during the PC segment can work with Discord. Here are two additional software best suitable for Discord.
1. AV Soft's Voice Changer Software Diamond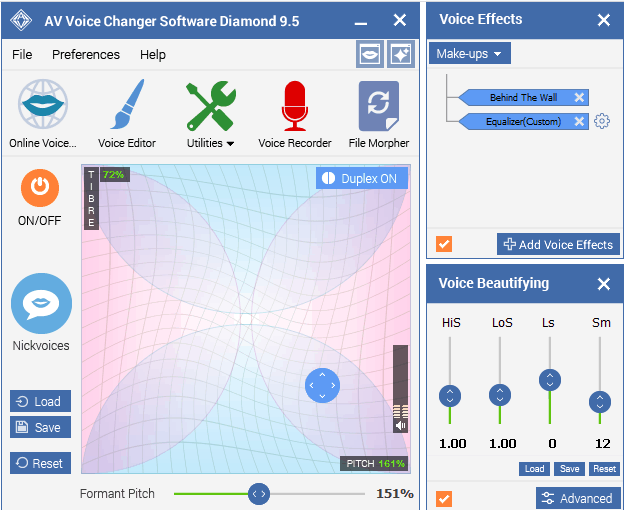 This is one of the best, if not the best voice changing software available in the market. However, it may appeal to everyone due to its pricing. But, there is no denying the fact that it is simply an awesome sound changer and pretty easy one to use.
Top Features
Change your voice during VoIP gameplay or Skype & Twitch, this software handles the task swiftly
It uses industry-leading voice morphing algorithms for better sound output
Voice Changer Diamond has a voice beautification mode
This software has batch file morphers that process all chosen audio files at once
Supported Platforms: Windows 7,Vista,8,8.1, & 10
Cost Factor: After a free trial, it requires $99.95 to get the full license
How to Download?
Follow this link – https://www.audio4fun.com/voice-changer.htm
2. MorphVOX Jr.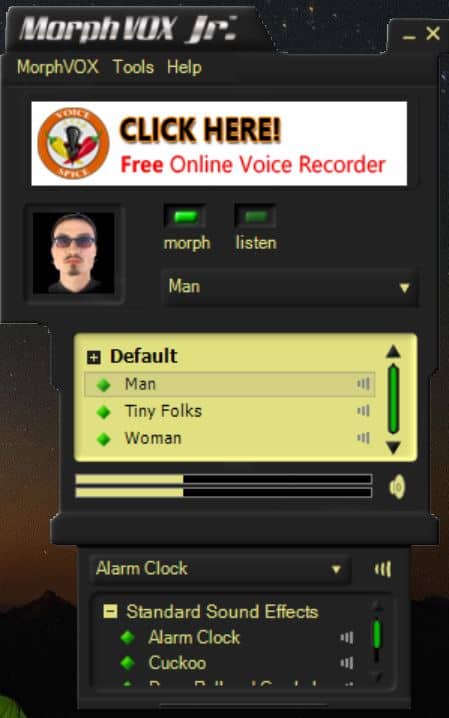 MorphVOX Jr. is another free voice changer that works exceptionally well. It uses an advanced set of algorithms that uses very little CPU power. That means it can work in the background quite well without eating extra system resources.
Top Features
Uses a high-quality voice changing software technology that requires little resources
It easily integrates with live gaming software
It automatically learns your voice pattern for optimal sound output
MorphVOX Junior has multiple built-in special effects
Supported Platforms: Windows XP, Vista, 7, 8, 8.1, & 10
Cost Factor: The Junior version of MorphVOX is free of cost while the Pro version costs $39.99
How to Download?
Follow this link – https://screamingbee.com/morphvox-free-voice-changer
Final Thoughts
If you are in this part of the article, then I can safely assume, by now, you have selected a voice changer for yourself. Do tell us which one you selected, in the comment box. Also, if you want to add any other Voice Changer in this list, do let us know.