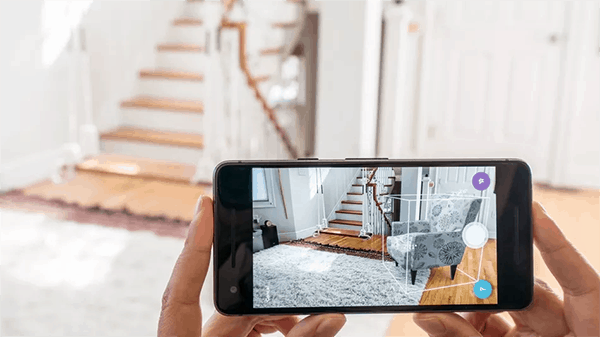 Augmented reality reveals many interesting opportunities for retail. This technology makes virtual objects a part of the real world. For example, it allows clients to get more info than indicated on the price tag, to find out how the product will look in a different color or size. Perhaps, AR will become the indispensable attribute of retail very soon.
Despite the growing popularity of AR in retail, few companies can create such apps on a high level. We recommend you contact the Intellectsoft team as they proved to be a reliable partner for many business owners. Follow the link to get more information about the company and its services: https://www.intellectsoft.net/services/custom-software-development.
Meanwhile, we are moving forward to seven successful cases of AR to showcase and sell products. Let's have a look at them.
Augmented Reality Apps in Retail
1)  Made.com
One of the fastest-growing furniture brands in Britain Made.com began as an online store. Today the company's retail shops are already working in Europe and Asia. The brand has its own application in the App Store and a popular website to make orders. Made.com succeeded in satisfying the need for a personal shopping experience by overcoming a distance between the shop and clients. Now with their AR app, customers can quickly select a sofa of the required size and color just on the website. They can evaluate its size and imagine how it will look in an apartment.
Finally, Made.com even launched a new online service for full-fledged interior design using AR technology.
2) American Apparel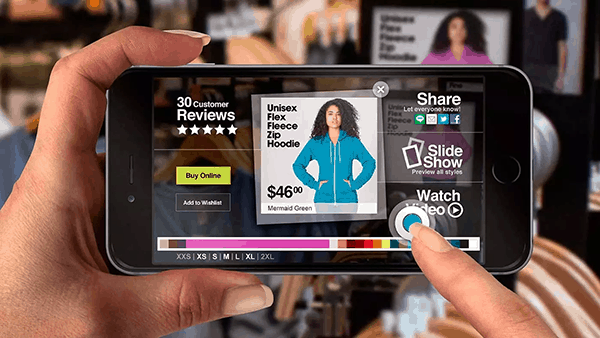 The pioneer in the use of AR in retail — the American brand of clothing and accessories. The retailer developed a mobile app, which provides information on any product from the assortment. It's enough for the buyer to point the smartphone's camera to the label of the product he likes, and all the necessary information will appear on the screen: price, material, characteristics, colors, and sizes available, etc. There is no need to wait for a consultant to check that he has the required size of sneakers or jacket colors in the warehouse. The client can find out everything himself.
3) Walmart
AR-technology penetrates even into large trading chains. At the end of 2018, the world's largest supermarket chain Walmart, announced the launch of a new AR product for iPhones.
The Walmart AR function works quite simply: the buyer points the smartphone's camera to the goods and the program saves them on the list. Finally, the user can see the name of the product, its image, price, ingredients, customer reviews, information about promotions and links to related products. Using a scanner, Walmart clients can quickly compare prices for goods from one category.
4) Shiseido
Many women want to know how certain eye shades or a highlighter will look on their skin before a purchase. Shiseido makeup mirrors show directly on the customers' faces how they will look like with new cosmetic products. It is quite easy to try a new lipstick, eyelash volumizer or powder and find out if they work for you or not. There are no testers required anymore: just select a product and try it with the AR makeup mirror.
5) IBM
A study conducted by IBM specialists showed that 58% of consumers want to receive information about products in stores immediately before making a purchase. 19% of customers agree to use mobile devices and useful applications before buying something. To do this, the IBM team launched its own AR app. Working as a personal shopping assistant, the application provides the user with individual info during the shopping.
6) De Beers
Diamonds are the girls' best friends. However, making the right choice, when buying a ring for your girlfriend, can be a difficult task. This is where the "Forevermark Fitting" app by De Beers can really help. Using AR technology, customers can try on products from the latest collections via a webcam. Buyers can find out how the jewelry will look under certain lighting conditions and with different skin tones.
7) Converse sampler
Converse Sampler for iPhone uses AR technology to help buyers try on shoes virtually by pointing their cameras at their feet. The user needs to select shoes from the catalog and wait until they appear on his feet. Thus, buyers do not even need to go somewhere to buy a beautiful pair of moccasins or trainers.
It doesn't matter whether the users are aiming to make a purchase or just have fun – AR technology will help turn any object into a unique product. Augmented technologies have given a competitive advantage to business owners and attracted new clients with their modern apps. In a few years, it will be not only a retail trend but a necessary requirement for growth. So, why not try it in your business?