When it comes to proxy services you will find tons of companies and services providing proxy for as low as $1 without any restrictions on usage. However, most of these proxy services offer datacenter based proxy IP meaning they have servers hosted on commercial leased lines from big ISPs or sourced from hosting providers which in turn sell it as proxy service to their customers.
Until few years back, these proxies were more than enough to bypass any blocked websites or spoof your location. But with an increase in abuse of services using these proxy sites, many have started implementing measure to block data center proxy IPs.
As you can guess, datacenter based proxies are easy to catch and block and that's what lead to the demand for residential based proxy services specially in affiliate marketing world. There are plenty of datacenter proxy providers but when it comes to residential proxy, there are very few that exists on Internet, and Storm Proxies and Geosurf are two well know names for residential as well as rotating reverse proxy providers.
Storm Proxies

Storm Proxies is one of the leading residential proxy providers on the market with a unique competitive edge to their business that has helped set them leagues apart from most other mainstream proxy providers on the market.
First off – 100% of their network of proxies is actually owned by them and is operated and managed exclusively by their team. Compared to the typical providers that rent and resell – Storm Proxies has full control of their network which allows them to provide scalable and flexible proxy solutions to business and individual clients alike.
Their Service Offerings
Their two main offerings are rotating reverse proxies and residential proxies. And while some people might get a little confused by the terminology, it's all pretty simple.
Rotating reverse proxies:
Forget about wasting your time on hooking up API's or trying to manually switch out IP addresses on the fly. It's just so inefficient!
With this setup, you'll get a handful of front-facing IPs that you can plug into your software. However, these static IPs feed a new proxy IP to your connection either on every new HTTP request or after a set period of time.
And if you're constantly working with SEO software like SEnuke, GSA or ScrapeBox – this proxy solution is a huge timesaver!
Residential proxies:
Storm Proxies use the same back-rotating technology to power their network of residential IP proxies. However, these proxies are custom-tailored to emulate a residential connection, which makes them perfect for things like traffic bots, pricing intelligence, and even scraping the web.
Private dedicated proxies:
While their rotating proxies are definitely one of their unique offerings – Storm Proxies also provides its customers with excellent top-of-the-line dedicated IP proxies.
These proxies use non-changeable routing that allows you to simulate a connection from a residential address to be used with various tools and services that require a static IP – this is an excellent solution for people managing Instagram and other social media accounts for a large network of clients. Storm Proxies also offers a private address for their dedicated IP offering, meaning you're not bundled with others into sharing a given connection, which adds that much more safety and helps you avoid any connection-blocks or bans for the services you're using them with.
GeoSurf Proxy Network
Geosurf is yet another well known company providing residential proxy service covers more than 120+ global locations.
Signup For Geosurf Residential & Data Center Proxy Network
Here is our detailed review on Geosurf Residential IP.
GeoSurf
Review

Residential Proxy Network  [2020]
Geosurf Dashboard and User Interface
Geosurf has easy to use interface and basic account offers high rotating residential IP as well as sticky residential IPs (suitable for long session duration). All you need to do is select the country of your choice and use the provided country gateway. You also get the option of choosing 1 min, 10 min and 30 min IP rotation time. The best part is, all comes under same country gateway, only the port numbers are different which makes switching very easy and fast.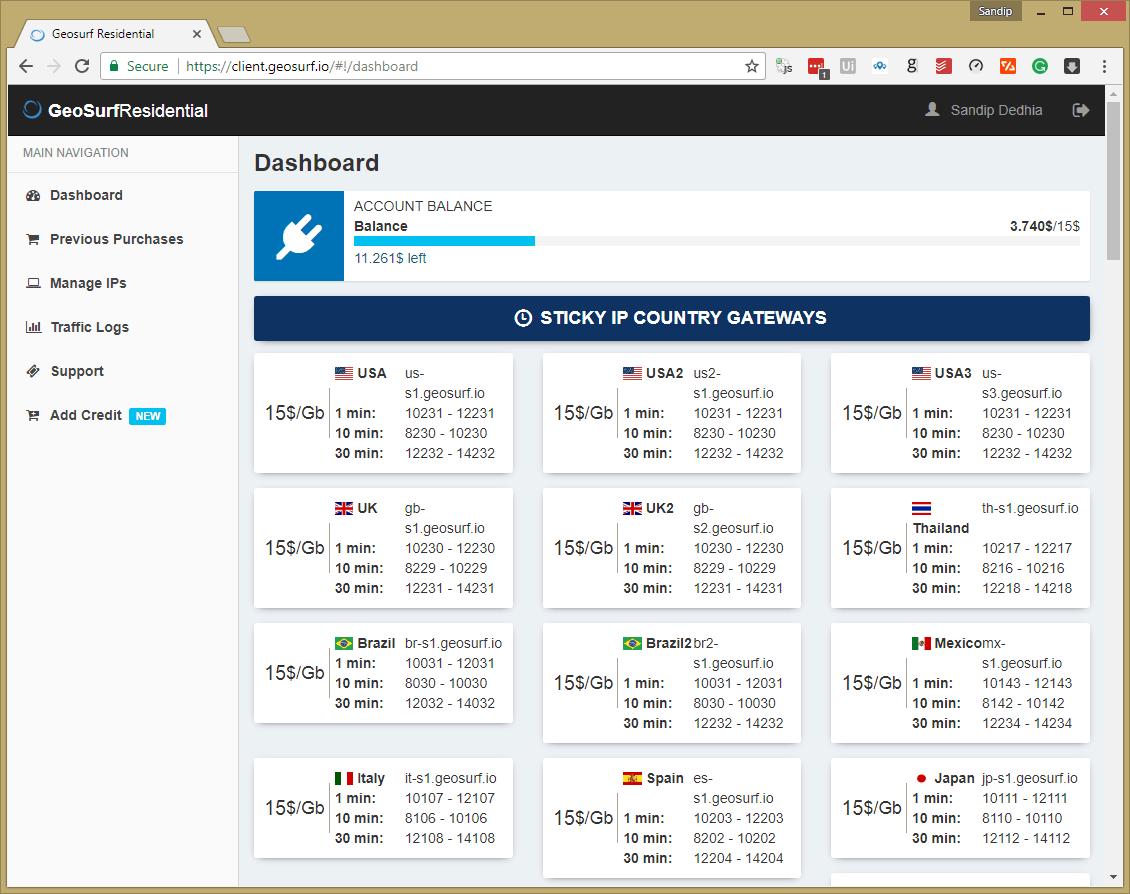 It has both IP based as well as password-based authorization. In case if you are using dynamic IP (NAT) based internet connection, you can request Geosurf support team to activate password-based authorization. Under Manage IP section you can add your IP for authorization and it takes about 5 min for whitelisting your IP.
Geosurf also offers a report to view traffic logs and your previous purchases. You can purchase additional data in case if you run out of data quota. However, the minimum $100 credit needs to be added, and It doesn't allow anything less than that which is a downside in our opinion.
Signup For Geosurf Residential & Data Center Proxy Network
Geosurf Residential IP Test and Quality Check
We tested multiple US residential IPs and most of the were marked as Good residential IPs by iphub.info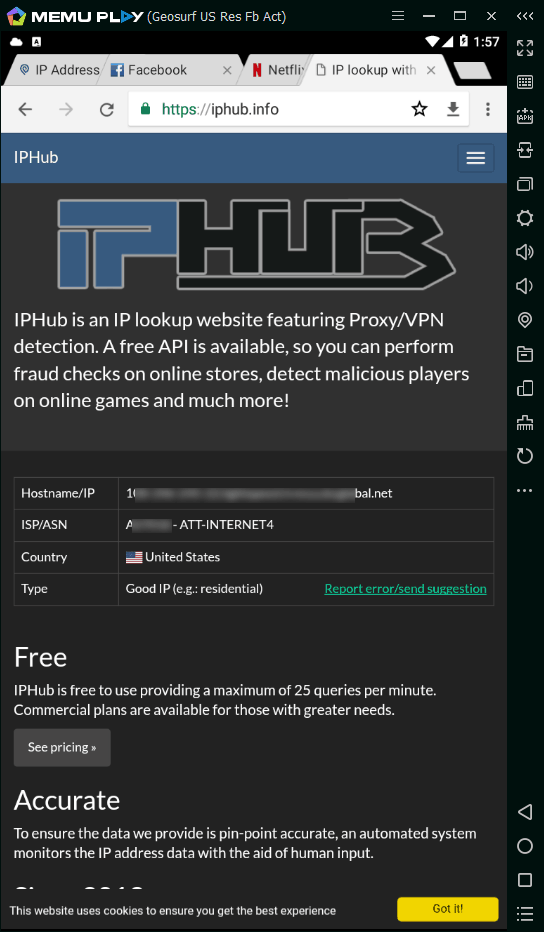 We also cross-checked with whatismyaddress.com proxy checker to confirm the IP quality, and it passed the test.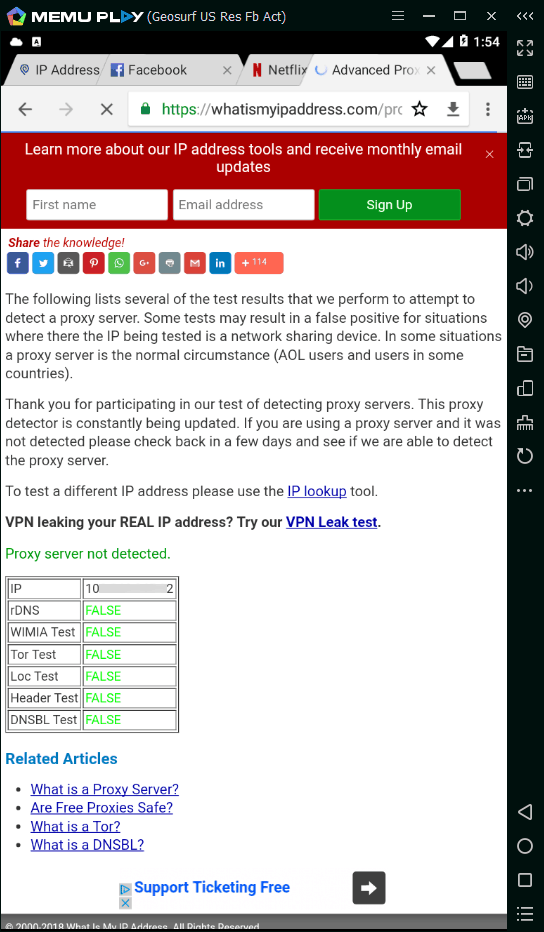 IPinfo.io result, which clasifies the IP as residential address.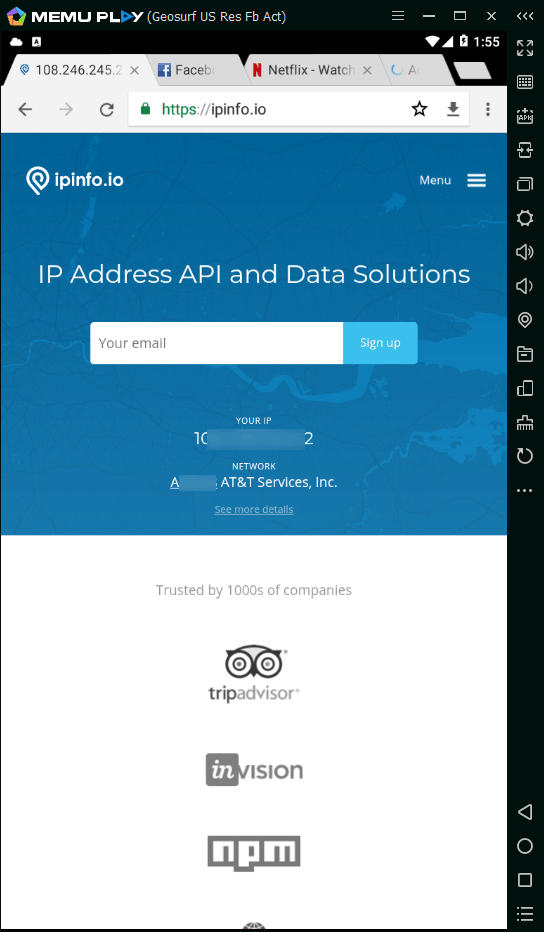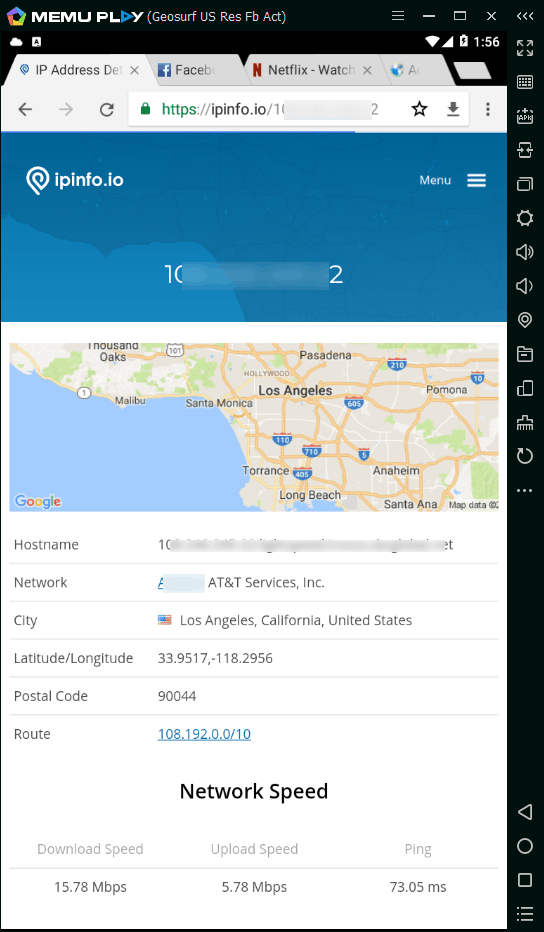 GeoSurf Disadvantages
All the plans of the Geosurf comes with fixed Data limit, and these data limits can get exhausted pretty quickly if your work involves lots of browsing and video loading. The higher data limit plans are quite expensive which makes it unaffordable for small players with budget constraint.
The premium features such a Geosurf VPN and Toolbar only available as a separate bundle and doesn't come under one single package, which can be a deal breaker for many, who are looking for all in one solution.
Geosurf response –  Other premium features such as VPN or Toolbars can be bundled with custom packages. As each customer has different use case and needs custom packages can be created , just contact our sales department.
There is no comparison of speed with datacenter based proxy IP with residential proxy IP. However, you would still expect the connection to be fast enough that pages load quickly. There have been times when we noticed Geosurf connection was extremely slow or fails to connect.
Geosurf response – We are not enforcing any limit on the number of IPs used, so if the IP is slow for some reason, the user can just switch it.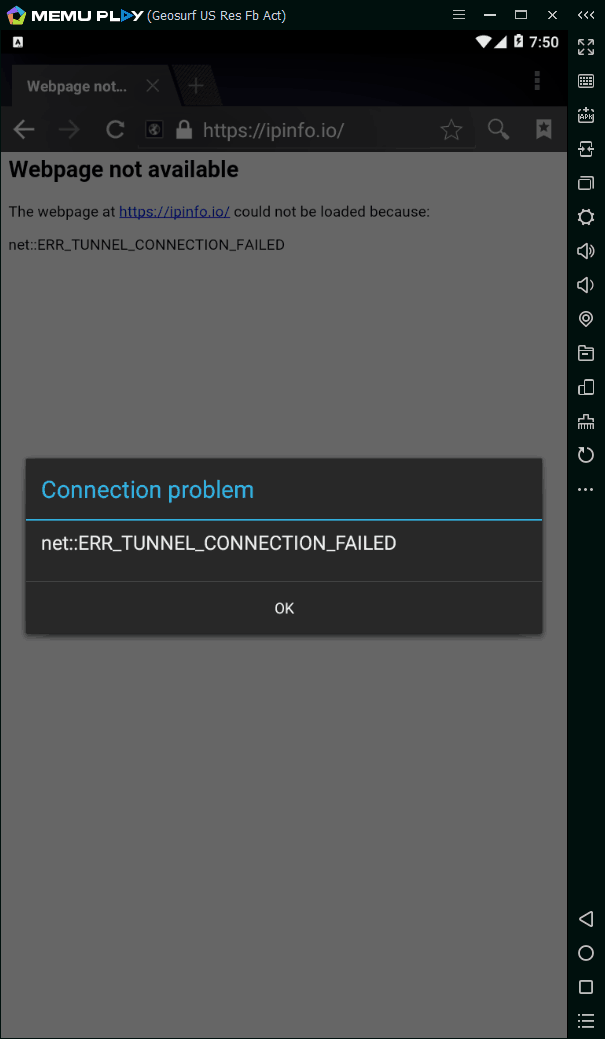 Despite above issues, we would still recommend Geosurf for your residential proxy service need, as the service is extremely reliable and we do not see any other residential proxy service offering similar features and locations for the price less than GeoSurf's plans.
We really hope Geosurf would consider lowering their plan pricing so that it becomes affordable for many and #1 choice for residential proxy needs.
Our test case involved attempting to create US Facebook Account using Geosurf US residential IP. For this purpose we used the MEMU Android player. We were successful in creating a Facebook account which surprising didn't get flagged with selfie check block as its happening lately as Facebook becoming more and more strict with fake accounts.
Our Second test involved creating an Instagram account, which has been putting ban hammers on the fake as well as farm accounts lately. Here too we managed to farm 10 Instagram accounts by utilizing different location based residential IPs from Geosurf.
Signup For Geosurf Residential & Data Center Proxy Network
Review Summary
We have been using Geosurf for past 15 days and not a single instance where we had any trouble with our farmed accounts or the IPs provided by GeoSurf. Though we can not guarantee on account farming and its success with any kind of proxy service, we can guarantee on Geosurf's service and you won't regret by choosing Geosurf for your proxy IP need.
Considering there are very few residential IP based proxy providers, and most of them have base plans starting at $500 and more, we hope our review will help you to decide on which one to go. However, we would love to see Geosurf launching cheaper plans or a la carte basis plans, so one does not need to shell out huge sum every month.
Signup For Geosurf Residential & Data Center Proxy Network
If you want us to test any other website, please let us know in comments so that we can put good use of remaining data limit.
Disclosure : Some of the links in above review are affiliate links, meaning, at no additional cost to you, we will earn a commission if you click through and make a purchase.