The Microsoft Windows Store in the recent versions of Windows like Windows 10 is a great way to get apps and games for your PC. It has a wide range of apps and games available, most of which are completely free. Not only that but its also provides its users with timely updates for all the apps and games that you download and install from it. But some users might experience some issues while using game apps from Microsoft Store. Usually, the problem arises when games downloaded from Microsoft Store fails to start. The root cause of this issue is not the game itself but your 
Reason for Microsoft Store Games not working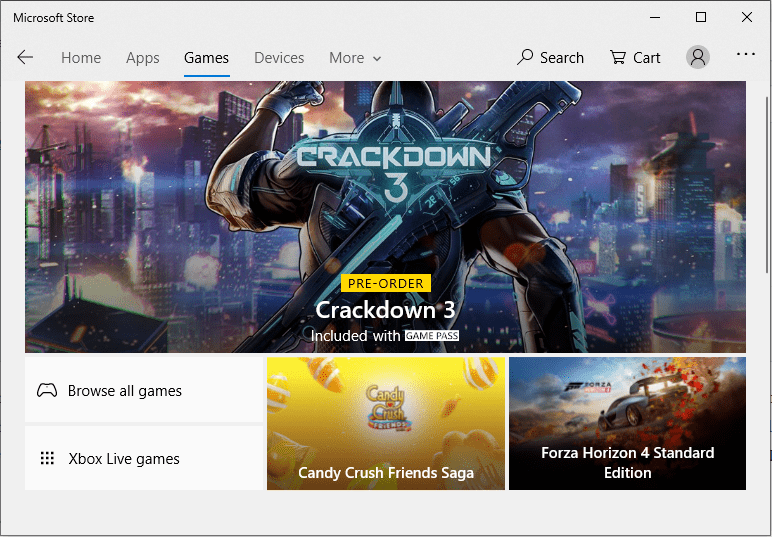 A Windows 10 user might face such an issue in cases where the Microsoft Store gets corrupted. Not only that but this issue can even be related to cache files of the Microsoft Windows Store. But there are also other possible things which can cause this issue in your Windows 10 PC. So in order to successfully fix this issue and being able to access Microsoft Store Games once again, you've to make sure that you go through all of the given solutions one by one:
How to Fix Microsoft Store Games Fails to Start
Reset Microsoft Store via Run Command
There is a very high chance that you are not able to access the Microsoft Store Games in Windows 10 due to some issue with the Windows Store itself. In such a case the first thing that you should do is to reset the Windows Store app. Since resetting any app changes all of its settings to the default values, it might fix the issue in Windows 10. Thankfully, it is quite easy to reset the Microsoft Window Store in Windows 10 by using Run as shown down below:
Update your Microsoft Store Games via Command Prompt
In case the issue is caused due to some bugs in the game itself, you should try updating your Microsoft Store Games to the latest version. While the Windows Store has an update apps and games option built right into it, that might not work every time. In such a case, users can use the Command Prompt in Windows 10 and enter a command in that which will update all of the games and apps which you have downloaded from the Microsoft Windows Store. You can use the command prompt for updating all of your apps and games by following the given instructions:
Reinstall Microsoft Store via PowerShell
Apart from the solutions provided above, you can also try reinstalling the Microsoft Windows Store. Reinstalling an app can fix a lot of issues related to it and the same holds true for the Microsoft Store in Windows 10 as well. So if you are not able to access the Microsoft Store Games in Windows 10, you can try reinstalling the Windows Store. This can be easily done via the Windows PowerShell and using a command as shown in this step by step guide:
Create a New Microsoft Windows 10 Offline Account
Many users have noticed a case in Windows 10 where the Microsoft Windows Store is having issues only on one of the Accounts. On the other hand, the Windows Store is working just fine on the other Account that they have in their PC. Therefore, there is a good is a chance that this might also be the case in your Windows 10 PC. To verify this, you can try creating a new Microsoft Windows 10 offline account via the System Settings as shown in these instructions:
If above solutions doesn't work for you then do check and see if your Windows 10 has latest Windows Updates, the ultimate solution is to either reset or refresh Windows 10.