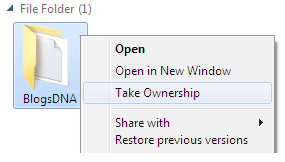 Although, Windows has its permission issues sorted by keeping the user account access level as simple as it can, for example, the Administrator account on Windows 10 would have all the permissions while guest account has the minimum permissions, but still there comes the time when certain files and folders are blocked from viewing or deleting to even admin access user accounts on Windows.
What is Take Ownership?
The main reason could be the files/folders are own by System or if you have upgraded your Windows 7 to Windows 10, then the old files are often locked and can not be accessed. In such cases, you can take the ownership of files and folder and then you can access, rename or delete without any issue.
We have written a guide on How to take ownership and grant permission on windows which covers the steps in greate detail, however, it's a manual method and you have perform those steps every time you want to access such files and folders. It is without a question that manual method of taking ownership of files is cumbersome and laborious and we are sure most of the users won't be happy with manual method considering the amount of time and clicks it takes to perform the task of changing ownership of files/folders or objects in windows 10.
What if you can have Take Ownership option straight under your right click context menu ? Don't you think it will be faster and easier to change ownership? If your answer is yes then here is the method to get Take Ownership option under to right click menu of Windows 10.
Download TakeOwnerShip Reg File
We have created two simple registry file that you can download to have "Take Ownership" option in right-click context menu of Windows. Make sure you right click on the following link and select save as option to save the file on Windows 10 desktop.
Download TakeOwnership.zip For Windows 10.
How to Add "Take Ownership" on Windows 10
Download zip file from the download section
Extract the content of the takeownership.zip file and open the folder
Inside the folder, there are two

.reg

files, InstallTakeOwnership.reg and RemoveTakeOwnership.reg respectively.
As the name suggests, InstallTakeOwnerShip.reg will lets you to add the option to your

Windows 10

context menu.
Simply double-click on InstallTakeOwnership.reg file or

right-click

on InstallTakeOwnership.reg and click on merge option
Click on yes on open file security warning and also select yes for User access control dialogue box.
A confirmation message will appear to confirm your action of adding an entry to the registry, click on yes.
That's it, a message of successfully added to the registry will appear.
To check if the option is indeed added to context menu, right click on your desktop and look for "Take Ownership" option.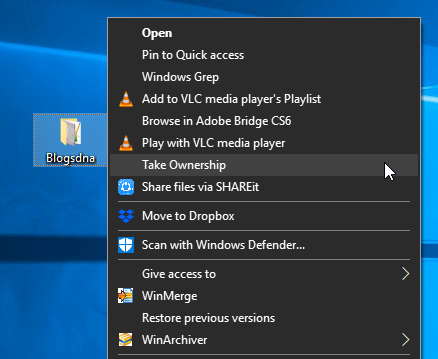 If you don't want to have take ownership option any more then follow the same procedure but use RemoveTakeOwnership.reg file.
How to Add Take Ownership on Windows 8/8.1
Download TakePwnership.zip file from the download section and extract file content
Double click on InstallTakeOwnersip.reg file and confirm your action by click on yes for file warning and

UAC

dialogue box.
That's it, now check your rightclick context menu for the "Take Ownership" option.
Add "Take Ownership" Option in Right Click Context Menu
1.  Download TakeOwnership.zip file and extract its content on the desktop.
2. Above zip file contains two reg (registry) files InstallTakeOwnership.reg and RemoveTakeOwnership.reg.
3. Double Click on InstallTakeOwnership.reg to install Take Ownership option in context menu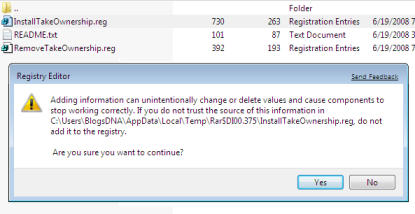 Screenshot of Take Ownership Option in Right Click Context Menu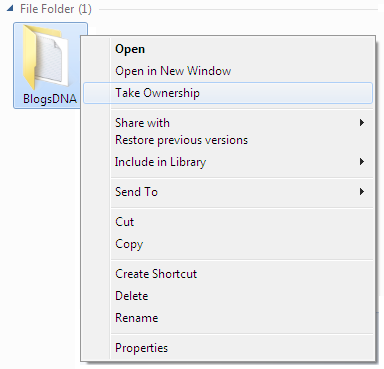 In order to remove Take Ownership option double click on RemoveTakeOwnership.reg.