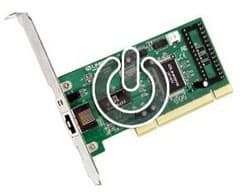 Wake on Lan aka WOL is the network standard which defines how you can take advantage of Ethernet networking to wake up/ boot up your computer with just simple network message known as magic packet. The feature is extremely useful for network administrator and for those who want their home or Office PC to be accessible whenever and wherever they are.
In wake on lan, significant amount of power can be saved as you do not need the remote machine to be switched on state instead it can be kept in standby mode waiting for magic packet. Since this technology is implemented right into motherboard BIOS, it is very easy to setup Wake on Lan as you only need to make changes in your BIOS setting.
Also since all the major operating system supports such Mac OS X, Windows and Linux supports wake On Lan feature you can take advantage of this piece of technology on any machine.  On Mac OS, you can turn on WOL from System Preferences -> Energy Saver panel and in that under Options tab.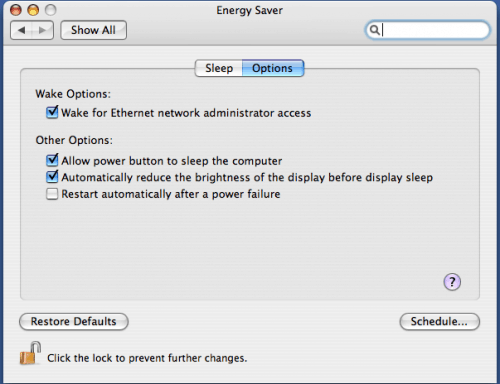 On Windows, Wake on Lan Option is available under Power management options of your Lan card in Device Manager.
With the flood of smartphones in the market, we are sure many geeks would be expecting to use their smartphones to wake up their Computers over Lan or Wifi, and that's what inspired us to create a list of apps which lets you wake up your computer on your Android smartphone. So check out  below list of free wake on lan Android apps.
Five Free Best Wake On Lan Android Apps
1. Fing – Network Tools
This app tops our chart of best free Wake on Lan apps for Android, rated 4.8 stars on Google Play, Fing is not just Wake On Lan app, but extremely powerful and loaded with many useful network tools. It just surprises us how developer manages to keep this Android app free, we are not defending paid app market but even if Fing is priced at $1 or $2 it will be worth the purchase.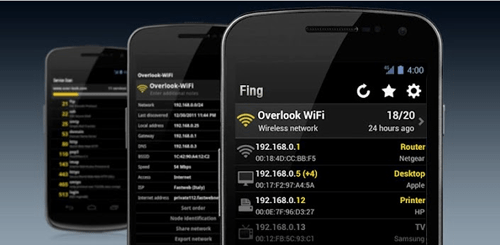 Fing offers several useful network tools such as Network discovery, TCP port scan, Ability to Ping, Traceroute and DNS lookup, Wake on LAN, Connectivity detection and Geolocation.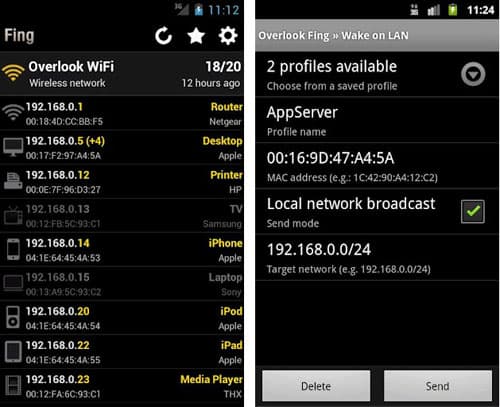 Another interesting feature is bundled third-party apps for SSH, Telnet, FTP, FTPS, SFTP, SCP, HTTP, HTTPS, SAMBA.
2. Wol Wake on Lan Wan
Second best Wake On Lan android app for specifically designed to send magic packets to wake up computers, unlike all other apps this not only supports Wake on Lan but also Wake on Wan.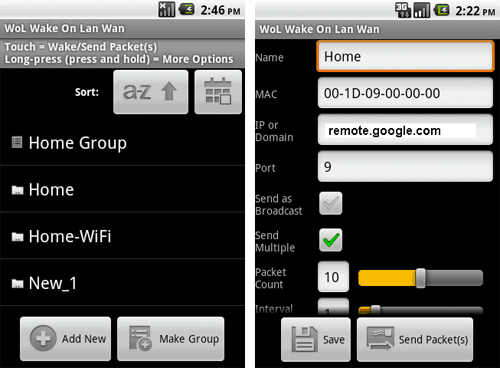 You can create and store profiles, identify a remote machine with IP address or using the domain name, have customized UDP port with the ability to send single or multiple packets at once and best of all it doesn't show ads.
3. Wake on Lan
This Android app is perhaps the simplest and easy to use Wake on Lan app, designed to perform only one task, that is to Wakeup computer over LAN. Offers a simple interface with history of all computers you have wake up over lan using this tool and yes, absolutely no ads.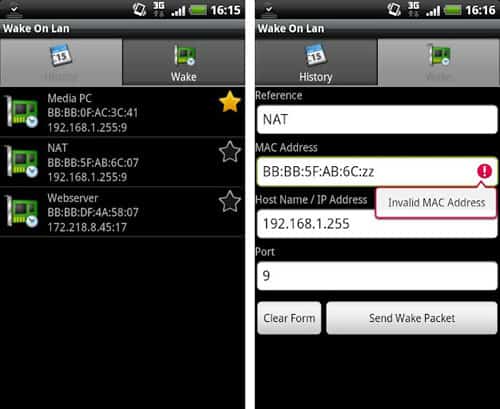 4. Depicus Wake On Lan
Similar to Wake on Lan, this is yet another easy to use designed with one feature in mind, i.e Wake on Lan support.  Depicus supports Wake on Lan or over the internet but the free version is ad supported.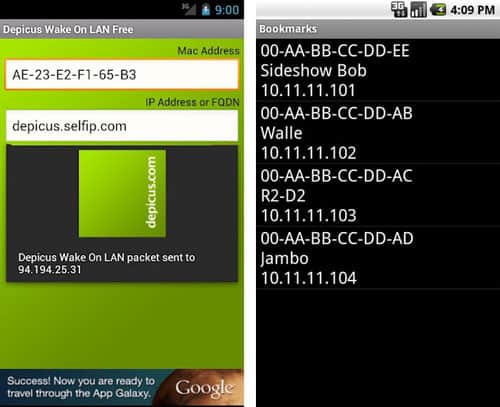 5. AndroNet Tools
Similar to Fling Network Tools, this android app is also power packed with many useful network utilities. The AndroNet Tools is designed for network diagnostics and troubleshooting, here is a list of useful features which comes with AndroNet Tools.
Port Scanner with Malicious Port Scanner, Whois Lookup, Testing network connectivity, HTTP Response Reader, Network Information, Ping Utility, Traceroute (Requires ROOT access), DNS to IP, Wake on LAN.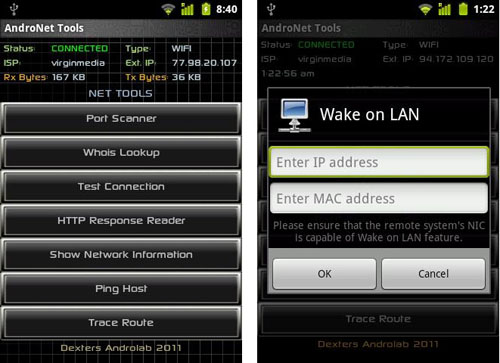 The one issue with AndroNet Tools is root access requirement to perform traceroute which is not necessary and also only possible if you have rooted android device. If you are only planning to use Wake on Lan feature, then this App will work on non-rooted device too.
Bonus – here are the apps for non-android platforms, if you have Apple iOS device or Blackberry Playbook then check out below Wake on Lan Apps for these platform.
iOS App (Paid)
Wake
Though this is paid app and priced at $0.99, it does comes with the handful of good features of Wake on Lan. This iPhone App is compatible with all 'Wake On Lan' capable devices, Wake even gives you a status indicator to tell you whether each machine is on or off.
1. Wake button sends 'Wake On Lan' magic packet to start up a machine.
2. Works over wifi or cellular data network.
3. Status indicator glows to tell you whether each machine is on or off.
4. Automatically detects your computers for easy setup.
5. Shake'n'wake – shake the device to wake all computers!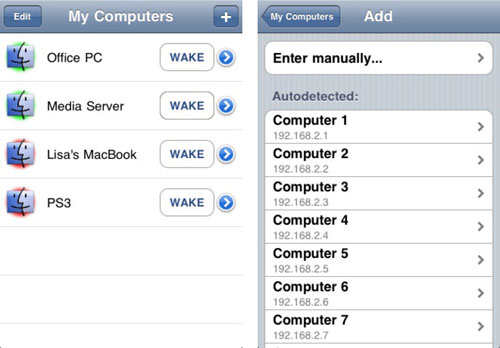 Wake is available for iPhone and iPad and requires iOS 3.1.3 or above.
Blackberry App
WoL – Wake on LAN
The only app for Blackberry Playbook that helps you to Power ON or OFF your computer even put it in Sleep from anywhere in the world, The apps comes in three different flavors from free lite version to WoL Pro paid app. The free WoL lite version only supports one client and doesn't have any options to change the port.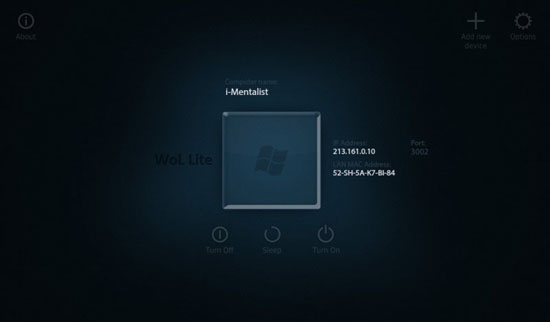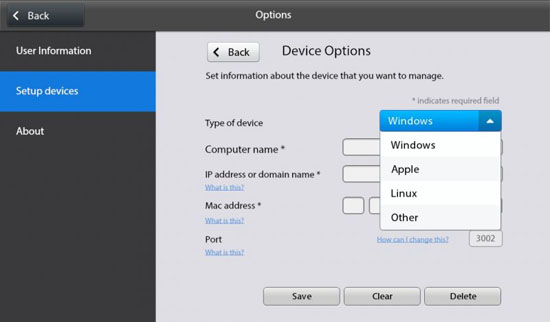 The app runs BlackBerry PlayBook OS 1.0 and above.
Download WoL- Wake on Lan From BlackBerry Playbook App Store.
Let us know in comments if you are using any other app on your Android smartphone for Wake up computers, PC or other devices.