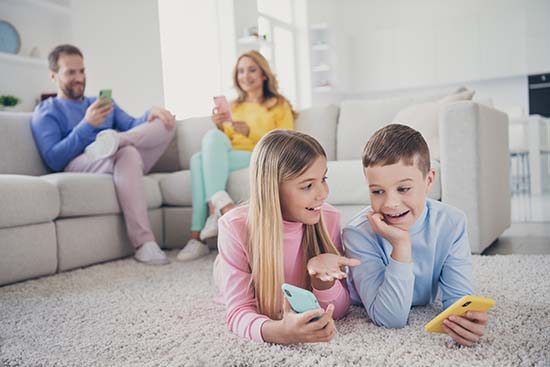 Instagram has become one of the most famous apps. Be it celebrities or your neighbor; it has become a part of a lot of people's lives. With so much rising fame, it is inevitable that your child may want to join it. After all, it's the new cool.
However, a famous app means millions of people actively use it and are sharing all kinds of news and information on it. This may lead you to wonder, and rightfully so if Instagram has parental control options. Additionally, you can look for a trusted intercepting text messages app to check your kid's activity.
Why Are Instagram Parental Monitoring Important?
Having a vast number of people on an app makes it prone to cyberbullying and inappropriate content. Fortunately, there are many things through which you can monitor your child on Instagram; we have got you covered.
How Can You Put Parental Controls On Instagram?
1. Private Mode
When I researched how to monitor my child's Instagram, I realized that the first and foremost thing to do is set his account as private. Whenever you create an Instagram ID, it is automatically set to the public no matter what the purpose is. This means that anyone from around the world who comes across your id will be able to see your photos. So if like me, you are also wondering how can parents monitor Instagram; the first thing to do is change their account to private mode.
So why is private mode so necessary? This is because, in the private mode, you can monitor who gets to view your child's profile. With a private account, whoever wants to follow your child's id will first have to send a request. All the requests are piled up. You can choose to accept the request or reject it at your discretion. This way, only close family and friends will be able to access your child's profile.
Next, you should turn off the geotagging in their account. If geotagging is turned off, your child will not be able to share his location on the app.
2. Remove Followers
Now even though you can monitor who becomes a follower on your child's Instagram, it does not guarantee that your child will be saved from stalking. You or your child could accidentally allow someone's request or later find out that a so-called family or friend has been stalking your child's account. So how can parents monitor Instagram in that case?
Thankfully, you can easily remove unwanted followers.
The steps are simple. Firstly, go to your child's Instagram homepage. Then, open their follower's list. You will see three dots next to the followers' names. Click on them and tap 'Remove follower'.
3. Hide Offensive Comments
One of the most important Instagram parental controls has to be the 'Hide offensive comments'. In this era, a lot of people are making full use of their right to freedom of speech. However, there is no doubt that many people abuse this right. People can leave some scathing and hate-filled comments. They can also leave some comments you may find inappropriate for their age or any comment you dislike which is not monitored by Instagram privacy protocols. Instagram privacy protocols are one of the Instagram controls that work to prevent inappropriate comments on Instagram. However, it does not include everything you'd personally find inappropriate.
Hence, an effortless way is to go on your child's homepage, tap the three dots on their profile, then on comment controls. Next, you should turn on the 'hide offensive comments'.
4. Unfollow
The unfollow button also acts as one of the essential parental controls Instagram has. Your child can innocently follow his favorite celebrity from his most liked tv show or an influencer who had a really catchy Instagram profile picture. However, people are not as innocent as they may seem on a tv show or just by the look of their profile picture. They may post some inappropriate images and content which is not child-friendly. In this case, it is best to get rid of such content on your child's Instagram profile.
You can go to your child's homepage and click on the 'following' section. This will enable a list of all the people your child is following. You can simply click on the unfollow button that appears next to the name of the person you wish to unfollow.
5. Turn off Commenting
Clearly Instagram parental monitoring involves regularly checking your child's Instagram comment section. From time to time, your child may post something which may invite a lot of unwanted comments. Checking up on each and every comment may be hectic and time-consuming. Even then, you may miss some of the comments you wouldn't want on your child's profile. In this scenario, it is easier to turn off commenting for such posts.
Open your child's post, press the three dots in the top-right corner, and then tap 'Turn Off Commenting.'
6. Block
If someone is inappropriate to your child, only unfollowing him is not enough. This is because he will still be able to message your child or send follow requests. The best thing to do in this scenario would be to block that person.
You can do this by opening the person's profile page. Click on the three dots in the top right corner, and block them. You can also report them by doing the same.
7. Report Post
If your child comes across an offensive, hurtful, or inappropriate post, you can report it.
To do so, click on the three dots in the top-right corner of the post in question. Then tap on 'Report'. Next, choose why you are reporting that post; for example, you may select 'Bullying or Harassment.
8. Don't share personal information
One of the ways to monitor your child's Instagram is to make sure he doesn't share any personal details which can be misused. These details may include your home address, school address, or anything about your documents.
9. Temporarily disable or delete
If you have done all the things mentioned above but still find Instagram inappropriate for your child, you can temporarily disable your child's account or delete it.