When you encounter problems with establishing an internet connection, getting a printer or scanner to work, or with any other devices, learn how to update network drivers, update printer driver and easily resolve other device issues with the right tools.
In this article we will share some tips on how to update computer drivers manually, as well as review a special tool that makes updating drivers a job even a novice user can handle. Let's get started.
How to Update My Drivers?
PC users often believe that only techs know how to update Windows drivers, and that regular users shouldn't even try undertaking this complicated task on their own. Well, to a certain extent that is true.
Updating your drivers manually does require some level of PC experience and the knowledge of essential Windows servicing techniques.
You have to know how to detect an outdated or malfunctioning driver, how to troubleshoot your hardware, how to identify the right driver update to install and what to do if the update doesn't go as expected. That's a lot of responsibility! But if you feel comfortable with it, you can try the manual approach first.
How to Update Drivers on Windows 11 or 10 Manually
If one of your devices or hardware components starts malfunctioning, try updating its driver using the following steps:
– Open Device Manager by searching for it from the Windows Start menu or the task bar
– Click the arrow next to a category to see devices under it
– Right-click the device that's been causing issues and choose 'Update driver'
– Follow directions to install the update
This should help resolve the glitch and get the device working error-free. However, users often complain that the quick driver updater built into Windows reports no need to update the driver, while the associated device may not be working correctly.
This is when you may want to turn to a third-party driver updater, free or paid, that will normally offer more advanced functionality and get drivers updated even when Windows is unable to offer an update.
How to Choose The Right Driver Updater
When you decide that you need a special tool to update drivers on PC, choosing the best one becomes a priority. Look for a tool that lets you:
–  Check all installed devices for old or missing drivers
–  Update one driver at a time, if needed
–  Update all drivers with one click to save you time
–  Back up prior to installing updates for added safety
Auslogics Driver Updater is a software program that checks off every requirement on this list.
How to Update Device Drivers With Auslogics Driver Updater
The intelligent driver updater for Windows 10, 11 or earlier is designed to simplify the task of getting devices equipped with the latest and most stable driver versions. Using the app is intuitive and does not require much IT knowledge, if any at all. Just follow the easy steps below:
– Download Driver Updater from Auslogics' official website
– Click the downloaded file to install the program onto your PC
-If a scan does not start automatically, click the 'Start scan' button to check for outdated, damaged or missing device drivers
– Review detected drivers in need of updates. If you'd like to exclude some of them from updating or ignore some drivers during all future scans, do it by unchecking boxes or clicking the 'Ignore' link
– Click 'Update all' or choose just the driver you wanted to update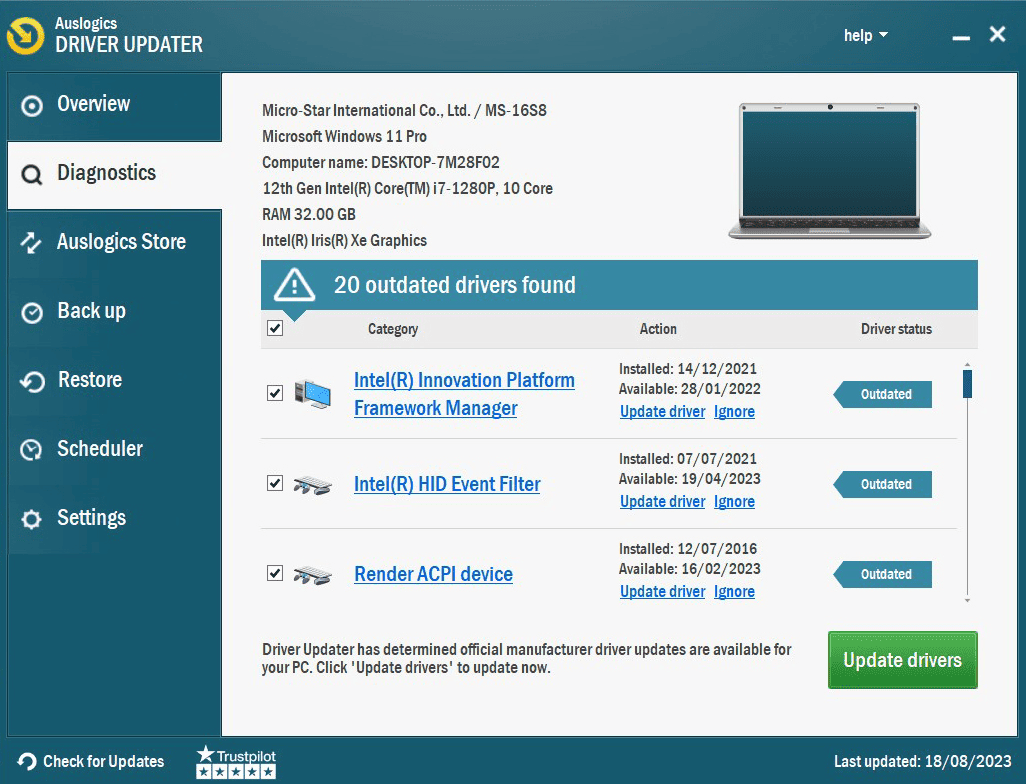 The app will first create a backup of your drivers to ensure that you can roll back the updates if issues arise. After that, it will get the best matching driver versions in its extensive database and safely install them on your PC.
Why Choose Auslogics Driver Updater?
The Driver Updater from Auslogics is recommended as a safer and more effective option when it comes to getting Windows drivers updated.
This smart tool comes from an Australian software maker that has been bringing Windows optimization programs to the market for about 15 years and has earned a reputation of a reliable IT industry authority.
Safety
Auslogics Driver Updater makes the safety of users' computers a priority by making creation of backups before updates a default option. In addition to that, it allows creating a system restore point so you can roll back your OS to an earlier date.
Stable updates
The software has a huge database of the newest driver versions, which is constantly updated as device manufacturers release new drivers. However, it also has the option to install the most stable driver even if it isn't the newest. This helps prevent glitches if the latest driver version has been reported by a significant number of users to cause issues on users' PCs.
Ease of use
If you aren't sure how to update drivers on Windows 10, 11 or earlier, this app is what you need. Auslogics programs are known for their user-friendly interface and Driver Updater is no exception. Running a scan takes one click.
The results are presented with options to ignore certain drivers (and therefore exclude them from future scans), to just uncheck them and exclude from updating this time, or to simply click the Update button and install updates for all problematic drivers. The options are all clearly presented on the screen, with no unneeded info cluttering the interface.
Scheduled maintenance
We are all busy and can't keep everything in our mind. Auslogics helps ensure that updates are installed as soon as they become available by letting you schedule regular driver scans for a convenient time. The automated scan reports any driver issues that have been identified, but lets you decide if you want the new driver versions installed.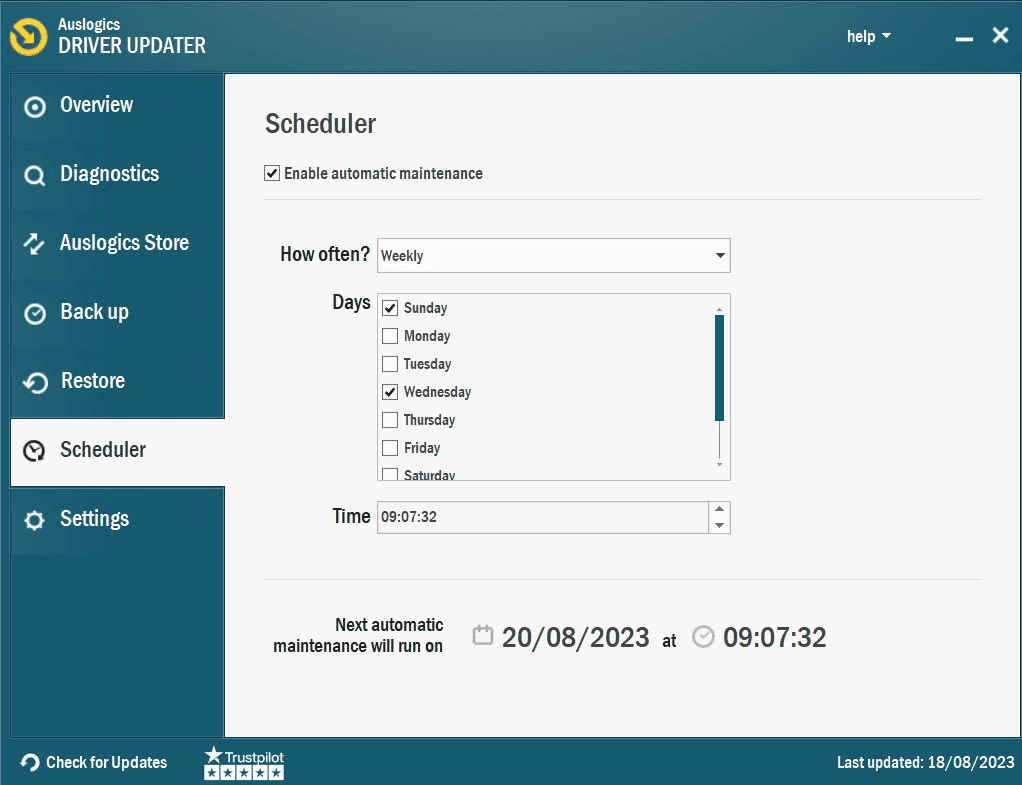 Conclusion
All in all, Auslogics Driver Updater is a safe, effective and efficient tool that lets you keep your hardware and devices working at the top of their capabilities. Now, whenever you are faced with the question of how to update graphics driver or how to update audio drivers on Windows 10, you will know just the program to turn to. It works with Windows versions from 7 to 11, and is backed up by Auslogics' reputation and years of expertise.