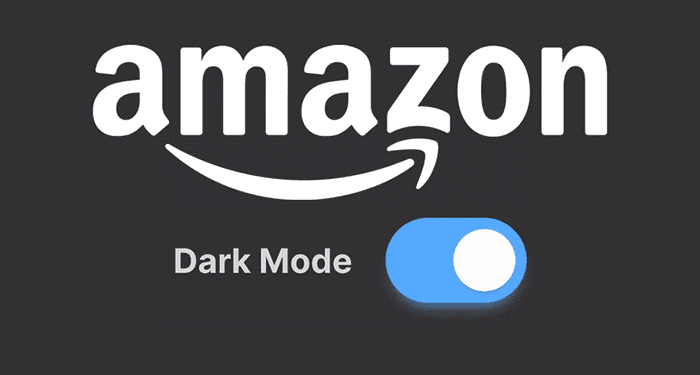 Dark Mode is a great feature that is used in most applications or software these days. And why not, the low contrast display is known for reducing eye strain and is the main reason many people like to prefer dark mode.
Amazon is one of the leading eCommerce platforms. Besides all the great services provided by them. Their application and website are something that takes the user experience to a next level.
We all know how convenient and easy it is to shop using the Amazon app. But one thing their app lacks is a Dark mode feature. There are no official ways to use the app in dark mode.
However, many dark mode lovers want to use their favorite eCommerce app in dark mode. In this article, we will share a workaround by which you can enable dark mode for both Android and iOS.
Enable Dark Mode on Amazon App – Android
As we know there is no direct option to enable dark mode on Amazon. Although there is a way to get this thing to work. The only requirement here is to have a device running on at least Android 10 or above, or else it might not work. So follow the steps below to enable dark mode on the Amazon app on Android.
Firstly enable the dark mode on your android device. The steps might differ from device to device.
Open Settings and tap on Display.
Now find the Dark mode toggle and turn that on.
You can also enable it through the notification panel if you have a shortcut there.
Open the Amazon

app, and now the app will automatically open in dark mode.
However, sometimes even after enabling the dark mode, this might not work. For that, you can turn on Force Dark mode on your android device, and see if that helps. Here are the steps to do so:
Open Settings again and scroll down until you see the About phone option. Tap on it.
Now select Software information

and from the page look for

Build Number.

Tap on the

build number seven times to enable the developer mode.
Once you're done, you should see a pop-up that the developer mode is enabled now.
Now go to the Setting's home page and look for the Developer mode option. Tap on it.
Scroll down and find the Force Dark Mode

option in the

Hardware acceleration rendering section. Toggle that option to enable it.

This will force the dark mode on all the applications you have on your device.
Close all the applications in the background and launch the amazon app again. Now the app would open in dark mode.
Enable Dark Mode on Amazon App – iOS
Just like Android, iOS devices also don't get any dark mode option in the Amazon app. Unfortunately, the method we have will not enable dark mode on the app. For using Amazon in dark mode on iPhone you will have to open it on the browser. This method uses Turn off lights for safari extension. Make sure you install this Safari extension first before following below steps.
However, you can jailbreak your iPhone to turn on the dark mode on any app, but it's not recommended. Here are the steps to turn on dark mode on Amazon on iOS:
Open the Settings app on your iPhone, and look for Safari.
Then tap on Extensions

Locate and tap on

Turn off the Lights.
Now toggle Turn off the lights option to turn it on.
Now open the Amazon website on Safari, and tap on extension icon present in address bar
And tap on Turn Off the Lights to activate it.
This will enable dark mode on Safari, and you will be able to use Amazon on dark mode.
Conclusion
So, these were all the available methods that you can use to enable dark mode on Amazon App. Now you can just toggle a few buttons and the app will be usable in the dark mode.
Although it's not the official method from Amazon, this gets the things done. The only downside here is for the iOS user as they still can't use it on the app. So, let's wait for the official release of dark mode from Amazon until then try using these workarounds.