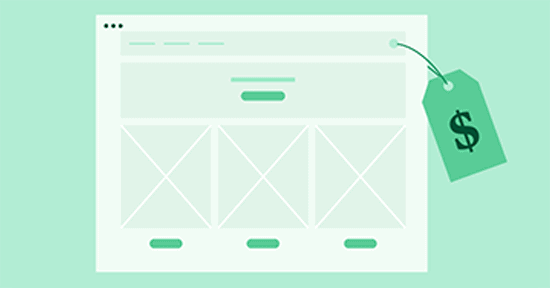 The cost of a new website is directly proportional to the amount of time required to create it and the rate charged by the web designer. And you might be surprised by how much work goes into creating a decent website!
The time it takes for a web designer to create your website will be influenced by a number of factors, and we're going to explore some of them now.
Level of Customization
An online presence must be as distinctive as the company itself.
A designer can use a template web design to put up a site, but the rest of the website must be produced to reflect the uniqueness of the business.
Most template versions have the option of being partially or fully customized to present your brand more accurately.
However, if your brand requires a little more effort or a lot more customization, or if you desire something custom-made, that can drive up the cost pretty significantly.
Website Design
Because of what we've stated in the paragraph above, cheap templates are a no-no!
Of course, you can go the affordable route and use a template that you will make work for your business. But is that a good idea in the long run?
What if the design of a template does not fully work for your business, or you want to set up a new logo and establish a brand? Can you do that with a template?
A much better option is to let a website designer help you set up a great web design. You'd be surprised how much better the site will look with a professional touch.
All that said, if you live in Miami, consider hiring a great design agency in Miami when planning on building a completely custom website. They understand the local market.
To get a better idea of how much website design will cost, think about how many pages your site will have and how many design options you want to be presented with.
Search Engine Optimization
When you build a website by yourself, it's not certain that it will appear on the first page of Google's search results.
It's possible that a business with a fantastic website won't receive the traffic they want because their intended audience won't be able to find it. This is where SEO comes into play.
Search engine optimization (SEO) is the process of enhancing a website's visibility for specific keywords.
It is imperative that your website adapts to Google's algorithm in order to maintain high levels of user satisfaction.
Among other things, search engine optimization entails understanding the keywords people are searching for, as well as designing code to guarantee that your pages load rapidly.
Keyword competition and the number of pages on a website are two factors that influence the cost of good SEO.
Blog Posts and Content Writing
Website content needs to be crafted with care. Would a weekly blog or a news piece be beneficial for your company? What if you don't have the time or resources to create your own blog posts and submit them straight to your website?
Similarly to having a Social Media Manager, having a writer is going to help your website, especially if you are running an eCommerce.
If you have a good writer who knows how to sell, you can focus on bringing more quality products to your customers without having to worry too much about marketing. A good writer can use blog posts to help your customers find you quickly and with ease.
A combination of SEO and a great blog will bring you so much more business!
Social Media
Setting up an Instagram, Facebook, or LinkedIn presence will add to the cost, depending on which social media platforms you'll be targeting and whether or not you will need a custom design for your posts.
Having a strong social media presence is critical to your company's marketing and branding efforts. And setting up these accounts is straightforward. However, maintaining them can take up a lot of your time and effort that you can otherwise spend improving your business.
Of course, having a Social Media Manager is a smart move, but sometimes outsourcing can be more beneficial to the future of your brand. If you are unsure where and how to outsource, look up the most reputable IT outsourcing companies.
Mobile-friendly Websites and Apps
Users access information, goods, and services via a variety of devices and platforms, but mobile devices are currently the most often used.
It's so important for consumers to be able to get the same information no matter which device they're using. Web designers are aware of this and take measures to guarantee that a site works well on all devices, including mobile ones.
Responsive design is the process of making a website adaptable to the size of the screen being used to see it. Depending on the content and project complexity, the price will vary.
Navigation and Usability
Site navigation and link labeling are all part of the process of grouping pages into the site's information architecture. Formal testing, such as usability and A/B testing, might also be included.
In terms of usability, the more time a web designer spends on these activities, the more money you'll have to pay.
Content Management System
In just a few clicks, a content management system (CMS) allows you to update the text, images, and pages on your website.
It's the web designer's responsibility to configure and customize open source CMS systems. An open source CMS's price depends on the site's complexity and the number of pages.
Your Website's Functionality
Depending on what you need your website for, the designer will adjust its functionality. That includes features like eCommerce, discussion forums, photo galleries, and webforms.
When you require additional features, the price goes up. Plugins and modules for open source CMS like WordPress or Drupal already have just about any feature you can imagine. However, they must be set and personalized before you can use them on your website.
A Previously Set-up Email Newsletter
The most cost-effective option to set up an email newsletter is to use an existing design template. However, generic designs don't always work well for all purposes.
For an email newsletter to function properly, a designer needs to set it up so that it sends out a new email each time there is a change on the site.
That change can be a new collection, a sale (for an eCommerce), a new member, a promotion, any type of change. And not every template offers that option. So, a good designer must set it up to work properly, which in turn costs more money.
Final Thoughts on a Website's Design Costs
You might easily underestimate the amount of labor required to develop a quality website since the internet has become so prevalent.
As a result, this does not mean that your website must be prohibitively expensive. Simply, the cost depends on what types of plugins you need and how you want to incorporate your brand.
The more a designer has to do, the more the price goes up.