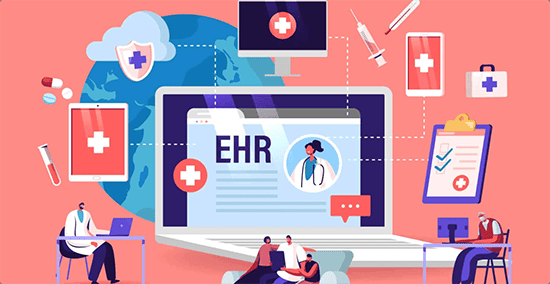 Epic's technology has entered the fray to revolutionize the medical sector. According to KLAS research, it has claimed around 30 percent of the EHR market and over 40 percent of hospital beds. The popularity of this solution is justified by the high level of convenience it yields. Thus, it provides a unified storage of patient data while ensuring its interoperability.
Therefore, if you're looking to invest in health tech for an Epic-friendly medical facility, EHR integration is a mandate to access and manage patient data.
A Short Primer on Interoperability
Epic EHR/EMR integration is what ensures the interoperability of medical data. But what does this fancy term denote industry-wise? Well, medical data is a patchwork of information scattered across facilities, providers, and departments. To save time and provide better patient outcomes, healthcare providers need a holistic image of all the data.
And this is where interoperability comes in. It aims to provide a common ground for health-related devices, software, and information systems within or outside the boundaries of health facilities. It allows the whole tech ecosystem to seamlessly access and share information and have a holistic look at the patient data.
However, it's critical to create standards for the different health systems to share in order to facilitate the smoothest possible transmission of information. As a result, many organizations such as HL7 International, HIMSS, and NEMA have sprung up to harmonize interoperability requirements.
The need for interoperability also translates into unprecedented opportunities for healthcare suppliers to revolutionize the sector and benefit from using Epic APIs.
Basics of Electronic Health Records
Electronic Health Records or EHRs include information about all medical conditions and are maintained by an authorized center (Health Authority). Health records are official data and can be accessed by other authorized centers and similar health care providers, as well as laboratories, government agencies, etc. to improve the quality of health care.
EHRs encompass a wide range of information, including:
Administrative and billing data;
Demographics;
Vitals;
Medical histories;
Problems;
Medications;
Immunization dates;
Allergies;
Lab results.
A key feature of the electronic health record is its ability to exchange patient data between providers. The EHR also allows providers to create, manage and review patient data across health care organizations and even across state lines.
What Are Electronic Medical Records?
Electronic Medical Records or EMRs are limited to one specific field of healthcare services. Thus, they store data associated with a specific medical area, healthcare facility, or physician. Therefore, it is usually an electronic version of a patient's medical history at a particular institution.
The biggest differentiator of EMRs is that providers cannot exchange patient data electronically. Unlike an electronic health record, an EMR doesn't allow providers to share patient data with third-party providers. Instead, the EMR must be provided in paper format.
Here're the tabs included in an EMR:
Medical encounters;
Progress notes;
Test results;
Prescriptions;
Miscellaneous documents such as data from other healthcare providers.
Benefits of Epic EHR/EMR Integration
Besides the seamless flow of medical data, Epic integration bodes well for the following kinds of added value:
Reduced costs of implementation. Unlike HL7 or CCD, the Epic API doesn't require extensive code or other manual input. It syncs with EHR/EMR with no additional costs.
On-demand accessibility for patients. Epic EMR Integration gives the provider the ability to ensure convenient data access for patients. This builds trust and increases loyalty among patients.
Effective and data-driven treatment. Since physicians have a 360-degree look at the medical data needed for the treatment, it's easier for them to come up with a personalized medical strategy. Thus, patients can be treated better and more efficiently which leads to quick healing.
Easier billing. According to industry stakeholders, Epic integration helps facilitate patient payments and minimize the time needed for paper billing. By using online bill-pay, self-service plans, and prepayments, medical facilities can process patient payments easier and faster.
Also, the Epic ecosystem provides a Secure Chat for exchanging HIPAA-protected messages. Physicians can send secure messages with the patient's name and medical data attached to their colleagues.
When Do You Need Epic Integration?
Embedding Epic functionality into your medical app is a beneficial solution that drives scalability and cost-effectiveness. However, its adoption isn't a silver bullet that eliminates all healthcare hassle. With that said, here's when you need to integrate your app with Epic EHR/EMR:
You're working on a healthcare provider-facing app (patient-facing software doesn't collect focus medical data like allergies, test results, and epic electronic medical records, among other things).
Data is not required to be pushed into the Epic system.
You're looking for a simple approach to streamline your clinical workflows (Epic integration isn't designed to handle large databases).
Epic EHR integration: Step-by-step
Although the integration process can vary depending on the specific business demands, it can be broken down into five main parts. First, you should check whether your data-storage locations are supported by Epic. Then, you need to sign up on uscdi.epic.com to gain access to the API key.
The goal of integration is to bring together disparate data pieces into a cohesive whole. That is why ensure that your internal healthcare system has all of the API's required endpoints. You should have access to all health-related data, including lab data, progress notes, and others.
Once you audit your data, find your API key on the website and test it against sample data. Building a medical app is the last step in the integration process. If you already have a server for your medical solution, use the FHIR API to begin integration.
Please keep in mind that this is not a full list of stages, as the technological structure is highly dependent on a certain healthcare provider. That is why the majority of medical facilities entrust EPIC integration to software development firms.
The Bottom Line
Epic is a leading provider of EHR and EMR systems that extends capabilities to associated clinics and small practices and allows for hassle-free integration with other software products. Besides, it empowers better patient interactions and streamlined billing.
However, Epic EHR integration is only suitable for doctor-facing applications that contain a reasonable amount of data. If your database is large and caters to patient-focused software, it's not the best option to include in your application.