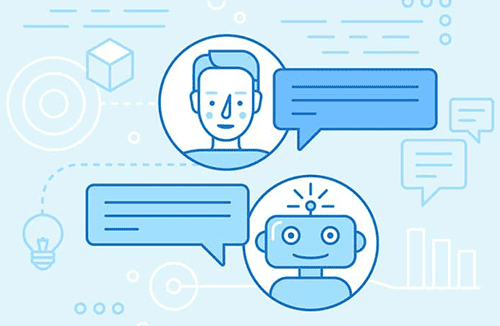 A chatbot is a program that is capable of communicating with users while simulating human behavior. It can run on any known platform. Today, these virtual assistants can replace many services such as customer service centers. This allows companies to optimize their business costs and attract new customers.
What Are the Types of Chatbots?
There are two main types of such robots:
They are based on well-defined rules and operate as automated telephone systems according to a set algorithm. They can give answers to simple pre-registered in the system user questions.
Self-developing. There are robots like the conversational bot by dasha.ai that have an artificial neural network and are based on machine learning. They can have realistic conversations with clients by answering different questions.
Where and for What Purpose Are Chatbots Used?
Such tools improve customer service and technical support. In the business-to-consumer (B2C) segment, chatbots are suitable for:
online shopping;
info business;
insurance companies;
banks;
hotels and restaurants;
educational platforms;
medical and cosmetic centers;
event agencies, etc.
Using the program, the user can make an appointment with a doctor, apply for insurance, get a credit card or pay for a training course on a topic of interest. In the business-to-business (B2B) market, chatbots are used in the industries of information technology, retail, finance, real estate and development, marketing and content, data analytics.
Creating a chatbot is 100% suitable for a business if at least one of these statements applies to it:
Clients cannot independently find the information they need on the website in connection.
Customers spend a lot of time talking to operators to get the information they need.
Operators cannot cope with the processing of messages that come to mail, social networks, and instant messengers. Applications take a long time to process, and because of this, customers leave.
Managers spend a lot of time on routine processes (checking the availability of goods, calculating a price for a client, etc.).
Mailing lists stopped working, and the conversion rate of applications decreased.
What Processes Can a Chatbot Automate?
There are some good examples of bots helping to solve business problems:
A department or customer service manager is busy answering calls with frequent questions. This can be solved by setting up automatic notification to the client when placing orders with the "Shipped" status with the calculation of the delivery time.
Sending bulk messages about current promotions on the site to numerous customers. The solution will be free messages to customers in various messengers instead of SMS mailings. The implementation of this function allows you to send the same messages to the contact list according to certain filtering parameters.
Managers receive information from customers about the degree of satisfaction with the service by calling them on the phone, and it takes a long time. Thanks to the bot, you can receive answers to questions from customers, collect feedback at any time, even when the manager is not working, and then analyze the answers received in the form of a report.
Sales managers regularly call the accounting department to inquire about payment information. In this case, you can set up automatic notifications to the manager about the amount of payment from the buyer when downloading payments from the client bank.
Benefits of Chatbots
The use of social networks, instant messengers, a company's website for a built-in chatbot gives several crucial advantages to a business:
Always in touch. The client contacts the company 24/7.
Wide range of incoming requests. It doesn't matter how many users you have on the site simultaneously — 10 or — 1,000, the chatbot will quickly respond to everyone. The staff of the company is not required to expand with the influx of clients.
Feedback source. The statistics of requests allows you to find out what the demand is among consumers, to optimize the provision of services for specific needs. Feedback is also collected directly after making a purchase or service.
Inexpensive maintenance. The main costs are spent on creating a service. Then it is easily configured for applications, optimized, and updated on a budget.
The client is more accustomed to working in a familiar service. The platforms are open to working with companies, easily adaptable to business. There are options for specific settings.
The level of service is increasing. The customer does not wait for a response from the consultant; there is a data record, and the speed of further interaction increases.
Saving time. The user does not hang on the phone waiting for the operator's answer. The burden on consultants who are still looking for new clients or other useful things is reduced.
Operators have to be controlled: whether the operator was polite and attentive and answered all the questions. Programs answer the simplest questions that they were taught to answer.
High engagement is because robots do not initially position themselves as spam. This is a confidential dialogue between the client and the company. Moreover, many brands support an informal chatbot style, making it even more comfortable to use it.
When Such Service Is Not Needed
Reasons to refuse chatbots:
The small incoming flow of clients, requests. In this case, it is cheaper to hire 2-3 operators.
No typical references, narrow specificity. It is required to understand the functions. For example, use it only to pay for services.
There is no dialogue with the client.
It is inconvenient to write long texts or control the voice. Typical for the construction business, psychological consultations, where the request is long or atypical.
Interestingly, the service can be used for individual tasks, rather than replacing a person with a robot. Some queries still require a personal approach.
With the advent of chatbots in marketing, a new era has begun. The program allows you to reach a fundamentally new level of virtual communication with existing and potential clients. A chatbot in the age of millennials is a must-have that allows you to increase your audience reach and build an effective sales funnel at the lowest cost.