Like WordPress.com and Google's Blogger, Tumblr is free platform to create and host blogs with full ability to customize look and feel. However Tumblr identifies itself as micro-blogging platform where you can publish short blog posts, photos, infographics and much more. The most users of Tumblr are the one interesting in photography or collecting various images across the internet and using Tumblr as bookmarking platform to share those images with their friends and family.
If you are the one who has blog at Tumblr and looking for easy solution to backup all your photos hosted on Tumblr then here awesome tiny tool, TumblRipper. This tiny free tool lets you to download and create backup of photos posted on any Tumblr blog. Below is the list of features TumblRipper offers,
1. Automatically download all photos from a given Tumblr blog.
2. Will try to retrieve the 500px photo, else 400, 300 or the 250.
3. Only photos you don't already have yet will be downloaded.
4. As light as possible on the Tumblr servers (in fact it will cause less load than a normal visitor).
5. Will keep a small text file in the saved directory with the blog url to easily update.
When you start TumblRipper you will be presented with minimal user interface with option to enter Tumblr blog url and directory to save all the downloaded photos. Click on load button to start downloading Tumblr photos.
TumblRipper will first index all the photos hosted on selected blog, and then will start downloading. You can see the status of numbers of photos downloaded and remaining while the download is in progress, and once it completes the download process, you will get the "Done" message.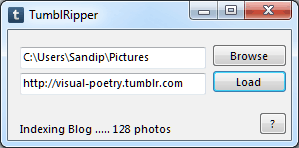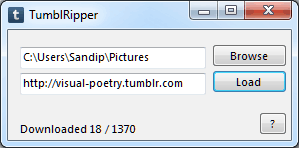 The only annoyance of this tool is no pause option, which you may need when you are downloading hundreds of photos. Also you need to have .Net Framework 2.0 or above installed in order to run TumblRipper.