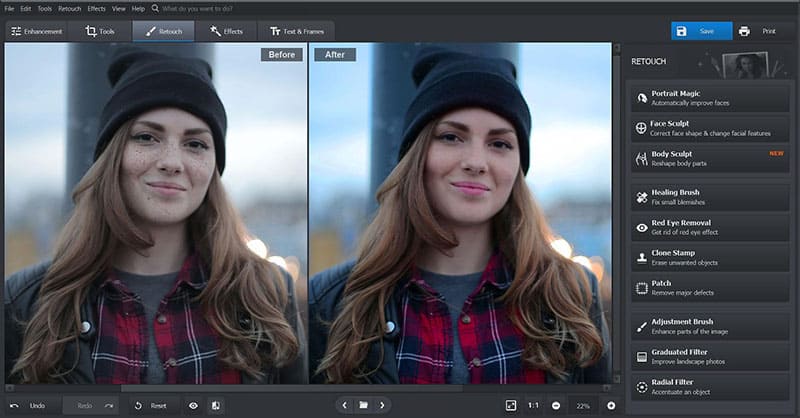 Modern professional photo editing programs can do wonders. Moreover, they offer a short learning curve and allow you to become an expert in rapid time. You no longer need to take a long and extensive course on photo editing to learn the basics and make your first professional picture. Being integrated with AI technology, they offer a multitude of quick solutions to turn a regular photo into an outstanding photograph. One such editing tool is PhotoWorks – an auto photo editor with tons of helpful tools and one-click solutions. What are the main features and how to take full advantage of the functionalities?
Automatic Photo Editor by PhotoWorks
1.  Create Perfect Portraits
Taking great portraits is much harder than it seems. There are so many things that can go wrong: lighting, color rendition, angle, makeup, and so on. But a good auto photo editor can help you fix small imperfections and make you a better photographer much faster. First of all, check out Portrait Magic – a tool that offers both automatic and manual enhancement. You can smooth out skin and remove face shine in one click of the mouse with auto options as well as manually adjust the sharpness of the eyes, the whiteness of the teeth, and glare of the skin. Secondly, try Face Sculpt – a tool to fix the results of bad and unflattering angles. Sometimes, a poor angle can make the model's nose seem larger or eyes further away from each other – all of it is fixable with Face Sculpt. Finally, click Red Eye Remover to fix the unfortunate consequence of bad lighting.
2. Work with Background
There could be multiple reasons for editing background: you see an unwanted object that distracts viewers from the model or the photo is overexposed because it was taken at a bad time of day. Or maybe you want to remove the background altogether and replace it with a magnificent beach or a gorgeous palace in France or Italy. This automatic photo editor offers several tools to achieve your goals. If there is a small object that you would like to get rid of, try Healing Brush – a tool that allows you to hide anything by covering it with the surrounding colors. In case the object is quite big, use Clone Stamp – a tool that literally copies a part of the image and pastes it to completely cover up the object. Finally, if you have been dreaming of visiting the Eiffel Tower or Statue of Liberty, use the Change Background option to remove the background and replace it with a picture from the gallery or one of your own.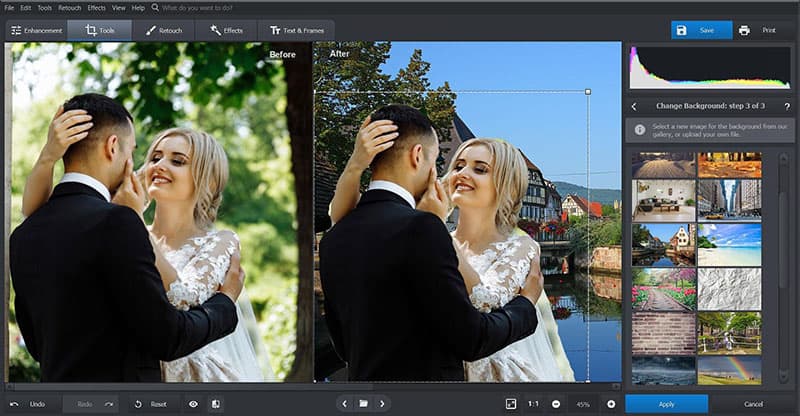 3. Restore Old Pictures
Everyone has old family photos that are in such poor quality that they became barely presentable. Would you like to give them a second chance? PhotoWorks allows you to restore old damaged photos and breathe a new life into them. The automatic crop tool will help you get rid of old and worn-out corners of the photograph. The already familiar tools Healing Brush and Clone Stamp will eliminate cracks and rips. If the sharpness is off due to bad quality camera and lighting, use the Sharpness tool to fix it. Finally, add colors to the image by adjusting Saturation and Vibrance. If you would like to preserve the old-timey look, apply one of the built-in vintage filters.
4. Take Advantage of One-Click Solutions
The automatic photo editing software offers a variety of one-click fixes that will significantly shorten the duration of editing. The very first one you should be familiar with is Auto Correction – a tool that instantly enhances the overall quality of the image. Additionally, you can also adjust contrast, exposure, and correct colors. Further, the program has a large collection of Instagram-ready filters that are immediately applicable. You can choose a vintage filter for an old-timey image, a quick enhancement effect to balance out the colors and add contrast, toning effect to add more warm colors and darken or lighten the picture. Finally, use a polaroid filter to create a nostalgic look or a movie effect to recreate a color theme from your favorite film – Pulp Fiction, The Matrix, Blue Velvet, and many more. Next to effects, 3D LUT Color Correction will also transform your image into a professional-looking photo.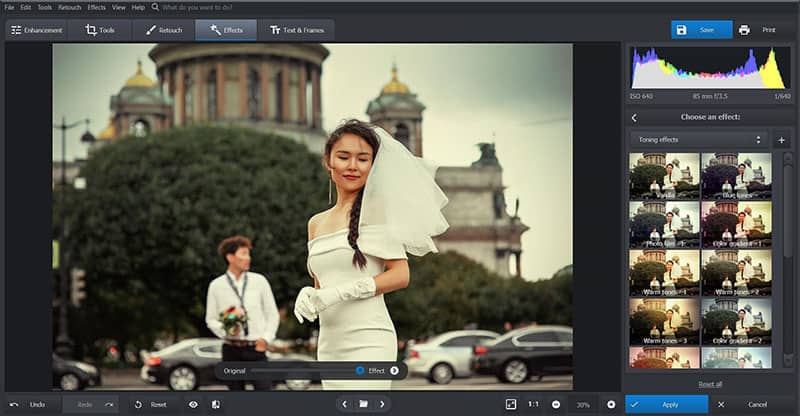 5. Create Something Special with Captions
Using stylish captions, you can create a logo or a banner. Browse through a wide collection of captions that you can customize and make bigger, thicker, and more colorful. Choose between different fonts and sizes, add an outline and shadow to emphasize your message. You can also adjust the opacity and rotate the text as well as move it around the image to find the perfect location. Finally, you can funk up your image by adding a fun sticker in the shape of a heart, word cloud, arrow, and so on.
6. Try Professional Editing Tools
Next to letting you edit photos automatically, PhotoWorks offers a selection of professional tools. Given its ease to use and learn navigation and layout, you will master even complex tools very quickly. First, let's try to fix common lens distortions: barrel – when the lines are curved inwards, pincushion – when the lines are curved outwards, perspective – that causes an effect of disproportion. All of the above are easy to fix with the Distortion tool that you will discover in the Geometry tab. Second, let's talk about Curves – a tool that controls brightness, contrast, highlights, and shadows. It is displayed in form of a histogram and will let you adjust all the mentioned features in one graph. Third, Tone Mapping is a tool that allows you to play with various tones. In order to learn more about the professional editing options, check out the built-in tutorials.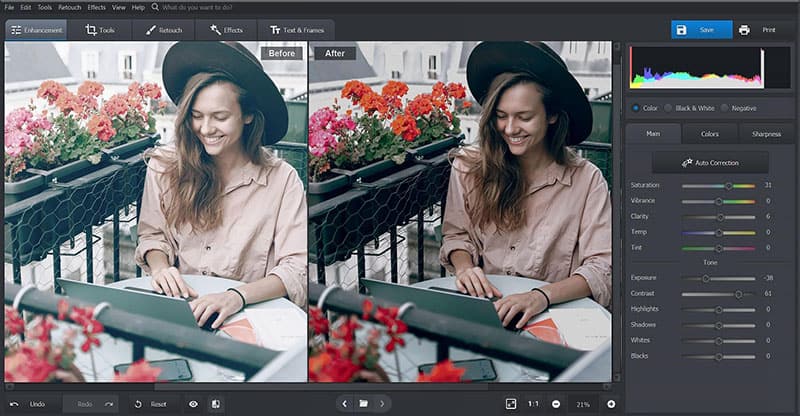 PhotoWorks is an editor designed for both experts and beginners that allows the former to take advantage of complex tools and create something truly special and the latter to quickly learn the basics and embark on a path of a professional photographer career.