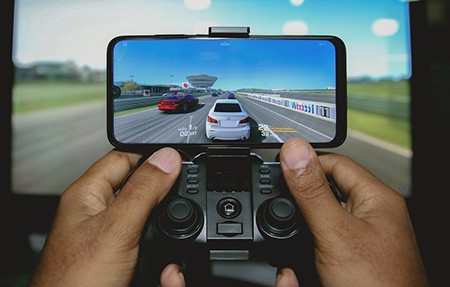 Modern Android smartphones and tablets have several times more powerful GPUs than the vast majority of computers had 10 years ago. Due to largely improved mobile performance, the porting of popular games from PC and consoles became possible. Now that Android is one of the major gaming platforms, Freepps.top experts selected ported titles that are worth your attention the most.
Best Games Ported to Android from PC and Consoles
1. Minecraft
Humbly presenting Minecraft back in 2009, Markus Persson couldn't even imagine that his creation was going to become one of the best-selling games in history. Minecraft is a 3D survival game with a focus on the exploration, mining of resources and proviant, crafting, and melee combat. You come to the game as a funny blocky character with a pickaxe for breaking blocks, while the randomly generated world offers you unlimited space for exploration.
As of May 2019, Minecraft is owned by over 176 million players worldwide, Statista reports. Moreover, its multiplayer mode is played by over 100 million people monthly. Along with coming to Android, it was also ported to around 20 other platforms, including popular consoles, niche operating systems, and even Raspberry Pi.
2. XCOM: Enemy Within
Enemy Within is an expanded version of XCOM Enemy Unknown, one of the most popular turn-based strategies ever. It's also one of the first games to be ported from consoles to mobile platforms, so it's also a trend-setter to some extent. You play a squad of elite alien fighters that are commanded to save Earth from the invasion of the ruthless civilization of hi-tech monsters. You have to command them wisely as the amount of turns is always limited.
3. Max Payne
This story of a brutal cop with nothing to lose is one of our favorite shooters at Freepps.top. You play Max Payne, an experienced self-sacrificing cop whose wife and baby child were killed by criminals. His colleagues falsely suspect him in murdering his partner, so he decides to hide. However, justice remains his true calling, and he plans to kill every single criminal with his own hands without anyone's help.
4. Fortnite
This multiplayer 3rd-person shooter by Epic Games started out as a trivial zombie survival with cartoonish graphics and nearly nothing original to offer to players. However, in 2017, developers were inspired by PlayerUnknown's Battlegrounds that established the battle royale genre. As a result, Fortnite became one of the top-grossing games on the market, with over 250 million monthly active players worldwide. In this game, you can create a unique-looking character and fight against 99 other players on a huge island. The only way to win is to kill everyone and remain the only survivor when time runs out.
5. Carmageddon
Carmageddon is not just a retro racing game. It's a bloody survival derby that looks like it was developed in hell. The action takes place in a fictional city somewhere in the post-apocalyptic USA. You play a daredevil rider who has no purpose but to race with the same mad racers. Not that it's impossible to win races without frags, but it feels so fun and rewarding to chase and explode your opponents!
6. The Wolf Among Us
Telltale Games is the best developer when it comes to immersive novel-worth narratives and inventive quests. After hitting the market with a gorgeous Walking Dead game, they came up with an even more thrilling story. The Wolf Among Us is a complicated story set in the world of fairy-tale characters who suffer from real-world problems. The protagonist, Bigby Wolf, is a werewolf detective who has to investigate sticky cases and deal with heavy psychological issues. Freepps.top recommends The Wolf Among Us as the most unusual story ever told on mobile devices.
7. Crazy Taxi
This one's a funny casual taxi driver simulator, initially released by Saga in 1999 for arcade machines and Dreamcast. There are 6 more games in the series, but this one is the craziest. You can select a car and a driver and ride the city backward and forward catching passengers. They're always in a terrible hurry, so you have to break all the laws (including physics) to deliver them in time and get more cash.
8. Grand Theft Auto San Andreas
GTA San Andreas is the 2nd best selling game of the 3rd best-selling video game series of all time. It's also the biggest AAA action title for mobile devices today. You play Carl Johnson, aka CJ, who returns to his hood in Los Santos, CA, after getting the untimely death of his mother, murdered by some rival-gang drug addicts for no real reason. Now he's back to revenge and bring Groove Street back to the big criminal business.
9. Grand Theft Auto: Vice City
We cannot fail to may attention to another Rockstar's hit, GTA Vice City, as it's also a living legend. Unlike San Andreas, it takes place in the middle of the '80s on the posh Malibu shore, where money, sportscars, heavy metal, and nightclubs make everyone lose their minds. Tony, who comes to the city to pay off his criminal debts, decides to hit the wave and bring the entire city on its knees instead. You'll enjoy this game very much if you like the aesthetics of the '80s and 1983 Scarface with Al Pacino. By the way, this movie is the Vice City's prototype.
10. Bully (Canes Canem Edit)
This is another Rockstar hit ported to Android. Every fan of it waits for the second encounter release because there's no other game like this. In Bully, you play a problem schoolboy who picks on everyone around and drives mad all teachers at school. It's an exciting story with some of the best Rockstar's jokes, unique gameplay mechanics, and a lot of unusual things to do.
Conclusion
As you can see, Android becomes a landing for more and more AAA titles due to excellent performance and a convenient development environment. Each of the games in the list is a piece of art. If you think that some of them are too old, remember that they were the best in their early years, not without reason.