AMD Radeon HD2000/HD4000 and mapped network drives not working issue for October 1809 update are already identified by Microsoft, however, the list of issues is not yet over. Using the user feedback system, Microsoft is continuously updating and acknowledging any new issues that were uncaught during testing or insider release phase.
Here is one more and most surprising issue uncovered for Windows 10 version 1809. As per Microsoft, Apple has identified an incompatibility for iCloud version 7.7.0.27 with Windows 10 1809.
iCloud for Windows issue with Windows 10 October 1809 Update
The two issues that are faced by Windows 10 1809 users is as follow,
If you attempt to install iCloud for

Windows

Version 7.7.0.27 on

Windows 10

build on 1809, the installer will fail with the message, "this version of iCloud

Windows

isn't supported"
The second issue is faced with your attempt to updating synching shared albums.
Affects platforms
Windows 10, version 1809

Windows

Server 2019

Windows

Server, version 1809
If you haven't applied 1809 update on your Windows 10, then it would be wise to wait until the fix is available for iCloud compatibility issue. If you are running iCloud version other than 7.7.0.27 then you can install the update without much worry.
How to Check installed iCloud version on Windows 10
You can check the version of iCloud installed by following below steps,
Open

Windows

Setting by pressing win+i keyboard shortcut
Now click and open Apps
Under search apps, type icloud and from the list click on iCloud
When you click on iCloud from the search result, you will see the version details.
If you're running iCloud version 7.7.0.27 on Windows 10, then simply uninstall if you are not using it to backup your Apple devices on the cloud or you can download an older version and use it till the fix is released.
Microsoft has already blocked the updates for the users having iCloud Windows version 7.7.0.27, so you will not see new update message till Microsoft fixes the issue. Also, if you are running an older version of iCloud for Windows, then you will not be able to install the latest version of iCloud, the installer will fail with following error message,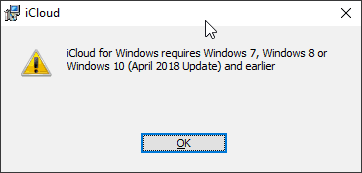 Users are also suggested not to manually install October 1809 update via media creation tool. Bookmark this page for further updates on fixes for iCloud compatibility and build 1809 issue.