Microsoft Edge is a great browser. Now, that might be an unpopular opinion but trust me it does compare to the good browsers like Google Chrome and Mozilla Firefox. The new browser from Microsoft has amazing features like add-on support from Windows 10 Store, and the browser also has amazing features like integration with Cortana and more. But sometimes the browser can run into errors like the INET_E_RESOURCE_NOT_FOUND error.
The complete error message reads as follow,
There was a temporary DNS error. Try refreshing the page.

Error Code: INET_E_RESOURCE_NOT_FOUND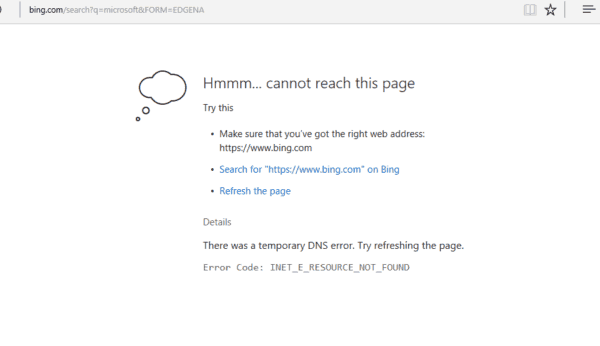 The cause of this error lies deep within Windows 10's very own updates but Microsoft hasn't fixed this for the users. In this post, we will take a look at a bunch of solutions that we have listed to fix this specific error on Microsoft Edge.
INET_E_RESOURCE_NOT_FOUND Error, How to Fix?
Solution #1: Try Repairing Microsoft Edge from Settings
Before we try anything, we should try fixing this error by using Windows 10 Setting's native Edge repair options. To access the repair options, follow the steps given below.
Open the Windows 10 Settings app by clicking on the Start Menu and then clicking on the gear icon above the power menu button.
Once the Settings app is opened, click on the Apps option and then move over to the Apps & Features section.
Look for the Microsoft Edge app and then click on Advanced Options.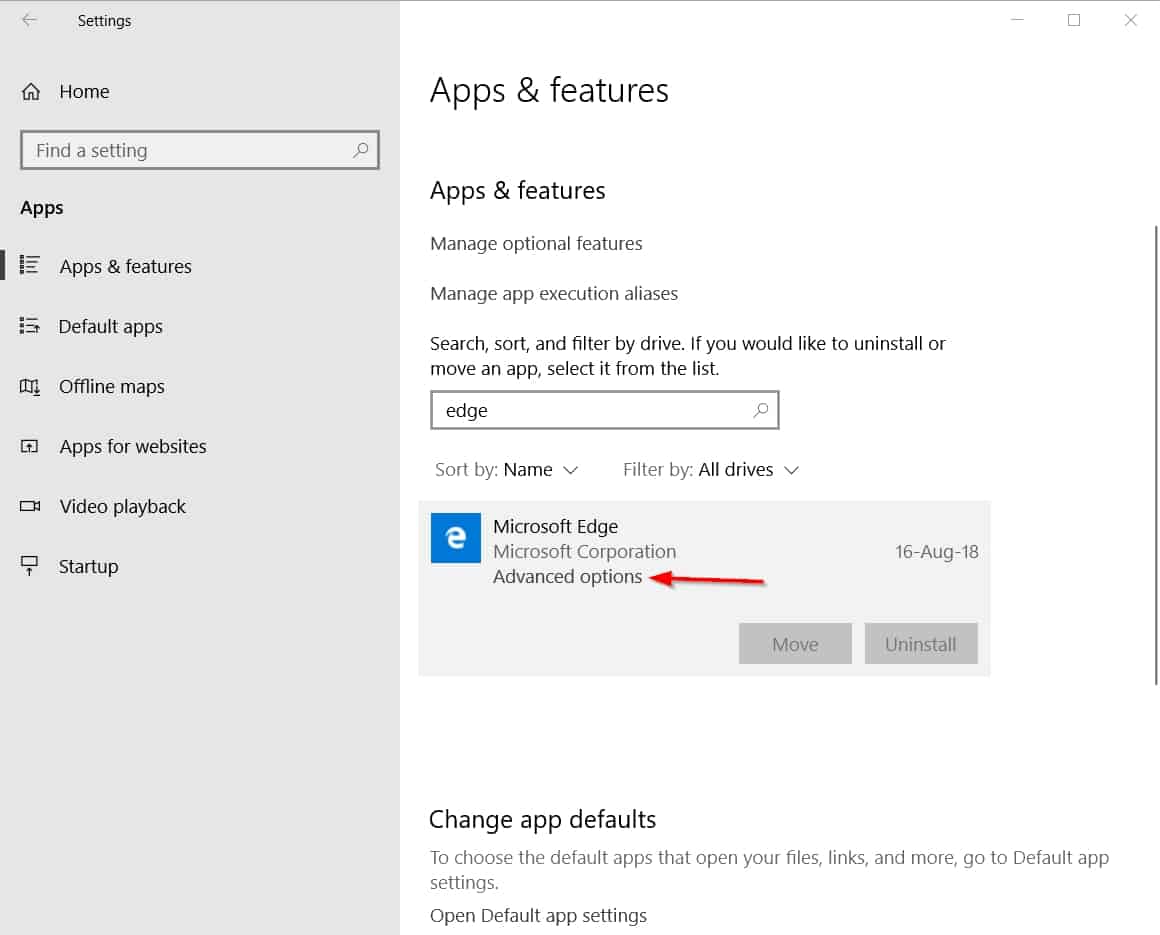 Once the Advanced Options window has opened, scroll down and look for the section named Reset. You will see two options here.
One of the options reads Repair and the other one reads Reset.
Clicking on the Repair button will perform repair operations for Microsoft Edge and you will not lose any data. After you have clicked on Repair, try using Microsoft Edge again and if you're still facing the issue, then click on the Reset button which will completely reset the browser and you will lose a few things by resetting the browser. Your bookmarks, favorites etc. will remain since they're synced with Microsoft servers. If this simple trick doesn't work for you, move over to the next solution.
Solution #2: Disable TCP Fast Open
TCP Fast Open helps Microsoft Edge perform better and open websites at blazing fast speeds but it can also introduce glitches when things go wrong. We can try to solve the error by disabling the TCP Fast Open option and to do that, you need to follow the steps below.
Open the Microsoft Edge browser and then enter about:flags in the address bar and press ENTER.
This will open a bunch of settings for Microsoft Edge and on this new page, use the keyboard combination of Ctrl + SHIFT + D to enable advanced options.
Scroll down and then look for the Networking section where you will find the Enable TCP Fast Open option.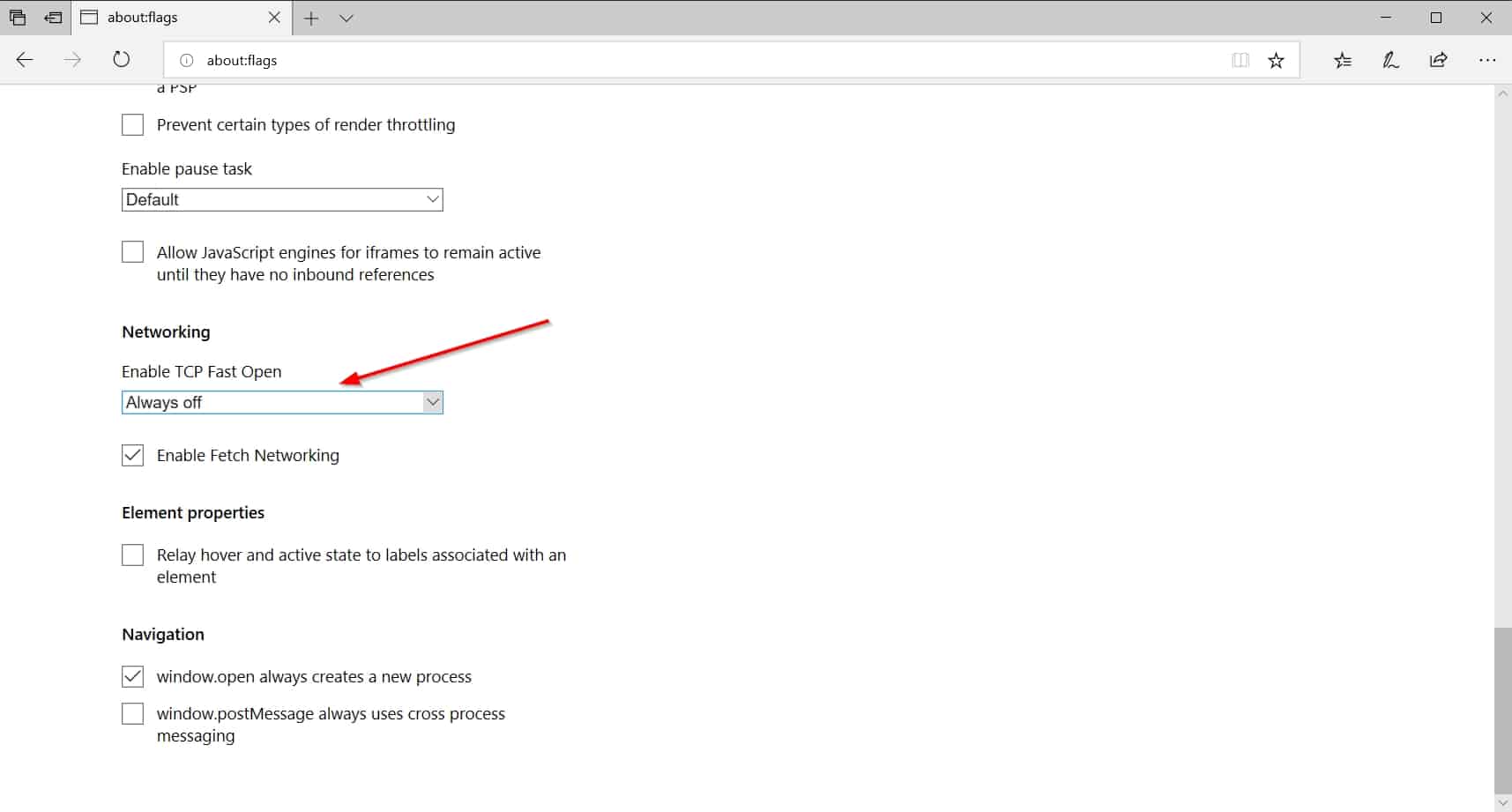 From the drop-down menu, just choose Always off and then restart the browser. Try browsing again and now that TCP Fast Open is disabled, the browser should work normally without issues.
Solution #3: Flush the DNS cache
Flushing the DNS cache will reset the DNS cache on your computer and if this error is being caused due to a corrupt DNS cache, then this solution will solve it for you. Flushing the DNS cache is very easy and it can be done with a simple command in Command Prompt.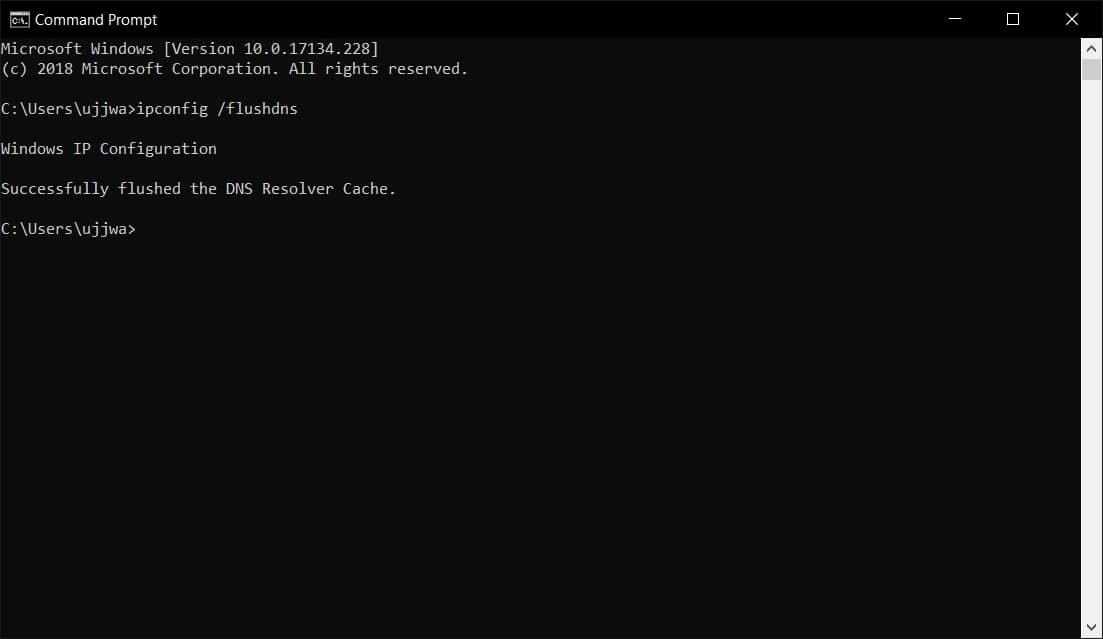 All you need to do is Command Prompt from the Start Menu and then enter the following command.
ipconfig /flushdns
Once the DNS cache has been flushed, all you need to do is reboot your computer and see if the issue is fixed.
Solution #4: Reset your computer's connectivity configuration
This solution works if you have a dynamic IP assigned to your internet connection. Please don't use this solution if you're on static IP since it will reset everything related to your internet settings and you will have to deal with your ISP in order to set up everything back to how it was.
Open the Start Menu and then search for PowerShell.
Right click on Windows PowerShell and then choose Run as administrator.
Now in the PowerShell window, type the following.
ipconfig /all > C:\ipconfiguration.txt
This will backup your IP configuration in the C: drive of your computer.
Now you have to type the following commands one by one.
netsh int ip reset c:\resetlog.txt and PRESS ENTER

netsh winsock reset and PRESS ENTER
After you have entered the above-mentioned commands in the mentioned order, you need to reboot your PC and check if the issue has have been fixed or not.
Solution #5: Install pending Windows Updates
How long has it been since you updated your computer? In order to update your installation of Windows 10, you just need to head over to the Settings app by opening the Start Menu and clicking on Settings. Open the Updates & Security section and then in the Windows Update section, click on the Check for updates button.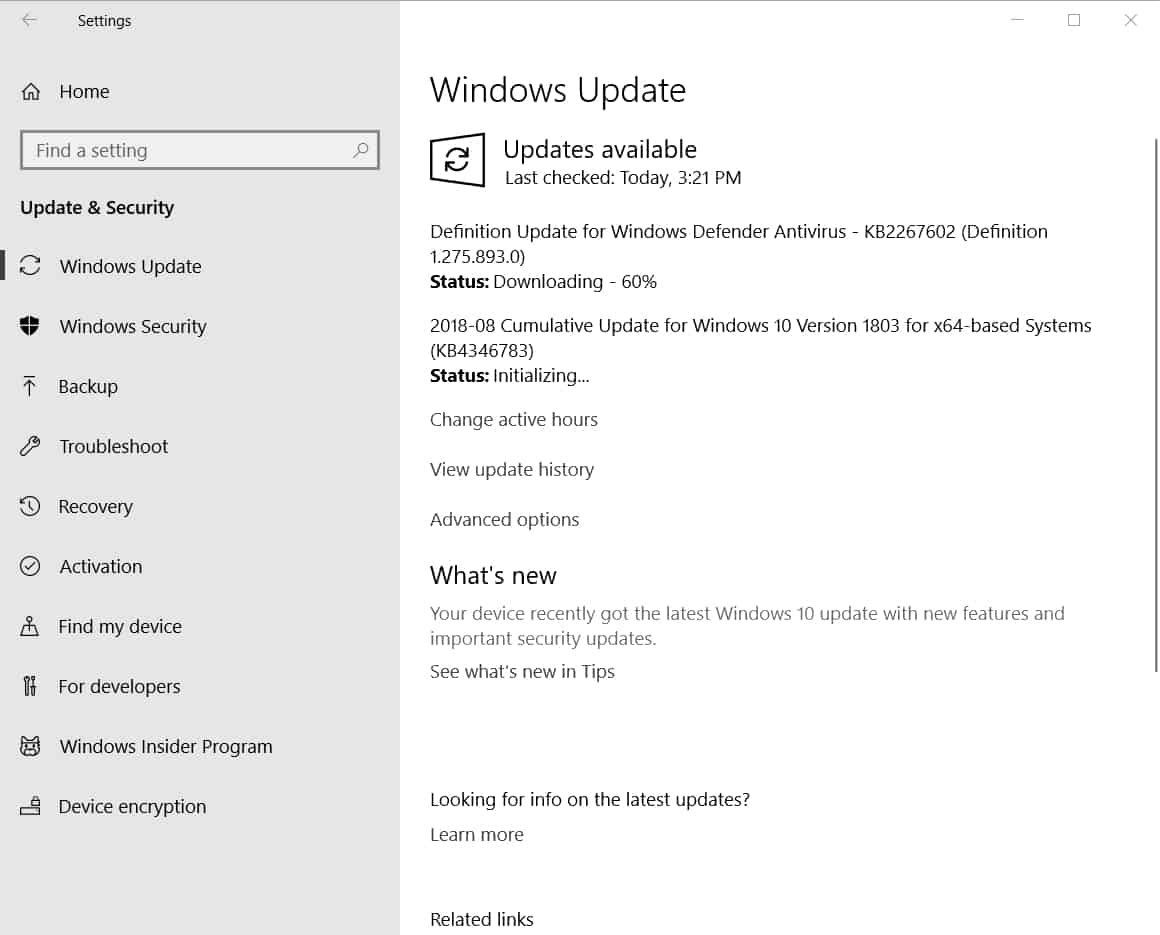 Once your PC has been updated with the latest patches and updates for Windows 10, you can easily just start using Microsoft Edge without any issues at all. As you can see in the image above, the PC hasn't been updated in a while and a major cumulative update wasn't applied which was causing the issue. Updating the PC fixed the issue for good.
Wrapping it up!
In the end, I cannot ask you to reset your whole Windows 10 installation for this minor issue as you can easily switch to an alternative browser while Microsoft provides a legit bug fix for this in the next Windows 10 update but you can try the methods and solutions mentioned above and they will surely help you get rid of this error once and for all.