We are all familiar with the infamous blue screens of death error messages on Windows and on Windows 10 these screens might come up with the "System Thread Exception Not Handled". This is not a good sign for your Windows 10 computer. This error usually means something serious is wrong with your computer.
The exact error message and text reads as follow,
Your PC ran into a problem and needs to restart. We'll restart for you.

If you'd like to know  more, you can search online later for this error: SYSTEM_THREAD_EXCEPTION_NOT_HANDLED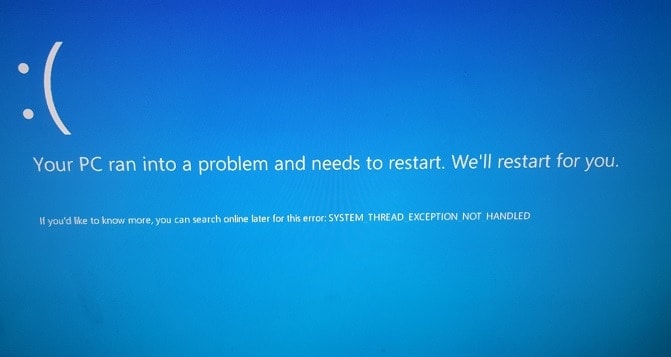 It can be the corrupted driver database of your Windows 10 installation or a hardware, like your GPU or your hard drive failing. But before you jump to conclusions, take a look at these solutions and try them out. They might just fix the error for you and even if they don't you will identify the cause of the error so that you can fix it.
Note: If your PC is running into reboot loop, then here is the guide to fix it.
SYSTEM_THREAD_EXCEPTION_NOT_HANDLED Blue Screen Error on Windows 10, How to Fix?
Solution #1: Remove recently installed drivers
If you recently installed a new driver for some component in your PC, it is very much possible that it was a wrong driver and Windows is not able to interact with the hardware properly thereby causing this error. To fix this, you will need to uninstall the recently installed driver. There are ways to do this and you can check them below.
Roll back a driver
Rolling back a driver means uninstalling the latest driver and going back to the last driver that was being used.
To roll back a driver, open Device Manager by opening your Start Menu and typing Device Manager.
Once it is opened, find the component for which you installed the driver and double click on it.
Now in the new window, move to the Driver tab and you will find an option that reads Roll Back Driver.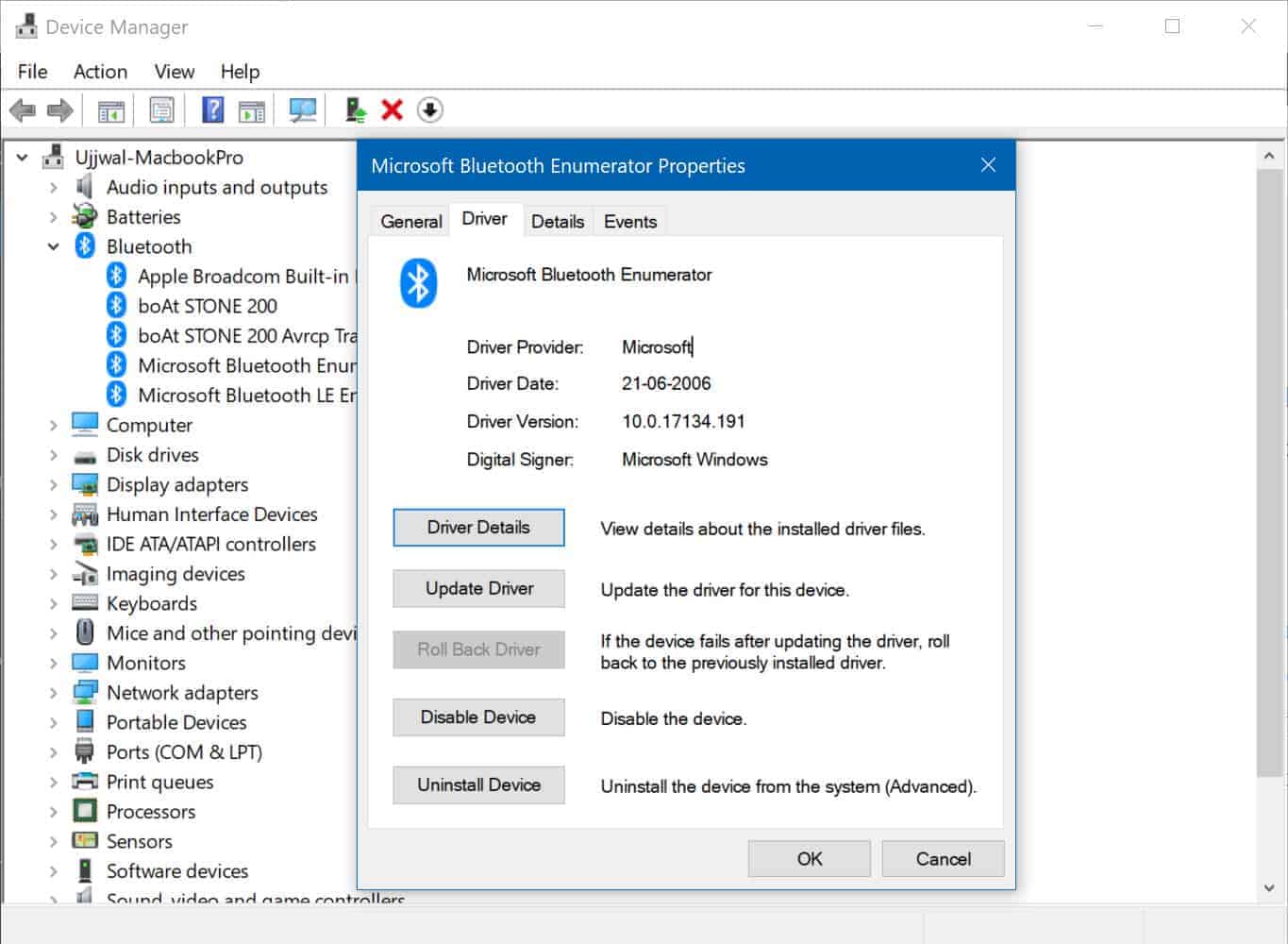 If you don't have the Roll Back Driver available in your Device Manager options, then all you can do it uninstall the driver.
Uninstall the Driver
Since rolling back the driver to an older version didn't work, you can try uninstalling the driver.
Just follow the steps listed above and open the Driver tab.
Instead of clicking on the Roll Back Driver button, just click on the button that says Uninstall Device.
This will uninstall the driver for your device and you can download and install the correct drivers which will eliminate this error.
Solution #2: Reset/Reinstall your Windows 10 installation
We already mentioned the possibility of this error being caused by a bad driver and how to fix it. But what if the whole Windows driver database has been corrupted? In that case, we need to replace the corrupted Windows files with new ones. To do that, we need to reset our Windows 10 installation.
Reset your Windows 10 installation
To reset Windows 10, we will need to restart the computer in the Safe Mode.
To restart your PC in Safe Mode, open the Start Menu and keep the SHIFT key on your keyboard pressed.
Now click the Power button in the Start Menu and clock on the Restart option.
When your PC restarts, you will have to select Troubleshoot and then choose the Reset this PC option.
You will be given two options:

Keep my files: This option will keep your files and settings and reinstall Windows 10.
Remove everything: As the name suggestions, everything will be removed after choosing this option.

It is a wise idea to take backup before performing this in order to keep your files safe.
Choose the option accordingly and the reset process will start.
Keep in mind that Windows 10 might ask for the Windows installation media so you should have it handy.
Reinstall Windows 10
If the above fix doesn't work for you. You might want to install Windows 10 to make sure if this error is being caused by the software, it will be gone with a fresh installation of Windows. Use your Windows 10 installation media and use it to do a fresh install of the OS.
Solution #3: Disable Overclocks – If Any
If you recently overclocked your processor, RAM or your GPU, then the error might be arising due to that overclock. Overclocking a PC is very complex and requires a lot of testing and trial and errors. If you have overclocked any of your PC components then that overclock might be the issue here.
You should disable the overclock and then check if the system is booting fine and working properly without the error or not. After the system is stable, you can try different overclock settings or disable it completely if you wish to.
Solution #4: Identify the crash cause
We can also use third-party programs like WhoCrashed in order to see what's causing this error. These errors always leave a log dump file which can be read by using a third-party program. The best program for this purpose is WhoCrashed which reads the logs and tells you what's causing the crash.
Download WhoCrashed from the link and install it on your computer.
After the installation is complete, run the program.
It is quite simple to use and all you need to do is click the Analyze button in the program.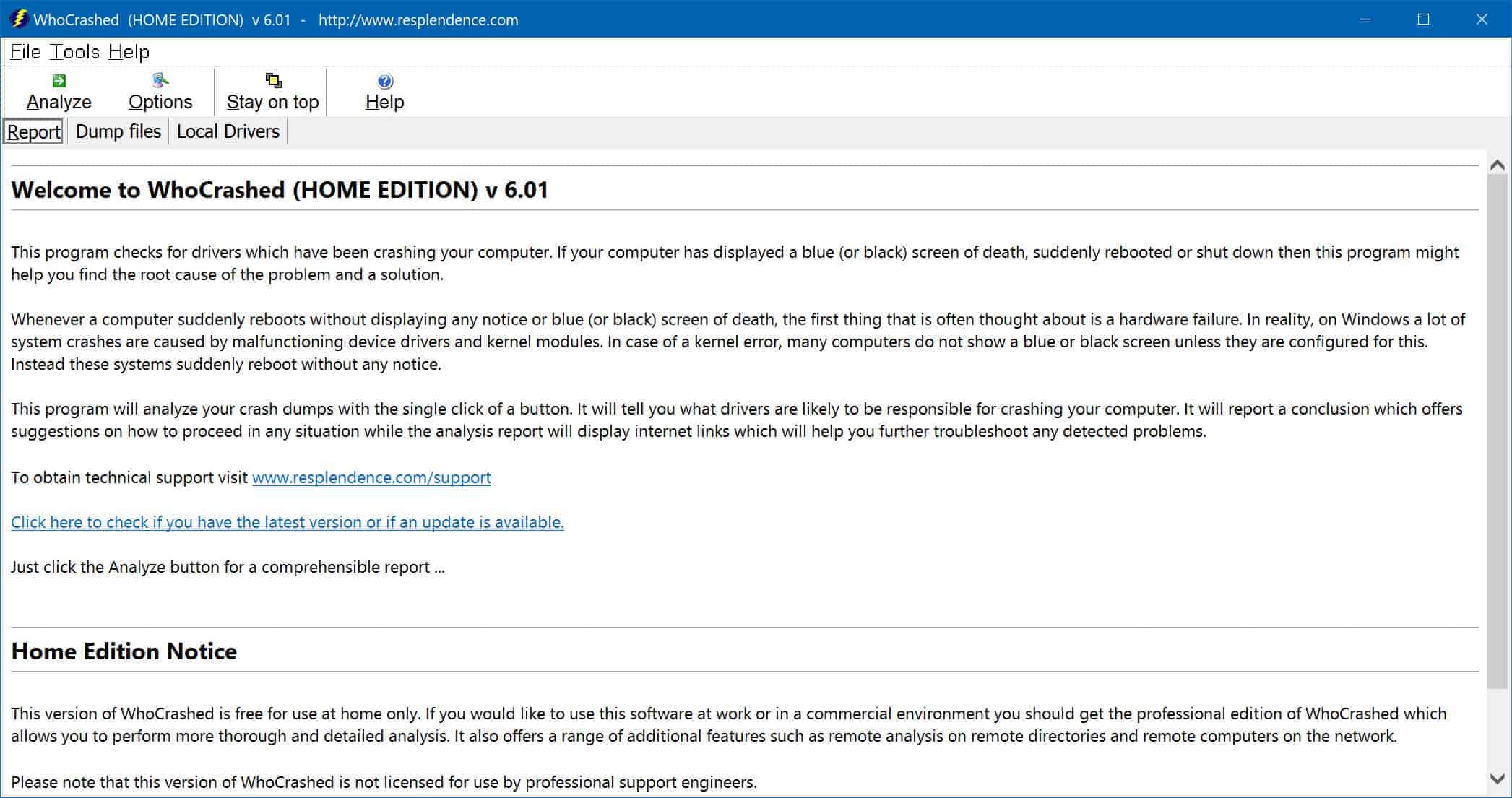 After the dump log files have been analyzed, you will be provided with a report that will have a file name ending with .sys.
You can look up the file name on Driver Reference Table and find out which driver is causing the error.
Now that you have identified the cause of the crash, you can uninstall the corrupted driver that is currently installed and install a fresh new updated driver.
Verdict: If nothing works, Check your hardware. It might be failing!
Since this is one of the most critical errors out there, it is highly possible that the error is showing up due to a failing hardware. Let's say you have checked the driver that is causing the crash using solution #4 and you have also tried updating the driver to a correct one. If you are still getting this error then it is definitely a failing hardware.
The driver file might help you identify the failing hardware. If it is a file related to your hard drive, it is possible that your hard drive has worn out and needs replacement. You should quickly take a backup to keep your data safe. It can also be an entirely different hardware like a GPU and in that case, you might need to send your GPU for RMA.