For many people, emails are the most essential part of their work. They spend most of their day sending and replying to emails. Since, we have plenty of email clients available for PC and mobile devices, it lets you keep in touch with your mails all the time. Though digital communication is quick and simple, it is important to take care of the security of our communication. There are many browser extensions and web applications available to track and encrypt the emails. Today I've come one such application called "Virtru", an ultimate email security tool for secured communication. Here's how it works.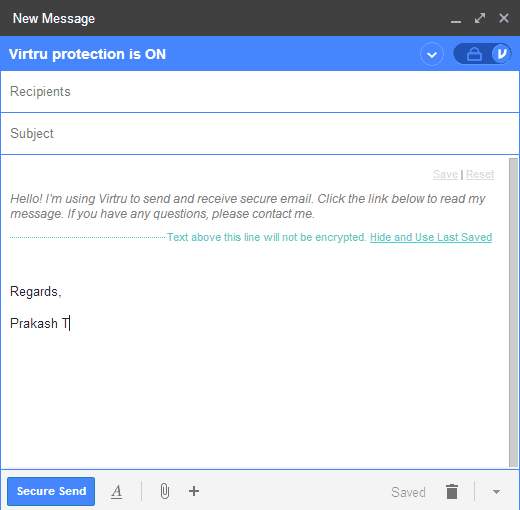 Virtru is a free email security application available for Chrome, Firefox, Outlook, MacMail, Android and iOS devices. For Internet explorer and Safari, the application will be available soon. After you install Virtru on your email clients and different devices, all your emails will be encrypted by default. I've installed the application in my Chrome browser and I tested it with my Gmail account. By default, the Virtru protection will be switched on, when you start composing a new mail. There will be a small button in the top right corner to enable/disable the virtru protection.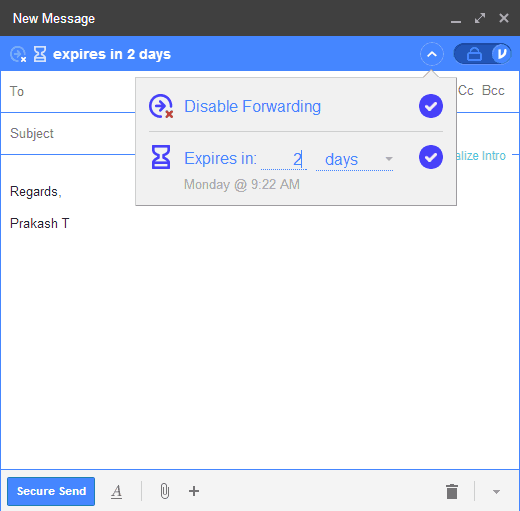 Four main features will enabled after you install the extension. As I said before, all your emails will be encrypted by default. Next, when you compose a new mail, you can set a date and time for the email to get self destructed automatically. Also, you can disable the recipient from forwarding that particular email to anyone with the help of this extension. When you are sending a confidential email, these features will be very useful.
The fourth important feature in the application is revoking the access from the email you have sent. Normally, after you send an email, you can't do anything about it. Even if you send that email to a wrong recipient, you can't do anything to it, but after you install Virtru, it gives a full control over all your sent mails. You can revoke access from the sent email at any time you need. This will restrict all the functions and the recipient cannot forward or download the attachments from your email. Virtru is a must have email security application for all the users. Try this in your devices and share your  experience with us in the comments. Thanks for reading, do share this post with your friends.