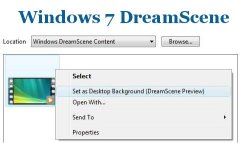 Dreamscene is one of most discussed feature of Windows Vista Ultimate Extra. Dreamscene allows you to set any video or animation as a desktop background on Windows Vista however Microsoft has not provided any such feature in its latest Windows Operating system Windows 7
We had provide workaround to get back dreamscene feature in windows 7 however many users has reported several issues like invisible desktop icon text etc. To remove and uninstall DreamScene from Windows 7, just download the following registry registration entries file which will clean system registry of any DreamScene registry keys and values.
Download Uninstall-DreamScene.reg
The Uninstall-DreamScene.reg will remove all registry keys that was added to system when installing DreamSccene patch. After cleaning system registry, delete following files
1. DreamScene.dll from %SystemDrive%\Windows\System32\ folder
2. DreamScene.dll.mui from %SystemDrive%\Windows\System32\en-US\ folder.
You must restart your computer before deleting above files.
Source: My Digital Life