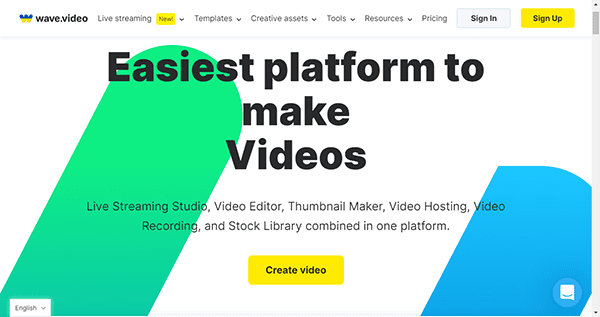 Video marketing is on the rise; it is a type of content marketing effective at building brands and reaching large audiences. According to the survey, 83% of marketers believe video is more crucial than ever.
YouTube is one of the finest streaming outlets available today. This platform is one of the channels used to reach all types of viewers worldwide. Because YouTube intros attract more viewers, creating intense branded intros for your brand is essential. To make your YouTube videos stand out from the crowd, you should start learning how to make YouTube intros right away.
How do you make a YouTube intro? You'll need a YouTube intro maker, such as wave.video to pique your audience's interest from the first second of your video. Intro maker for youtube also lets you customize outros, allowing you to quickly and easily create a stunning intro and outro for your videos.
This post discusses the significance of YouTube intros and how to create them with the wave video intro builder.
What is a YouTube video intro?
The intro is the first part of a YouTube video that plays when it loads. Your video introduction allows you to make an excellent first impression. It is typically a brief title screen, voiceover, and subtitles that describe the video's subject matter.
Youtube Intro Maker Free: Steps to Create an Intro with Wave.Video Intro Builder
Creating an intro using the wave video intro builder is simple and quick. You can easily create a video intro by following the easy steps below.
Step 1. Start your intro with video clips
A stunning intro starts with an intro maker and clips. You can choose from 300 million stock videos in wave.video, or you can use video files saved on your computer.
Begin by fusing several clips into one multimedia intro or just one clip to create your YouTube intro. Depending on the situation, a series of short videos or a memorable intro clip can be influential.
Step 2. Edit and create a YouTube intro that suits your brand.
Once you've decided which video clips to use, you can edit them into a YouTube intro representing your brand.
With wave.video intro maker, you can add animated text effects, video filters, and your logo or brand name. You can also include music in your video to immediately capture the audience's attention.
Step 3. Edit your video and upload it.
When you've completed your intro clip, it's time to edit, combine them into one powerful video, and upload it to your channel. Stunning Wave video intros will give all of your videos a strong start.
The Significance of YouTube Intros
What is the importance of the YouTube intro? Commercially, this is where you can set yourself apart from other online videos. It establishes the video's mood, standards, and even charisma.
Since you'll need to reach a wider audience for your brand, you must create as compelling and engaging content as possible. Videos must be user-friendly and straightforward to understand. As a result, intros and outros in YouTube videos are required.
Several factors support the importance of intros in YouTube videos, which are listed below.
Increases Brand Recognition And Trust.
Branding is what distinguishes content on YouTube. Youtube intros can assist your audience in determining your videos among billions of others. A consistent YouTube intro that speaks to your brand and identity can increase brand awareness and trust among your viewers.
If your audience enjoys your content, they will become accustomed to your brand's distinct style and can instantly determine your video apart from the competition.
Conveys a Professional Impression
You can use the intro to artistically edit the video and incorporate your brand's design principles into the finished product. Adding a well-designed intro will make your video more appealing, unique, and professional.
You can add branding-appropriate design elements to your video using a free YouTube intro maker to make it more recognizable to viewers. It allows you to make series out of your videos instead of single-episode works.
Assists in Leveraging Video Marketing
Video marketing helps to promote your products or services. As a result, it is best if you use an intro maker with ideal tools for leveraging your video marketing. You gain extra power from an intro, which you can use to step up your marketing efforts.
Online video editing and producing professional intros have become incredibly simple, even with a free intro maker for YouTube.
Increases Audience Responsiveness
Human attention span is only seven seconds on average.
As a result, creating a stunning intro for your YouTube videos is now more critical than ever. You can lose your audience with just one mistake in these seven seconds.
A convincing YouTube intro can act as a leash for your audience, reducing the likelihood that they will leave the website.
Conclusion
Marketers have many options when it comes to using video content. Finding a strategy that works with your company's marketing goals is thus simple. The great thing about video content marketing is that it is becoming much easier to use.
Customers are more likely to purchase your product if they understand how it will benefit them. It is not surprising that videos are a valuable tool in this regard because the visual aspect aids businesses in the clear explanation of concepts.
Creating a stunning intro for your videos is critical to attracting more viewers and increasing your video marketing, which benefits your brand. Your video intros will draw your ideal viewer, turn away the unsuitable one, and keep your audience watching every time you post a video.
It is also necessary to select the best location for your introductory video.
Your video intro should appear in the first minute of the video.
You can briefly introduce yourself before showing your intro and transitioning to the central portion of the video.
Additionally, use an intro maker, like wave video, to make a compelling intro for your videos. It allows you to create unique intros and outros that attract more viewers and boost brand awareness.