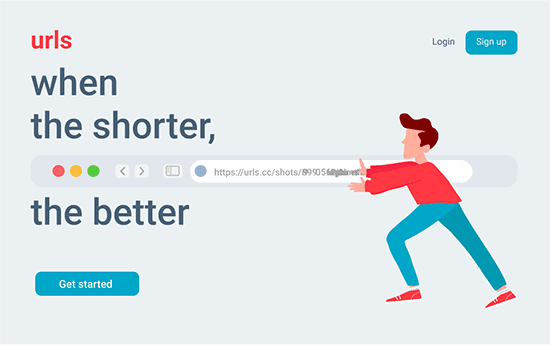 It's not easy making money online. But if you're interested in padding your wallet without too much effort, URL shorteners may be your ticket. Learn all about them and how to cash in on this relatively easy process. And who knows, maybe you'll have what it takes to turn it into a lucrative career!
URL Shortening: What It Is and How It Can Earn You Money
Of all the ways to earn income online in 2022, URL shortening doesn't top the list. But this is a good thing since the opportunity is there for the taking. Though it's not an uncommon method, it isn't exactly the most popular, either.
Before you dive into URL shortening, it's best to do your homework. Read on to see if it's right for you. Here you'll find a starting point to gain a good grasp of what it is, ways to earn money, and the best overall sites to use. They were selected due to their outstanding features and trustworthiness, so they're a safe place to begin your endeavor.
The Basics of URL Shortening
In a nutshell, URL shortening is exactly what the name implies: creating shorter links to easily remember or share longer links. They're a great option for displaying a site or sharing a file but have a character limitation on social media, advertising platforms, or text messages. You simply insert a link and let the resource generate a shorter one.
There are quite a number of URL shortener companies available. Some are bare-bones, others require an account, and a few offer top-of-the-line services for a fee. Depending on which you select, you can end up with detailed analytics to see hits and other data. This information is important if you're focused on earning cash from converting links.
Why It Pays to Get Into URL Shortening
The process of making money via URL shortening is essentially the same as above. The only difference is advertising. When someone clicks on the shortened link, they're presented with a buffer ad they can choose to click while the page is loading before they reach the full site. After a few seconds, there's a skip option. If the user opts to sit through the duration of the ad, then you get paid.
URL shortening deals with volume. If you have popular sites or large followings, these conversions are the way to go. Your goal is quantity: you need to get as many people clicking on these links as possible.
Generating a lot of links can be tedious. Working with automated tools will definitely assist you. There is a slew of options available, but always protect yourself and your automation if you plan to get the most from any of them. Your safety is paramount, so use this proxy for a secure experience when you're testing the waters of the following URL shorteners.
Multi-view Payouts: Ouo.io
Starting out, it's nice to look at a company that has a few exciting features. With a great referral and commission program, Ouo.io is the place many earners prefer. It's ranked as one of the top-grossing sites for URL shortening income thanks to its stellar service, simplicity, and focus on higher payouts. Plus, it pays in Bitcoin if you desire and doesn't charge any withdrawal fees.
Ouo.io comprises over a million members, and its multiple view policy is key to this success. Whereas most sites exclude numbers from the same source, this company is different: it pays for multi-views from repeat users.
Free From Captchas: BC.VC
Captchas are an annoyance when you're trying to get the job done, and when you add automation to the mix, it's downright difficult. BC.VC is a reliable company that eliminates the hassle of captchas and lets you focus on the task at hand.
Its user-friendly presentation and straightforward interface are fantastic for beginners, resulting in efficient performance and precision analytics. If you have a high volume of content to shorten, BC.VC is an excellent no-fuss choice.
Highest Rate Incentives: Shorte.st
When dealing with URL shortener payoffs, a lot goes into what constitutes visitation. JavaScript, Flash Player, cookies, and viewing duration all play an important part, in addition to company-specific rules. Some sites will exclude anyone who doesn't meet all criteria, leaving you high and dry.
Don't get stuck doing all the legwork for a gig that won't pay you! Shorte.st offers an exceptionally high rate compared to its competitors if your audience meets 100% of their explicit convention. But even if it doesn't, you'll still at least earn some money. This is why it has a membership of over 1.5 million and boasts statistics for shortened links that are in the billions.
Most Trusted: Adf.ly
Unless you haven't been paying attention, you've likely seen Adf.ly's name pop up here and there during your web browsing. Possibly the most well-known paying URL shortener, Adf.ly has a solid reputation and extreme notoriety. If you're just starting out, this popular site is the go-to outlet for many first-time and even experienced users.
Their tracking interface offers tremendous insight into your strengths and weaknesses, so you can continuously tweak your activity to maximize your potential. Just remember to use an Adfly bot proxy to safeguard your privacy and automated tools.
Best Payment Options: ShrinkEarn
Many sites require that you reach a certain financial amount before cashing out. This can be cumbersome for those who need rapid access to their money. ShrinkEarn's withdrawal minimum is only $3! There are no designated pay periods, so you can collect whenever you want, even daily.
Furthermore, when it comes to payment providers, they're top-notch. Most companies only offer two or three methods, but ShrinkEarn gives you around ten different options, including bank transfers, PayPal, Google Pay, and Perfect Money. No matter where you're at or how your account is set up, you'll receive your payment without any hassle.
Wrapping it Up
Now you have a good understanding of URL shortening and how it can work for you. If you're interested in earning some extra cash that has the potential to turn into something more, these user-friendly sites are your best bet in 2022. Just take your time, learn the ropes, and be wise about the moves you make. Play it smart and enjoy your new opportunity!