Photo viewer is the most basic requirement of any operation system, in order to browser and view photos and images stored on your hardware you need to have an app or program that allows your to open photos and images of any extensions [format].
Windows 10 comes with an inbuilt photo viewer app called Photos and good old traditional Windows Photo Viewer is still available (albeit hidden and has to be enabled) to view photos store on your pc. It is always set as the default application to open all type of images. Although it is a good application if you simply want to browse and view your images but if you are looking for a more precise and functional photo viewer app then here we have list of top rated photo viewer apps as an alternative to Windows 10 Photos.
What is a Photo Viewer?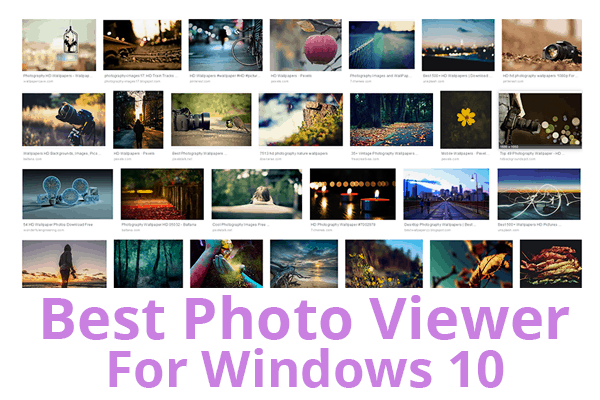 A photo viewer or image viewer is a computer application which shows graphical images with different extensions (jpeg, png, jpg, gif, bmp etc) stored on the PC. The most basic features that one most look for in any photo viewer apps are
Fullscreen Display
Slideshow
Printing
Photo Editor
Raw image files support
Image conversion and resizing
Based no above features list, we have collected some of the free and best photo viewers for Windows 10, continue reading to know about these programs.
List of Best Photo Viewer for Windows 10
Windows Photo Viewer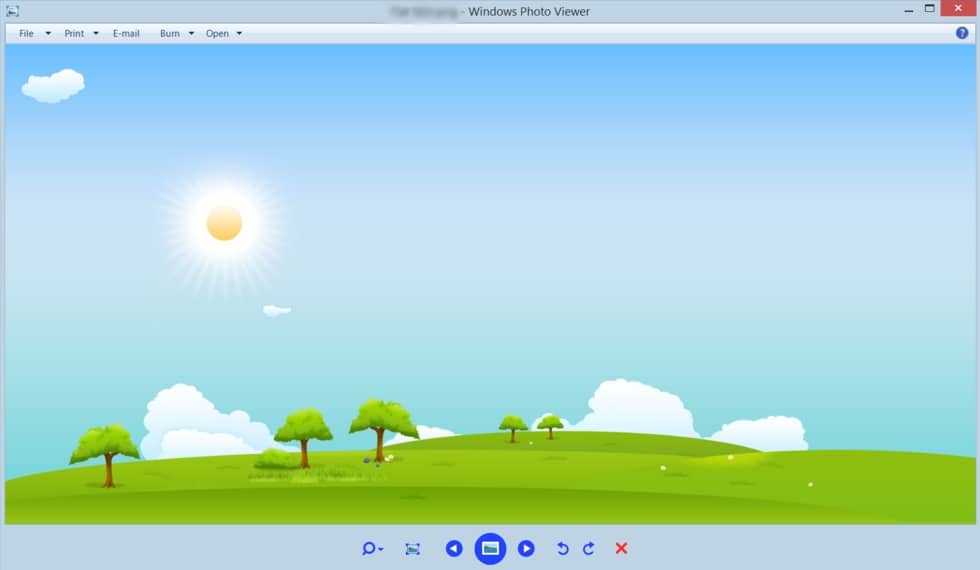 This is an old version of Windows 10 Photos application. It was included in Windows XP, Vista 7, 8 and 8.1. It is a quick and reliable tool to view our pictures. It is one of the most used image viewers of all time and every Windows user is familier with . You can use it if you want a lightweight and easy to use image viewer for your pc.
Pros:
It has basic functions like zoom, slideshow, print, hotkey and Unicode support
It is an official software from Windows itself, so it's safe to use
Doesn't require you to download or install anything.
Cons:
It is available only for Windows OS
No search and sort options are available
It doesn't support pdf and comic book formats
Thumbnail view and Navigation caching functions are missing
How to get Windows Photo Viewer?
You can simply change default photo app in Windows 10 if you have upgraded it from a previous version by going to Control Panel>Default Program>Set your default Program>Photos>Windows Photo Viewer. If you have pre-installed windows 10 then download this directory file (https://www.howtogeek.com/wp-content/uploads/2017/03/Activate-Windows-Photo-Viewer-on-Windows-10.zip) And double click on Activate Windows Photo Viewer on Windows 10 program file registry file.
IrfanView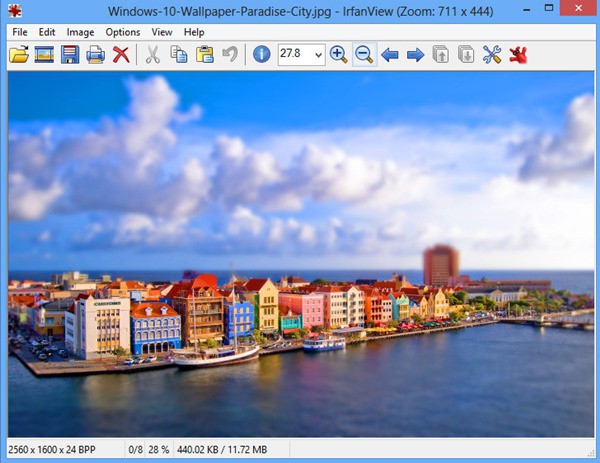 IrfanView is a multi-functional image viewer for Microsoft Windows with lots of features like an editor, organizer and image converter. IrfanView has been one of the best alternative to Windows Photo Viewer as well as Photos app. It is a fast image browser with support for JPEG, GIF, JP2, JMP, and many other formats. It is a free browser for non-commercial use although you have to opt for paid version for commercial usage.
Pros:
It supports multiple languages and available for Windows XP, Vista, 7, 8 and 10 in 32 and 64-bit versions.
It has sort, print, zoom, hex view, insert text, crop, Red-eye Reduction, batch conversion, and many other features.
Cons:
It does not support thumbnail caching and cache image decoding.
Unattractive User Interface.
Download IrfanView Photo Viewer.
XnView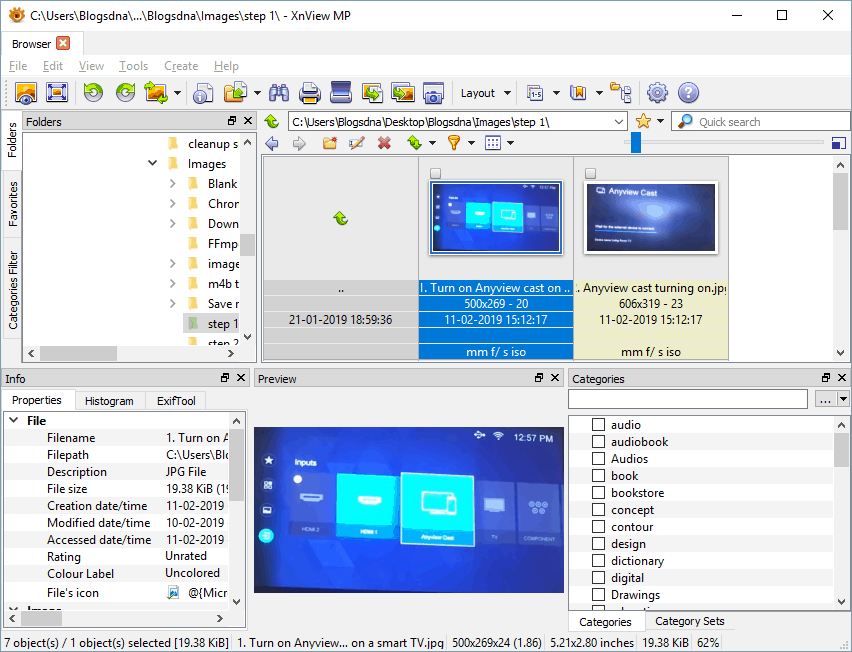 XnView is a more featured picture viewer than the previous ones. XnView can be a one reliable alternative to Windows 10 photos. With a function of image browsing, it has some editing tools like crop, rotate, flip, filters (sharpen, blur, emboss) etc. It also supports some audio and video formats too. It supports formats like BMP, JPEG, PNG, TIFF, GIF, PSD etc. It is also available for macOS and Linux. It is good to do some basic photo browsing and editing functions.
Pros:
Despite having a small package size, it supports heavy file browsing and editing.
Cons:
It lacks for not having some advanced features like Text insert and Red-eye removal
It is a paid software for non-personal uses.
FastStone Image Viewer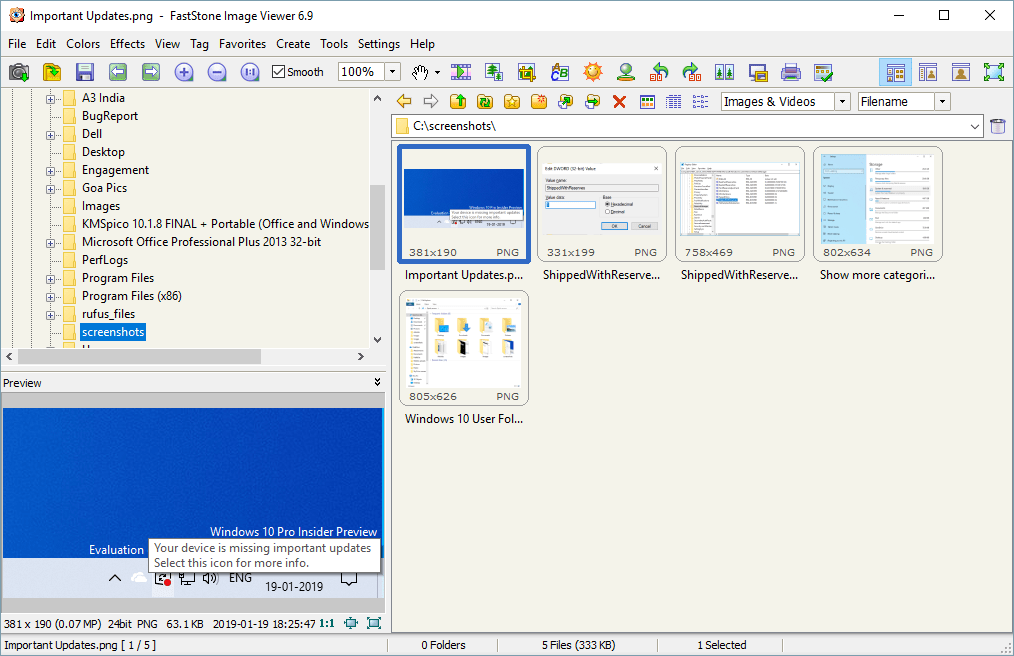 It is an advanced type of image viewer comes with some good features like photo rotation, transitional effects, heal, colour adjust etc. If you are looking for better photo viewer for Windows 10 than FastStone is good to go for.  Its latest version (FastStone Image Viewer 6.9) supports all general image formats like BMP, JPEG, TIFF, WMF, ICO etc. This is completely free and lightweight software used widely as an image viewer and editor. It has a multi-monitor configuration which results in easy file browsing. FastStone image Viewer is pretty much similar to Windows Photo Viewer.
Pros:
JPEG lossless transition and E-mail option is available
It is freeware.
Cons:
Colour Management function is unavailable.
Download FastStone Image Viewer.
Nomacs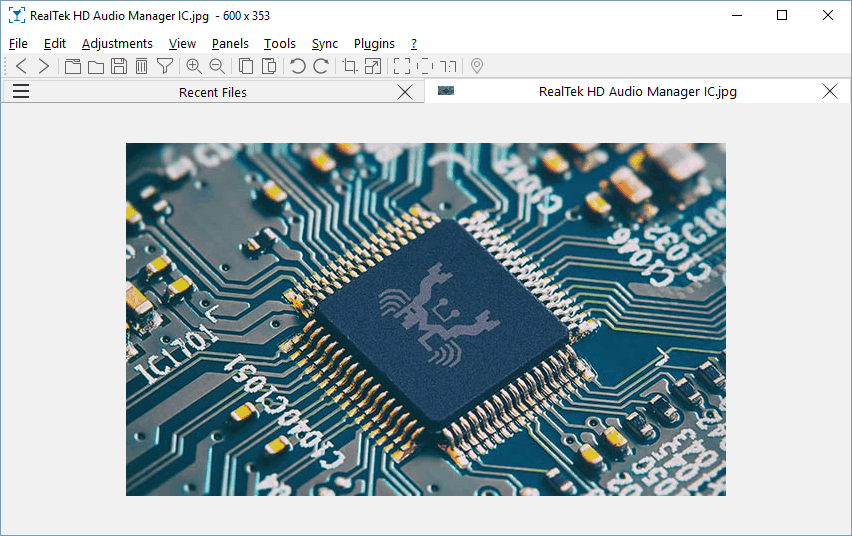 It is a multi-feature photo viewer and editor available for all the operating systems including macOS and Linux. It supports major image formats like PSD, GIF, PNG, JPEG, and RAW etc. You can browse zip and MS office files with it too. Metadata display function is also available in nomacs. You can adjust brightness, sharpness, colour and other parameters of images.
Pros:
Viewer Synchronization Function
Cons:
It has slow operating speed.
Imagine Photo Viewer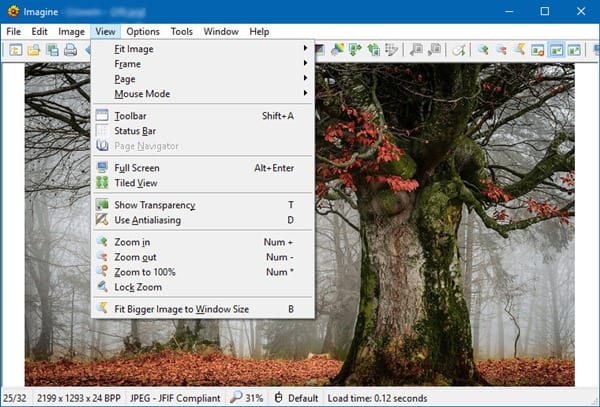 It is a quick and lightweight picture viewer capable of performing some image editing operations. This software is built on the .net framework. It supports most of the popular image formats including BMP, PNG, JPED, ICO etc. It is a freeware and available for 32 and 64-bit windows version. It is capable of opening ZIP, RAR, 7z files. It has basic editing functions like Colour balance, Blur, and Sharpen, filters etc.
Pros:
Screen Capturing and animation creation options are available.
You can use its email and social media sharing tools.
Cons:
Thumbnail browser is not supported.
Not maintained or updated to support Windows 10
Requires .NET Framework 3.5 (older version not installed by default on Windows 10)
Picasa Photo Viewer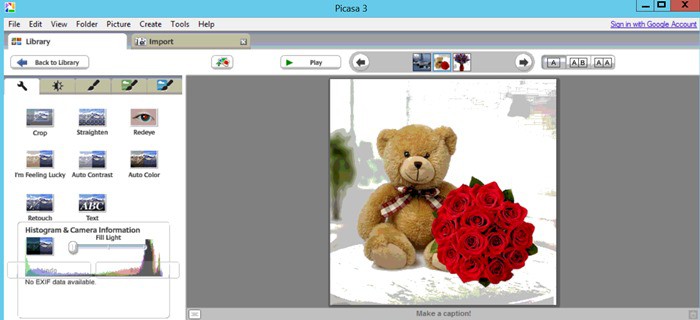 Picasa was the well-known image viewer having some great editing tools, although its no longer maintained by Google and faced out in favor of Google Photo,you can still get the old outdated version from Internet. There is a mobile version of this software which is quite popular. But, its windows version is also very amazing. It has all of the features which required in a good photo editor and viewer including Fullscreen, colour tweaking, geo-tagging, photo collage, HTML gallery creation etc.
Pros:
It is a freeware and has a good user interface
Search for Faces and Find Duplicate tools]
Cons:
It can't create web albums
Facial recognition tool is not much effective
Picasa download page on Softonic.
ACDSee Ultimate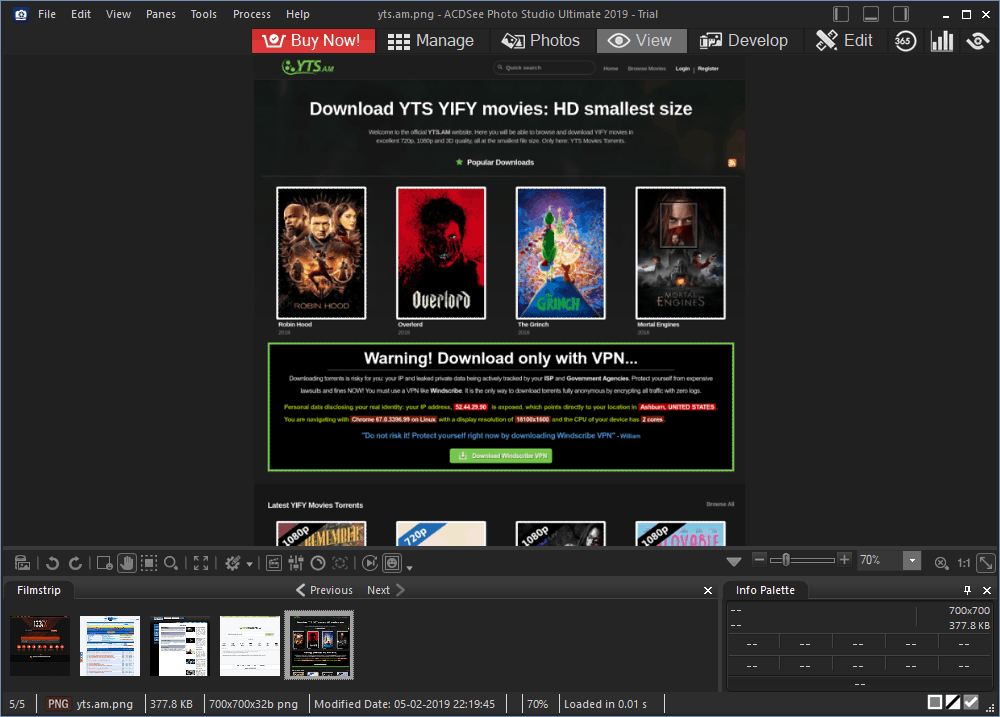 It is an advanced type of picture viewer which allows us to see inside zip files without extracting them. There are lots of feature of a photo editor like colours, Red-eye removal, rotate, batch rename, edit Exit info. It supports popular image format including BMP, JPEG, PNG, GIF etc. It also supports raw camera formats like ARW, CR2, DNG, NEF etc. It is also available for macOS. It has directory-tree navigation views.
Pros:
It has print, sort, and a wonderful user interface
Cons:
You get this package on 30 days free trial. You have to pay $109 to purchase this as a whole package.
No direct downloading of installer.
DigiKam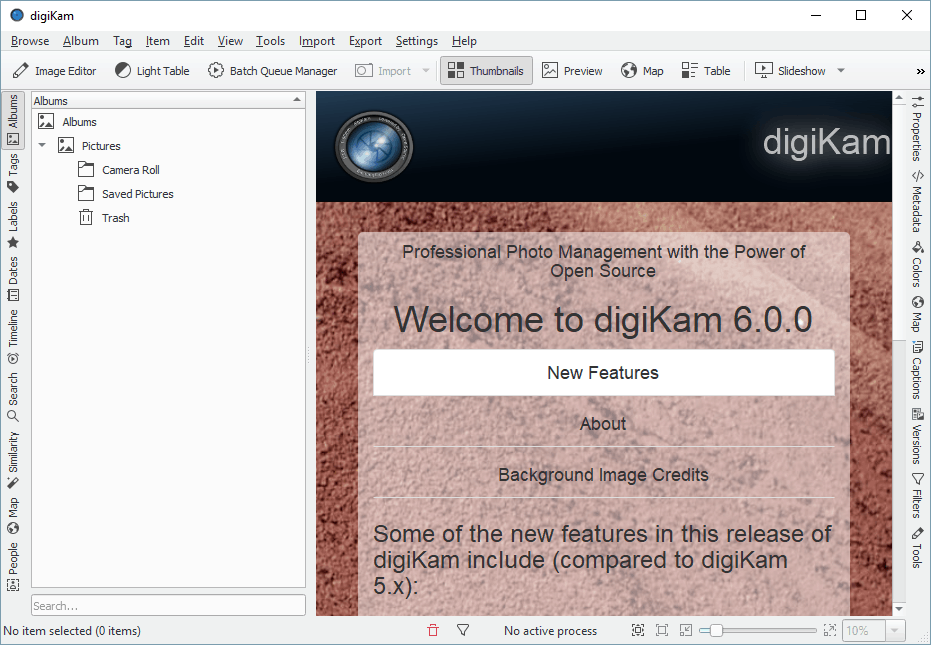 It is an open-source photo viewer software which supports OpenGL viewer. It has some advanced editing tools like anti-vignetting, vibrance, batch operations, HTML etc. It supports all famous image extensions like GIF, BMP, JPEG, PNG etc. It has an option of automatic lens correction. You can quckly edit or view metadata using XMP.
Pros:
It has a capacity of handling over 100,000 in its library
Offers user-defined sort options
Can process raw files as well as edit jpegs images.
Cons:
Live preview function doesn't work as expected sometimes.
Installer size is way too big compared to other image viewer programs.
Unsigned application, Windows Defender SmartScreen will prompt.
ApowerSoft photo viewer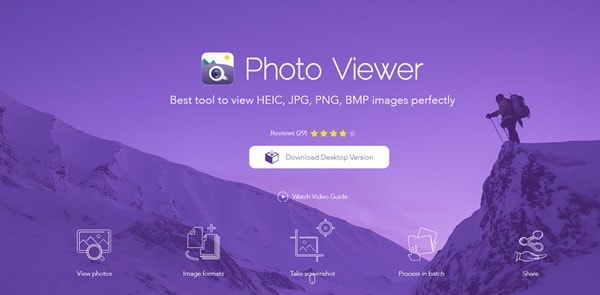 It is the fastest and easy to navigate photo viewer. It is a freeware and supports most of the popular extension. The most powerful feature of Apowersoft Photo Viewer is insanely fast image opening.
It also has some basic functions of editing. It also has a gallery where you can preview the images by thumbnails. It operates similar to Windows Image Viewer.
Pros:
Social and cloud sharing function is available.
Screen display capturing option
Fastest image viewer
Supports HEIC (HEIF), PSD, CDR, RAW
Cons:
It assigns itself as the default image viewer.
Download Apowersoft Image Viewer.
HoneyView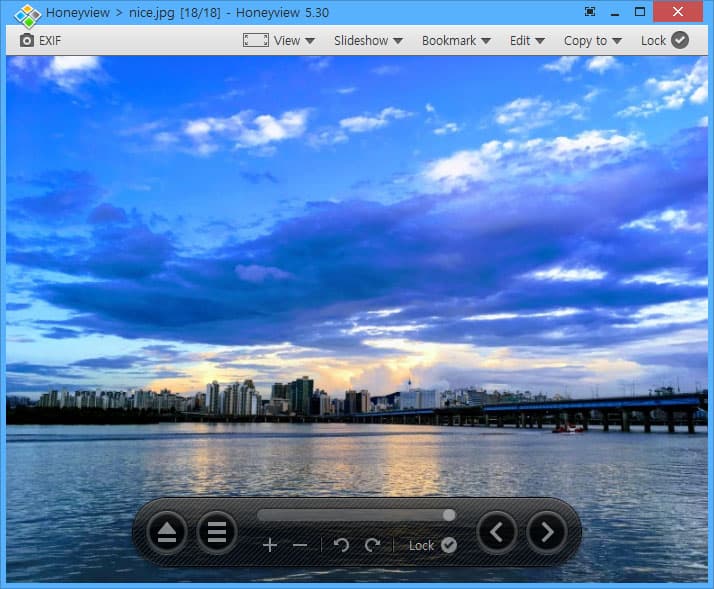 It is one of the best and basic photo viewer software developed by BandiSoft. It is a freeware capable of opening EXIF format images in JPEG format. It support various extensions like JPG, GIF, PNG, DDS, JXR, JP2, TGA and many more. The one feature of HoneyView that stands apart from all the other photos viewers for Windows is, you can directly view images within archive formats (Zip, RAR, 7Z, LZH etc) without need of extraction.
Pros:
It support animated image formats like WebP, BPG and archive formats like ZIP, RAR and 7z.
Ability to view EXIF and GPS information of Jpeg format.
Also has option convert and resize images in batches
Supports RAW images as well as animated GIF, WebP, BPG, and PNG
Cons:
Less edit options are available
Only has 32-bit version
Fast Picture Viewer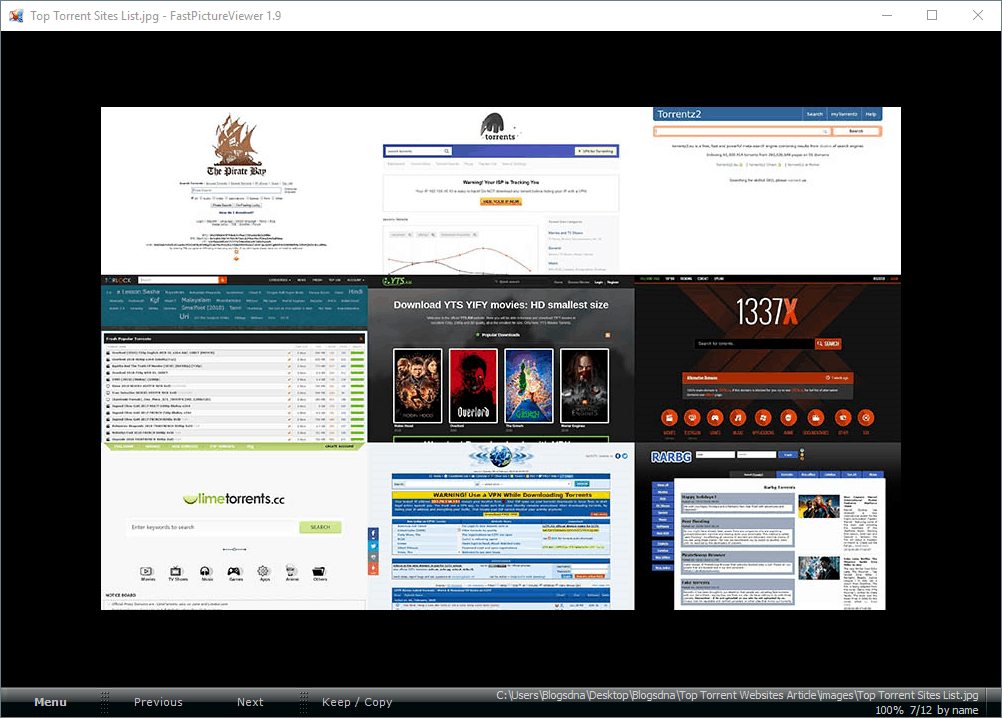 It is a premium and very fast picture viewer as its name suggests. It supports 4k & 5k monitors. Recycle bin is also available for temporary deletion of images. It supports 4k and 5k monitors and also work in full screen mode.
Pros:
It uses native 64-bit power of computer, it allow fast opening of next image.
Also supported outdated and discounted Windows (XP, Vista)
Supports for raw images of 580 digital camera models
Comes with File utility plugin which can turn Fast Picture Viewer into robust file manager.
Cons:
It's professional package is not free.
Additional and better features as offered in pro version