Windows 10 October 2018 update Version 1809 even after being in development and testing for past 8 months still chocked up at its final release thanks to widespread user file deletion bug. The issue is so severed that Microsoft has pulled out October 2018 update from Windows Update Center as well as from its website.
The October 2018 update which was announced at last Microsoft surface event and was scheduled for release to the public on October 9th but with the reports of user files getting deleted, Microsoft quickly moved to put a hold on update roll out. Although, the user file deletion bug was reported to Microsoft feedback hub by insider users but the issue was never picked up due to low voting, a parameter used by Microsoft team to address the different problems and bugs during its testing phase.
Thankfully, this incident has also forced Microsoft to make changes to feedback hub and starting from today, insider users will be able to rate the bug on a different level, so as Microsoft doesn't miss most important issues during the testing phase.
The fixed version of October 2018 update is already available and being slowly rolled out to insider users. In a long post, John Cable, had pointed the different scenarios which led to user files being deleted when October 2018 Update was installed.
KFR aka Known Folder Redirection, a process of setting up different location for the known user folders such as desktop, documents, pictures, videos etc. was the main culprit. If you never heard about this feature, you won't be affected by user file deletion bug.
The second issue that causes this problem is, users of an early version of OneDrive client where you turned on Auto-Save feature which turned on KFR for Documents and Pictures folder on Windows 10.
The users affected by this bug are requested to stop using the device and contact Microsoft support or call to following number – 1-800-MICROSOFT. Microsoft support will help you in recovering deleted data.
Along with a fixed version of October 2018 update, Microsoft has also rolled out the first monthly update to the users who have already installed Windows 10 October 2018 Update. KB 4464330, is created to fix an issue related to premature user profile deletion.
Addresses an issue where an incorrect timing calculation may prematurely delete user profiles on devices subject to the "Delete user profiles older than a specified number of day" group policy.
KB4464330 is available via Windows Update as well as you can get it from Microsoft Update Catalog,
http://www.catalog.update.microsoft.com/Search.aspx?q=KB4464330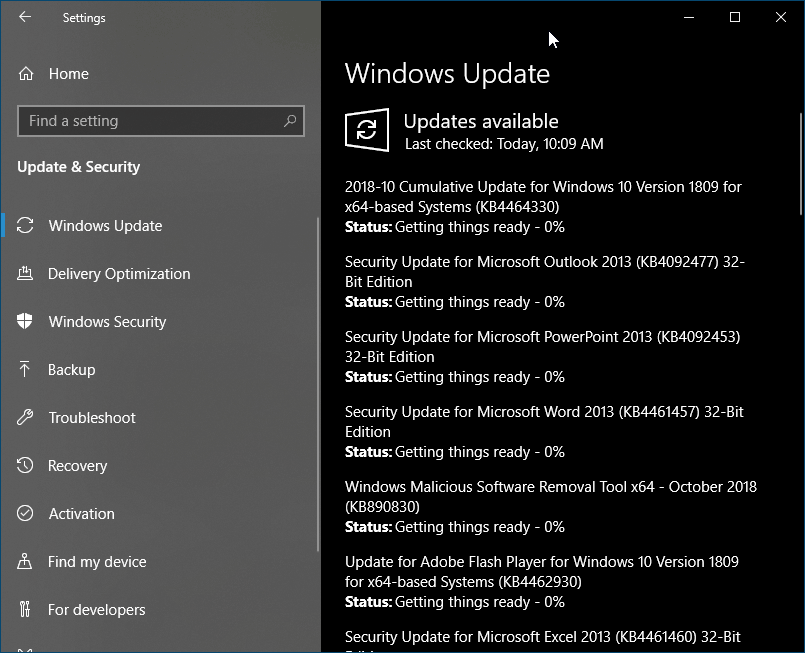 If you haven't updated to Windows 10 October 2018 Features Update then we advise you to start backing up your data before update hits and starts installing while you unaware of. You can use tools like Stop Windows Updates or StopWinUpdates to block Windows Updates totally.
But do keep in mind, despite all the efforts of preventing Windows 10 from downloading and installing updates, some updates still go through and ends up auto-updating your Windows 10.