A few days ago, I was cleaning my hard drive, sorting out files, deleting things which I didn't want. I encountered a problem where I was unable to delete or move a few files. Frustrated, I did everything I could but to no avail. After searching for a solution, I came across Lock Hunter which took care of it in a second.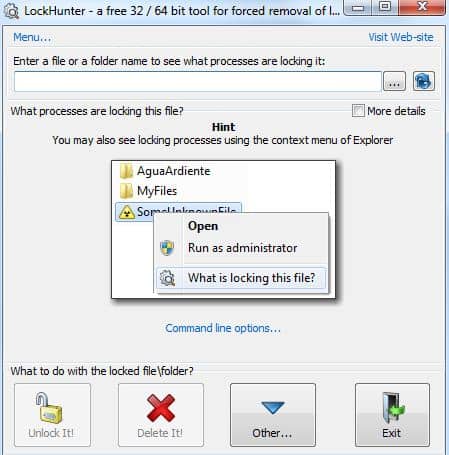 LockHunter is a free, useful tool that fixes the files which are being blocked for no reason, by something you don't know. If you have deleted a file accidentally using this tool, no need to worry, it sends send into the recycle bin first giving you the ability to restore them.
Here's how it works.
After installing, click on the file that you're unable to delete or copy. You'll notice an option "What is unlocking this file?". Click on it and it'll show you the processes which are blocking that particular file from being erased or copied. You'll have a few options. You can either unlock it which will give you stop the process which is holding the file captive and let you copy or move it easily. Or you can simply delete it which if you wanted to in the first place.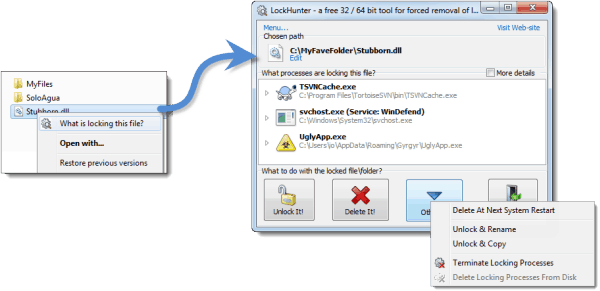 Features include:
Shows processes locking a file or folder
Gives you detailed information on the process
Allows to unlock, delete, copy or rename a locked file
Can delete a file at next OS restart
Allows to kill locking process
Allows to remove locking processes from hard drive
Can unload DLLs from processes
Integrates in to Explorer menu
It deletes files into the recycle bin, so you may restore them if deleted by mistake
Lockhunter works on both, 32 and 65 bit versions of Windows. It's a hassle free, must have tool which works right through your context menu.