Since email is a primary communication medium for most of the people out there, it is important to know the necessary security measures of the application. Spam mails are the biggest annoyance for a long period of time. There are many apps and browser extensions available to keep your inbox clean. BlockSender, is one such application for Chrome, which lets you block email senders who are spamming on your inbox. Emails can be filtered based on various conditions and the extension lets you send a fake bounce back email to the blocked user. Here's how it works.

As of now, Block Sender is available only in Chrome and you can download it from the Chrome web Store. Once you complete the installation, you will see the "BlockSender" icon near to your URL bar. Right click on the icon and select "Options" to customize it. You will see a window as shown in the screenshot below. There will be three different conditions to block emails from your inbox. You can block mails from an email address, from a particular website and an email having a specific "Subject" line. Also, you can enable a "Fake Bounce Back Message" from the same window, to stop people from spamming your inbox.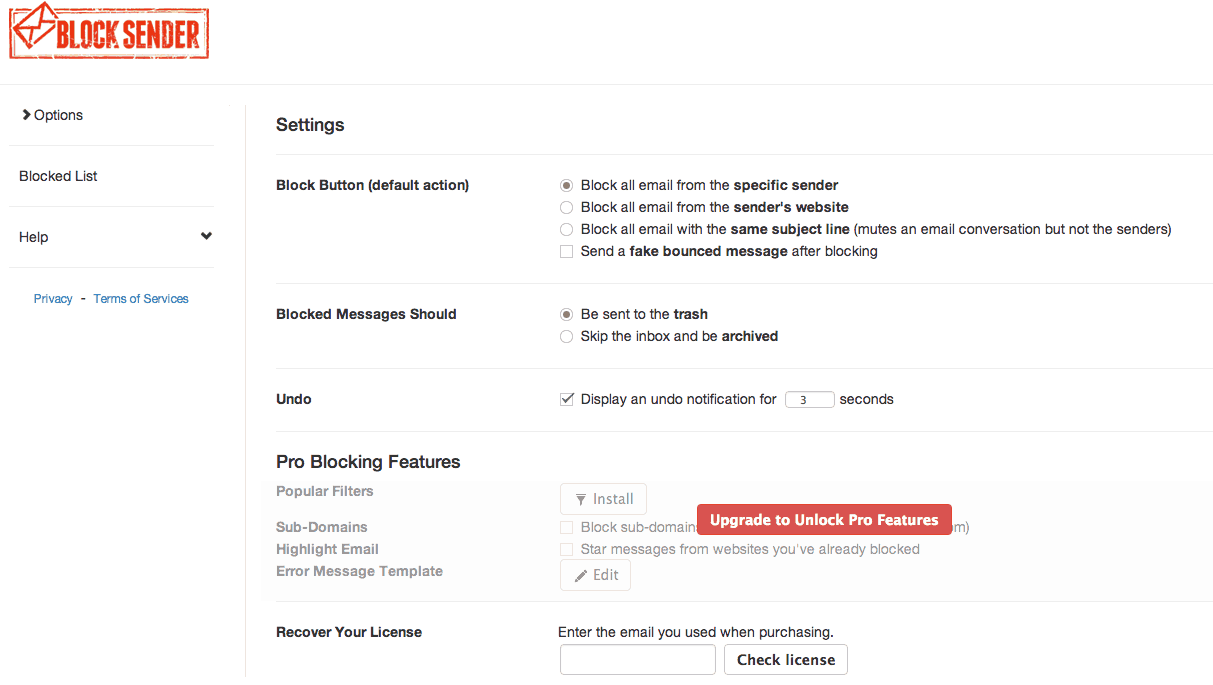 All the blocked mails can either be deleted automatically or saved in the archive of your email id. BlockSender has both free and paid versions. For basic email filtering, free version is more than enough, but if you are serious about your email security and want to completely block all the spams, premium version is must. It brings different types of filters to block emails and it lets you block emails from the sub-domains of a website. Instead of deleting or sending the spam mails to archive, paid version provides an option to highlight them with a Star for later review. You can switch to the premium version for $4.99 per month or by paying $29 for a year.
All the blocked email ids, websites and keywords will be available on the "Blocked List" option in the extension settings. You can quickly edit the blocked list over there. It is a must have application for all the Chrome users. Give a shot and share your experience with us in the comments. Thanks for reading, do share this post with your friends.