If you are a regular Google search engine user, you might have seen a different Google logo now and then. Well, these are called Google Doodles. What are they? These are spontaneous changes made to Google logos to celebrate holidays, anniversaries, and the lives of famous artists, pioneers, and scientists. Google has an entire library of Google Doodles where you can find Google Doodles as well as the information related to them such as the date, its importance, etc. The issue is that they change every day and everyone wishes they could just stick with their favorite Google Doodle rather than viewing a new one from time-to-time. This is where Favorite Doodle comes into play.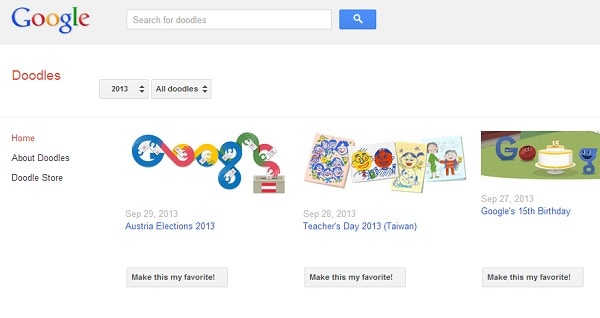 Favorite Doodle is a nifty extension for Google Chrome that replaces Google's logo with a Doodle of your choice. All you need to do is head over to Chrome Web Store and install the extension. Once installed, just head over to Google homepage or the search page and click on the Google logo. It will redirect you to Google Doodle gallery from where you can select your favorite Doodle. In case it doesn't, just visit the Google Doodle library here. Now, find the Doodle you want to use and press the "Make this my favorite" button.
After marking the Doodle just go from the search page to the Google homepage or refresh the tab. It will display the selected Doodle. Do not that the extension won't display a Doodle under specific images, which is due to the licensing restrictions.
During our testing, we did encounter a bug. When you mark a Doodle as your favorite, it won't appear when you refresh your browser for the first time. You might have to refresh it multiple times or go the search window and click on the Google icon to display the Doodle. But, it should be a big problem as we refresh our browser several times while searching.
Favorite Doodle is very simple and easy-to-use. Just tell us about your favorite Doodle from the gallery in the comments section below.