Modern web browsers offer many neat features to their users. One category of these features is maintaining a history of how people have been using the browser. Your settings, browsing history, and downloads history is all recorded by the modern browser. This is a convenience since to revisit a webpage or to re-access a downloaded file, all you have to do is pull up the relevant history and search for the page / file.
On the other hand, the maintained browsing and downloading histories recorded by your browser can post a threat to the browsing privacy of users. Some people routinely clear their browsing and downloading histories to ensure that nobody else who uses the computer can learn how the web browser was being used. For such cleanups, browsers provide built-in features such as quickly clearing the browsing history.
While people often remember to clear their browsing history, they often forget to clear the downloading history. Here to help Google Chrome users keep their downloading history automatically clean is a browser extension called Always Clear Downloads.
Always Clear Downloads is a free to use browser tool that helps people automatically clean their browser's downloading history. The tool comes as a browser extension for Google Chrome. After you have installed the extension, a new icon is placed in the browser's address bar. You can click on this icon to quickly clear the downloading history of Google Chrome. Note that this action does not delete any downloaded files from your downloads folder – it simply removes all of the entries from the browser's downloading history.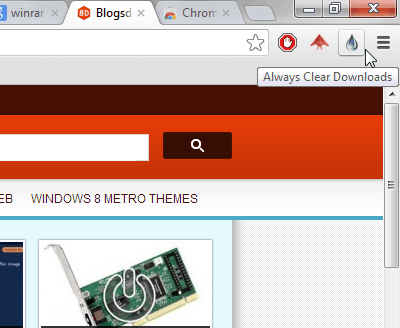 The extension also has an automatic timer which is set at five seconds. Thanks to this, your downloading history is cleared every five seconds that you are using Google Chrome.
In conclusion, "Always Clear Downloads" is just the thing needed by Chrome users who are concerned about their browsing privacy.