Whether you are trying to create a password for your email account or you are trying to test an app with a strong password, online password generators are great tools that can come in handy. If you are in search of a good online password generator, then today's list will serve you well.
Go over the list of 5 best free password generators below and see which app suits your needs best.
1. Free Password Builder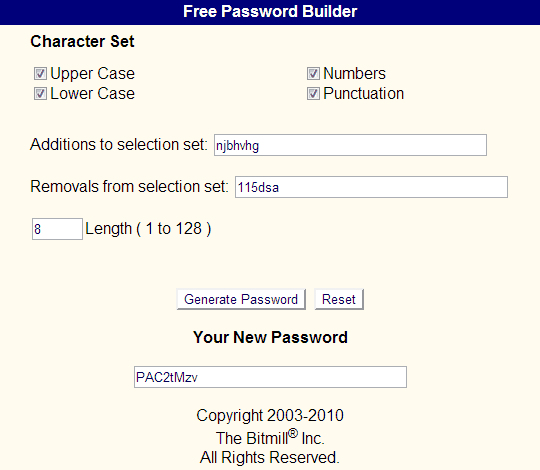 Free Password Builder, like all convenient password generators, is a simple and uncomplicated tool which will help you generate passwords of varying complexity. The options provided to the user contain the inclusion of upper case characters, lower case characters, numbers, as well as punctuation marks. There are two further fields that let you specify sets of characters which should be included in the password and which should be excluded from the password. Supported passwords length range is 1 character to 128 characters. After marking your preferences, you can click on the 'Generate Password' button to keep on generating a new password as per your requirements. The generated password can simply be copied to the clipboard for use elsewhere.
You can use Free Password Builder over here.
2. Secure Password Generator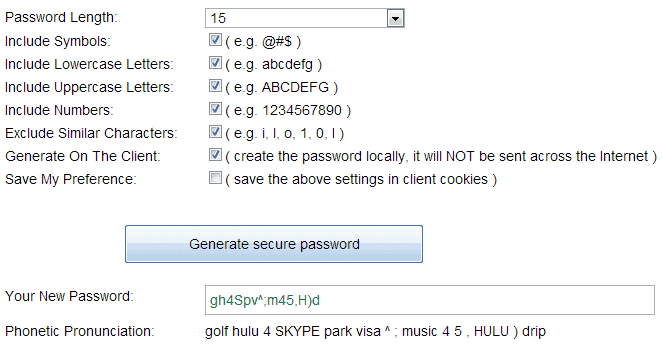 Secure Password Generator offers a bunch of password generation features which will be very useful for people who find themselves generating passwords on a regular basis. For instance, if you are software quality assurance engineer who often tests apps with complicated passwords, then you will definitely find this web app to be highly useful. In addition to letting you choose the length of the password (support range is 6 to 128 characters), the web app lets you include special characters, lower chase letters, upper case letters, and numbers. You can choose to include or exclude similar characters such as 'o' and zero. Further options let you generate the password in your browser rather than on the site's servers. You can optionally save your preferences – a good decision if you are going to be revisiting the website on a regular basis. Lastly, the generated password is accompanied by a phonetic pronunciation guide that helps in communicating the password over audio to others.
You can use Secure Password Generator by clicking here.
3. GRC's Ultra High Security Password Generator

Some users might not be interested in marking all those checkboxes before they can obtain their complex password. For people who want to simply get the most complicated and random password possible, there exists GRC's Ultra High Security Password Generator. This website generates a completely random password based on various factors, including the time that you visit the website. So all you need to do is refresh the page and each time, a new set of passwords is displayed. This set of passwords shows 64 random hexadecimal characters, 63 random printable ASCII characters, and 63 random alpha-numeric characters.
You can check out GRC's Ultra High Security Password Generator by clicking on this link.
4. Random Password Generator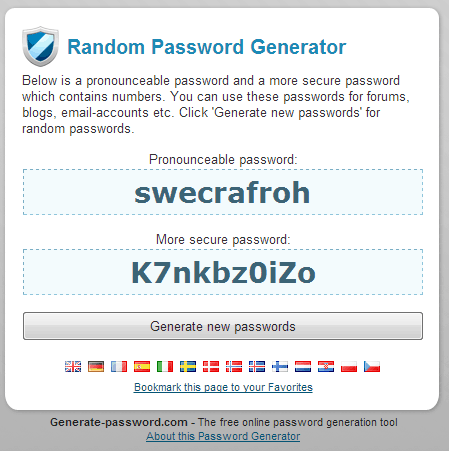 There are many people who remember their passwords by their pronunciation. But if a password is too complicated and involves a lot of special characters, remembering it by its pronunciation can be a nearly impossible task. Here to help you get random pronounceable passwords is the excellent Random Password Generator. The site is like GRC's Ultra High Security Password Generator in the sense that it does not ask you set any preferences before it can generate a password for you. All you need to do is visit the site's page and two sets of passwords come loaded: a passwords that you can pronounce and a slightly more complicated and un-pronounceable password. To generate new passwords, you can either refresh the page or click on the 'Generate new passwords' button present on the site.
Visit Random Password Generator's website over here.
5. Random.org Password Generator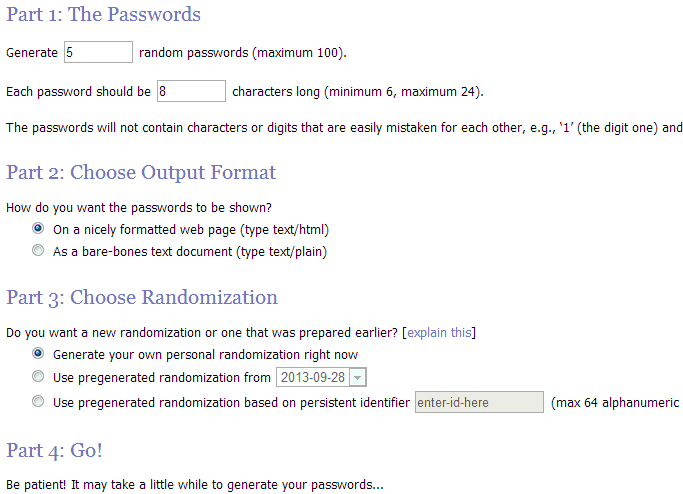 This web application offers a blend of ease and customization. When you first visit the website, you can simply click on a button to get your random passwords. Alternatively, you can specify your preferences before the password set is generated; these preferences include the password length, password output format, and various randomization options. Each generation includes multiple passwords.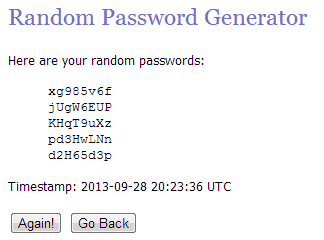 To get another set, simply click on the Again button; or click on the Back button to generate passwords with a different set of preferences.
You can use Random.org Password Generator over here.