Amazon has been in the news this week, thanks to the release of the new Kindle Fire HDX tablets, which come in both 7-inch and 8.9-inch versions. The devices have proven popular, taking on Google's Nexus line in head-to-head competition. One thing the Amazon competitor lacks, though, is something fundamental to the Android operating system — Google apps.
There is no Gmail, no Maps — not even a Play store from which to grab apps. The online retailer has customized its version of the mobile OS to the point of locking out the competition entirely. It is not a bad thing, as the Fire line offers much that can add value, including its tight integration with Prime, making videos readily available for your viewing.
There are ways around this — it is, under the skin, Android, which means it can be rooted. Obtaining this level of access is not terribly difficult, but nor is it something for a beginner. Fortunately you not need to take this step if all you wish is to obtain are a few Google apps for your tablet.
You will need to prep the device first — head into Settings by pulling down the top bar and clicking "More". Now tap "Device" and make sure the "Allow Installation of Applications" option is set to "On" (you'll need to choose '"OK" to get through the security warning).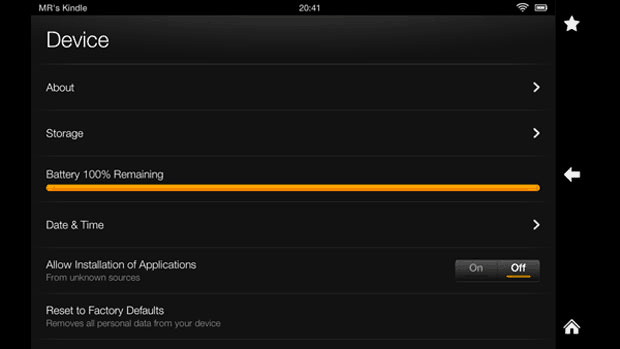 Now you will need to install a couple bits of Google framework apps — specifically GoogleServicesFramework.apk and the GoogleLoginService.apk, both available at that link.
You are not quite there yet, though. You will also need to install ES File Explorer from the Amazon App Store on your Kindle to take care of file transfers and to launch the APK's.
Now you are ready to go. All you are lack is the APK files, which is where you need to be careful. Look first at the official sites of the apps you want — both Dropbox and Firefox offer these for customers, but many do not. In that case you need to head to a reliable location such as Android Drawer to grab the need file.
Conclusion
The Kindle Fire family from Amazon is an amazing tablet and a solid competitor in the market, but it can do better with a few tweaks such as the one just covered.  To get more in-depth you will need to root access, but you can find tutorials on carrying that process out by a quick searchh online.