Site loading speed plays an important role in Google search results, especially if you want to build a loyal fan base. Even if the website has high quality content, if it takes ages to load then Google may penalize it and as a result, it appears lower in search results. Even if it does not have a big impact on your search engine results, if your site is slow, visitor will leave your site and you could lose some loyal fans.
If you search the internet, you will come across hundreds of thousands of tools and software that can help users analyze web page performance. But many of them are paid and many doesn't work the way they should. If you want to find out why any web page of your blog or website is loading slow, give YSlow extension a try. It is available for both Google Chrome and Mozilla Firefox.
YSlow is a handy extension that allows users to analyze web pages based on Yahoo's page performance tool and suggests ways to improve the performance of any web page based on set of rules. To get started, just go to Chrome Web Store and install the extension. Once installed, you should see YSlow icon in you extensions area. Now, open the web page you want to test and click on the extension icon. It will open a new window and will ask you to run the YSlow test.
After analyzing different components of the website, it will grade the web page based on different set of rules and suggests ways to improve web page performance, web page components, and will also display statistics about the page. Grade tab will show you ratings of different components and how you can improve them. Moreover, it displays results for 23 different categories and allows users to filter the results based on 6 options: Content, Cookie, CSS, Images, JavaScript, and Server.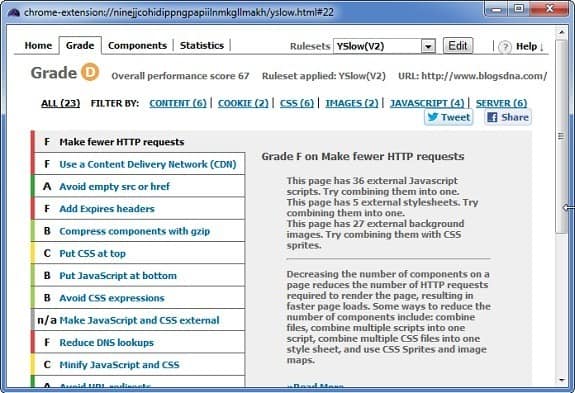 Clicking on components tab will display the total number of components and their size.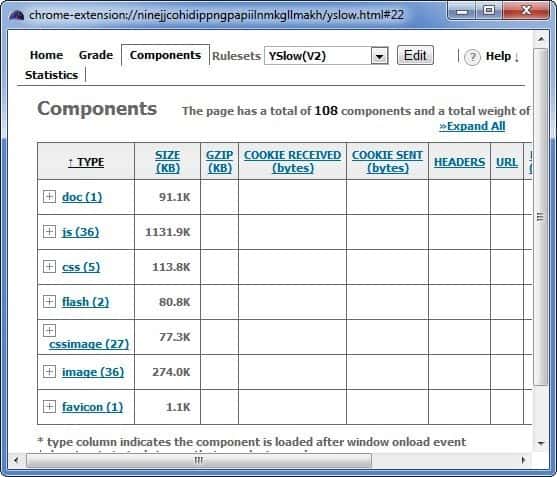 The statistics tab will give you information about the components and their size in a form of a pie chart so that you can easily understand what problems you should take care of.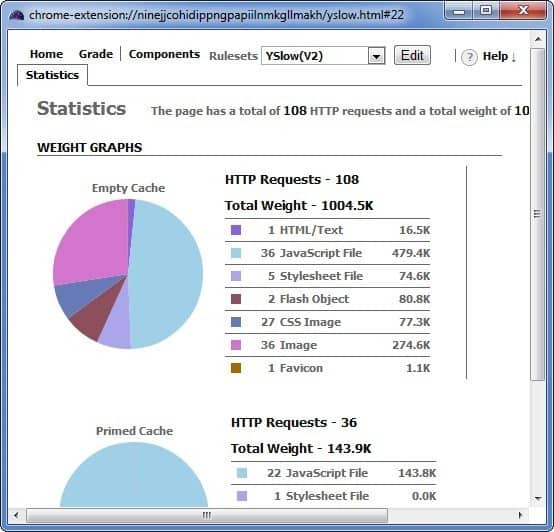 When we tested Blogsdna using Yslow, it showed grade D and overall performance score to be 67. It also displayed many tips which can be used to improve the performance of the website. In conclusion, I will say that Yslow is a handy extension for those who want to improve their website's performance and a must try extension for developers.
Download YSlow for Google Chrome