Thumbnail preview feature of Windows Xp, Vista and 7 is one heck of time saver. Going through video files with cryptic names, it is easy to spot video with the help of thumbnail preview. Since Windows XP days Microsoft has made this niffy feature available. The thumbnail preview is not just restricted to videos and images but you can also view thumbnail preview of PDF and word documents in Windows 7.
Unfortunately Windows thumbnail preview feature is still not that robust and has limited support for video files encoded with different codes, such as .mov, .3gp, .flv, .avi, .vob,.mp4 etc. You must keep this in mind that thumbnail preview is irrespective of your default player or file type association settings or installed codecs. Even if you set VLC media player, one of best media player with support for wide variety of video formats, you still may not be able to see thumbnail preview of some video files types.
The most common file formats such as .mkv, .mov are still left out from windows thumbnail preview feature. It's very frustrating when you have huge collection of videos of this file type and you cannot see thumbnails and have to manual open each file. One more drawback of Windows default thumbnail extractor is, it only extracts first frames of video possibly leading to only display a collection of black thumbnails for many video files.
To overcome this drawback and improve thumbnail relevance and extend its support for wider format here is Media Preview freeware tool. Media Preview brings the full preview capability for all types of media files. Media Preview uses intelligent matrix to detect the most relevant images for thumbnail preview.
Once you install Media Preview, all you need to do is select all or manually select extensions for which you want to activate Media Preview. The Media Preview is designed to take care of every possible situation, such as user defined extensions. You can any time revert back to system default with just one click of button.
Under settings tab you can customize whether you wand speed or quality. You can even adjust thumbnails luminance, entropy and position to extract thumbnail image.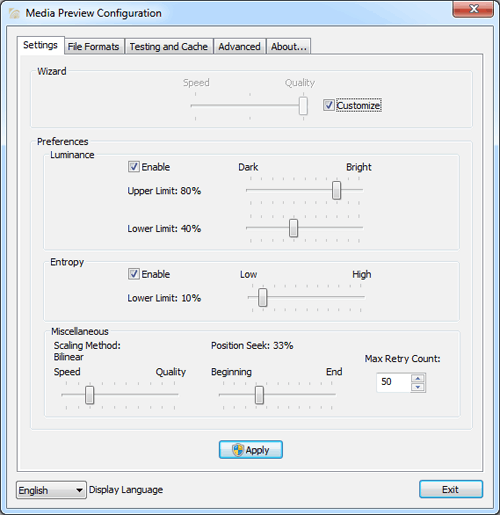 Testing and Cache options offers you medium to check and compare system generated and Media Preview generated thumbnails.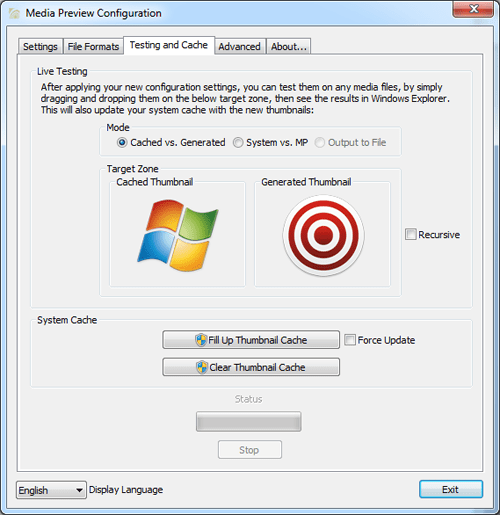 Media Preview is available for download Windows 7, Vista and XP 32-bit as well as 64 bit. It also supports Windows 8 which is still in development.
Download Media Preview for Windows (32-bit /64-bit).
Via Raymond.CC
You May Like to Check Out:
How to View Photoshop .PSD & Illustrator .EPS File Thumbnails in Explorer.
Instantly Create Thumbnail of Video Files with Video Thumbnails Maker.