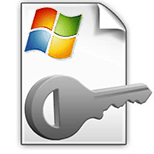 You must keep CD Key/Product key of any software or application at handy place since you may not know when you will need that key again. However most of the users either lose the CD cover printed with CD Key or forget the place where they have kept product key.
If application is still installed on your machine then there is still chance to recover Serial Key of software via Windows Registry key. However it may not be as easy to retrieve key unless you know the exact registry key location. Here is freeware tool Product Key Finder which is capable of retrieving Product key from Windows Registry.
Product Key Finder is a free Windows application that retrieves license key information (CD Keys) from the Windows registry. Product Key Finder currently supports retrieval of 200+ windows applications such Microsoft Windows, Microsoft Office and Adobe Acrobat.
Screenshot of Product Key Finder in Action
Check out :- How To Find Recover Product Key, CD Key of MS-Office Windows XP Vista