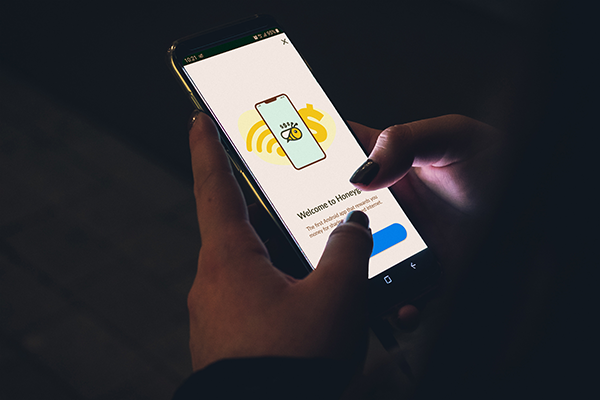 As of 2023, more than 8.93 million mobile apps exist to download. Over 3.553 million apps on Android phones and 1.642 million on iOS phones. To no one's surprise, game-related apps are the most popular and bring in the most money for app developers.
However, there's a plethora of incredible apps that have nothing to do with gaming. From ordering groceries and testing your Wi-Fi speed to making money and managing your daily spending, here's our list of the best apps of 2023.
1. Make Money With Honeygain
The first app on this list is great for people interested in making money without leaving their homes. With Honeygain, you can make money from your phones without barely lifting a finger!
Honeygain is a passive income-generating app that pays its users for sharing unused internet connections. Trusted businesses and several scientists use your bandwidth for various valuable data-driven projects.
Honeygain cares about your safety and has multi-factor authentication and anti-cheat systems in place to protect you and your data. This app won't replace your regular 9 a.m. – 5 p.m. job, but the extra $40 you can make monthly can help cover your daily expenses.
Download the app on your chosen device, create an account, let the app do its magic, and earn free money easily!
2. Translate Text With Deepl
The language barrier between you and the country you're visiting can seem really daunting. Overcome the challenges of a foreign language with Deepl – a neural machine translation service.
Deepl is an accurate translation app that quickly translates text and audio into the language of your choice. As of June 2023, the Deepl translator works in 29 languages and is consistently improving to support even more languages!
You can type your text into the app or upload PFD or Microsoft files to the Deepl website.
People see Deepl as one of the best online translation services. Many people, ranging from professional translators, scientists, and linguists to school or university students working on their second-language learning in school or university, use the translator!
3. Choose Your Doctor With Zocdoc
Zocdoc is a US-based app that makes the process of finding a doctor on your health insurance plan and getting an appointment easy and quick.
After you sign up, you'll need to provide information about your health insurance by either putting it in manually or scanning your insurance card.
The app offers access to primary care doctors, dentists, pediatricians, urologists, OB-GYN doctors, dermatologists, psychiatrists, eye doctors, and more. Zocdoc records the history of your doctor visits, which means you can go back and reschedule another appointment quickly.
Zocdoc works with insurance carriers, including but not limited to Aetna, Ambetter, Cigna, Delta Dental, and many more.
4. Manage Your Finances With Mint
Are you ever scared to look at the numbers in your bank account? We've all experienced this – you check your account balance after a memory-filled weekend and want to throw your phone at the wall. To avoid this, tracking your finances may be your only option.
With the Mint app, you can now set a budget for each category of expenses and keep track of them. This way, you'll make sure you're not overspending your money. Because Mint does it for you, you won't need pen and paper to track your expenses.
Mint is a budget planner app with many safety features, including 256-bit encryption and multi-factor authentication.
Aside from managing your budget, Mint offers tools like calculators for retirement, credit card payoff, grocery budget, student loans, and more.
5. Find Your Way With Citymapper
Some of us are worse at finding our way around than others. And thank God for maps, right? The Citymapper app is great for those traveling within urban metropolitan areas.
Citymapper is a public transportation and mapping app. The app shows you real-time public transportation options and helps you navigate the city on your feet.
Pick the best time to leave, look up directions, and easily plan a journey between points A and B! With Citymapper, you can even synchronize your calendar with the app – this way, you can plan your day with travel time in mind!
6. Write Better With Grammarly
You'll probably agree that writing a text free of grammar, spelling, and punctuation mistakes is difficult and takes time. You can save time and make your writing days easier with Grammarly.
Grammarly is a cloud-based typing assistant. The app reviews common writing mistakes like grammar mistakes, spelling mistakes, punctuation errors, and clarity. Grammarly can also offer alternatives for writing style and formality.
You can also check your text for plagiarism and insert changes based on the app's suggestions! To most people, the free version of the Grammarly app will be enough, but if you want to include your coworkers in your Grammarly use, look into the premium version.
Save time on writing, wording, rewording, and editing with Grammarly!
7. Test Your WiFi With Speedtest
Have you ever wondered if your Wi-Fi is working well? Maybe you've noticed times when your TV show won't load or a FaceTime call looks all grainy and pixelated. It may be a good idea to measure the speed of your internet connection.
The Speedtest by Ookla app is a great way to access your internet's download and upload speed and functionality. With Ookla, you can save your speed test results to compare them over time or export them to an outside source for further analysis if something goes wrong.
As of October 2023, people have conducted over 50 billion tests using the Speedtest by Ookla app. Check on the performance of your internet connection with Speedtest by Ookla for free!
Now that you're familiar with our choices for the best apps of 2023, it's up to you to figure out which apps can be helpful for you. Make some passive income with Honeygain, proofread your texts with Grammarly, or manage your finances with Mint – your phone's here to help you make your life easier.