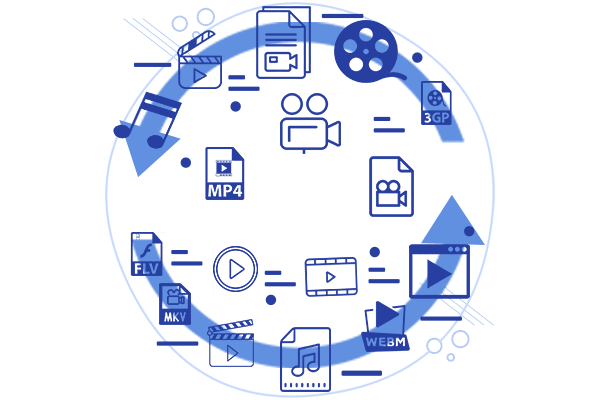 You may think that you don't need a video converter, but at some point in your life, you may require a reliable conversion tool. Fortunately, a variety of programs are impressive, and anyone can find a converter that meets their needs. But at the same time, it's quite challenging to select a decent tool since every converter has pros and cons and different price models. In this article, we'll tell you how to choose the right video conversion tool and share with you the top programs.
How to Choose the Best Video Converter
Although it's not easy to select the best-in-class video conversion tool, this guide can help you make the right choice. Let's explore what converter to choose to do your conversion tasks effectively.
You should identify your needs and know what formats are most important to you, whether you need to edit videos, and if conversion speed and quality play an important role for you.
When you choose a video converter, pay attention to platform compatibility. Some tools work only on specific operating systems, which may limit your options.
Consider a tool with a user-friendly, intuitive interface that will help you convert videos quickly, especially if you're not tech-savvy.
It should offer high conversion speeds without compromising on video quality.
If video editing is important to you, consider tools that offer basic video editing features. This will help you save time when you combine conversion and editing.
There are free and paid converters, so consider your budget and needs when choosing the appropriate tool. It's recommended to test the software's performance and use a trial period before buying a full version.
Customer support matters a lot, so check that the company offers sufficient assistance and regular updates.
User reviews and recommendations will give you insights into the experiences of other users and help you make an informed decision.
If you are into video content creation, here are some useful tips on how to edit YouTube videos.
Best Video Converters to Fit Your Needs
Let's explore the top five tools for video conversion, their features, pros and cons, and how to choose the right program that aligns with your goals.
Movavi Video Converter
Movavi is a free mkv to mp4 converter with a straightforward interface and reach feature set. You can download it for free on your desktop and buy a full version when satisfied with a trial version. It offers a high conversion speed and various editing tools. The only thing to consider is that you cannot download videos online.
DVDFab
DVDFab is an up-to-date converter with top conversion quality and wide format support. The tool is easy to use, safe, and has solid customer support. There are many conversion features that are constantly updated. You can download it for free or buy it with a 30-day money guarantee.
AVC Freeware Converter
AVC is a high-speed video converter with a multifunction design and support for popular video and audio formats. It offers various customization features, like trimming, cropping, and effects. This tool has a built-in video and audio player and allows users to extract audio from CDs and video. Download it for free on your Windows or Mac device, or buy a full version.
Freemake Video Converter
With a Freemake free converter, users can reformat over 500 audio and video formats with no limitations. It provides custom conversion settings for different gadgets. This all-in-one software can help you edit videos, rip and burn DVDs, make slideshows, add subtitles to videos, and even more. You can find many positive reviews and expert recommendations on the website.
AnyMP4 Video Converter
AnyMP4 is a professional conversion tool that supports an abundance of input and output formats. In addition to conversion features, you can enjoy various editing functionalities. Personalize your videos with text or image watermarks. You can download it on your Windows device by buying a one-year or lifetime subscription.
Conclusion
These tips will help you choose the right converter to satisfy your needs and demands. And these five programs are examples of the best tools for video conversion in 2023. So evaluate all factors and tools and choose the top converter.