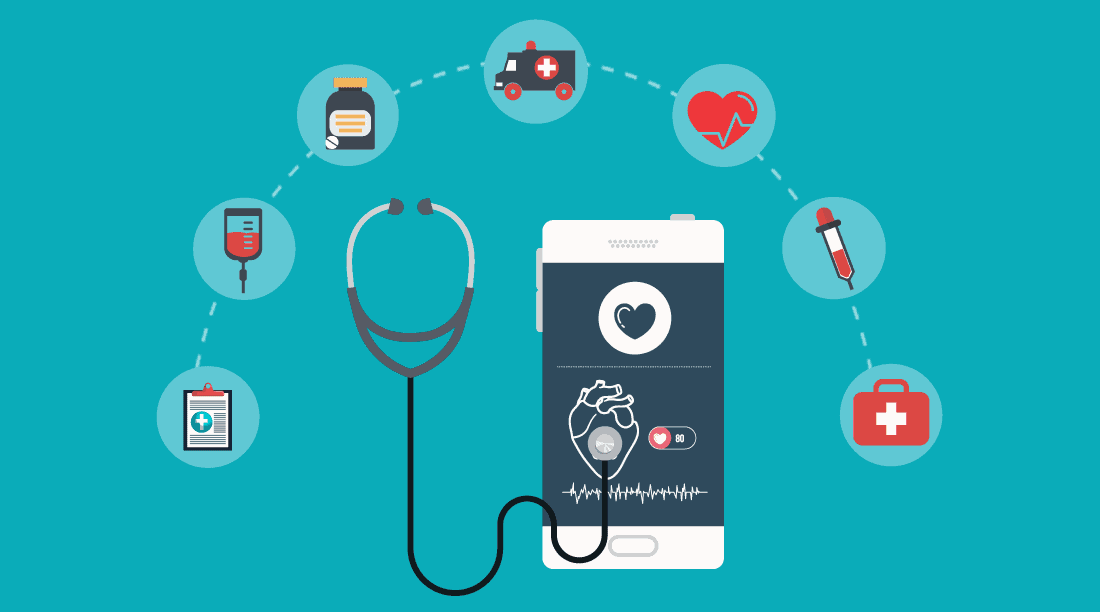 We're living in the era of digitisation and mobile technology. So, if you want your products and services to reach their target customers, you need to be where they are—on their phones. And healthcare is no exception.
According to Statista, the Google Play Store lists over 54K healthcare and medical apps, up by almost four percent compared to the previous quarter. Therefore, if you want your care at the edge, having a healthcare app is essential to win the competition. In this guide, we will talk about how to create a medical app and why you need one.
What mHealth Apps Are There?
The market of digital health has evolved as one of the most buoyant ones with medical apps coming in different forms and shapes. To build the right one, you need to know your end user. There are two types of healthcare apps, each with its own set of pros and cons.
Patient-Centric Healthcare Apps
This type of app is designed for patients who want to take an active role in their own care, such as by tracking their symptoms or medication regimen. These apps often have features that allow patients to communicate with care teams directly.
Patient apps include everything from patient portals to apps that help with medication adherence, physical therapy, and nutrition plans. Prominent examples of patient-focused applications include diabetes management tools, medication reminders, telehealth, and others.
Doctor-Centric Healthcare Apps
These apps are used by doctors who want to improve the quality of patient care by providing access to up-to-date information and tools related to treatment options and diagnoses. Clinicians and care teams use these apps to help keep track of their patients, or to provide reminders or other functionality to assist them in providing better care. Clinical apps can include tools like medical device monitoring, medication management systems, and EHRs.
Why Provide Patients With A Mobile App?
Digital health has a lot to offer patients and doctors. For starters, it enables increased engagement between the two parties. Digital health also makes it easier for your doctor's office to track patient progress over time by keeping tabs on everything from blood pressure levels to medication dosages and side effects. This in turn helps them provide better care overall and reduce costs by helping prevent costly complications.
Moreover, a mHealth application can provide patients with:
Easy access to useful information and resources that will empower them to make the right medical decisions.
An easy way to schedule appointments and communicate with their providers.
Access to their medical records, which they can review at any time.
For doctors, a mobile app is convenient because it allows them to:
Have easy access to patient histories and contact information on the go (this avoids having to enter data manually into computers or tablets).
Send reminders or recommendations directly through email or SMS text message so that patients have all the information they need when making decisions about their health care.
How to Build A mHealth App: Step-By-Step
Creating a healthcare app is a complex process that requires knowledge of the healthcare industry and the needs of your target audience. You'll also need to familiarize yourself with available technologies, development processes, legal requirements, and other factors.
If you're planning to create an app for your hospital or medical practice, take some time to learn more about what goes into this kind of project. This can help you avoid common mistakes and make sure you end up with an excellent product.
Below, you'll find a short, yet comprehensive guide on how to create a health app.
Step 1: Find A Problem In The Healthcare Space
Before you can build an app, you need to find a problem that needs solving in the healthcare space. This will help you determine the type of an app and functionality you need to create.
Step 2: Define The Type And A Set of Core Features
You need to decide which features are important for your users and how they will use them. For example, if you're building an app for patients, then it makes sense to include information about their insurance coverage and payment options. Other popular features in this category include telehealth, EHR/EMR integrations, appointment scheduling, and reminders.
Step 3: Hire a Healthcare Development Team
Unless you have an in-house development hub, you'll need expertise and skills to build a mHealth application. To secure the right team, pay due diligence to select an experienced partner with the relevant expertise. Reviews, testimonials, a proven track record of projects, and a rich portfolio are one of the most important indicators of a reputable development company.
Step 4: Build And Test
The development process of this application type should be incremental to validate and test each aspect of your solution. Therefore, an agile methodology is key to ensuring delivery success.
Your development team will first create user-friendly designs and send them into development. Software engineers will then set up the backend of your application and transform design layouts into fully functional interfaces. Simultaneously, QA engineers will run multiple rounds of testing to cover each app component with tests.
Step 5: Delivery And Maintenance
When your application is ready, developers roll it out into the target environment and do the final touches. However, the development stage doesn't stop at the delivery. To ensure long-term success, you should perform a regular maintenance routine and introduce new features, updates, and security patches to your mobile solution. Without maintenance, your application will soon be rendered ineffective.
The Bottom Line
The healthcare industry has long become a tech-savvy field with extensive usage of innovative solutions, mobile applications, and intelligent systems. If you're looking to join this party, a mobile application is the easiest way to go. The key is to know the needs of your target audience, test the app properly, and ask a team of professionals to help you out.
We hope this article has provided all the information necessary for you to start developing your own mHealth solution.