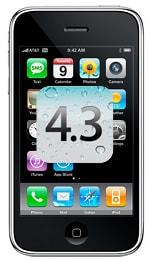 Whited00r, a group who got famous for their efforts to keep iPhone 2G & iPod Touch 1G alive by porting iOS 4.0 for older devices is once again back into action and have released first full fledged iOS 4.3 firmware not only for iPhone 2G & iPod Touch 1G but also for iPhone 3G & iPod Touch 2G which are booted out from the supported list of devices in iOS 4.3 by Apple.
Whitedoor iOS 4.3 is based on iOS 3 code & iOS4 Based firmware has not been released yet.  iPhone 3G and iPod touch 2G users can choose between iOS3 or iOS4 based iOS 4.3 firmware when it's available. Firmware on iOS3 is really faster than iOS4 based one, but you can't install iOS4+ only apps from AppStore.
Whited00r is also planning to release iOS 4.3 lite version soon. Those who are eager to get their hands on iOS 4.3 may go ahead and download Whited00r iOS 4.3 custom firmware for their respective idevices.
Download Whited00r iOS 4.3 iPhone 3G, 2G & iPod Touch 2G & 1G.