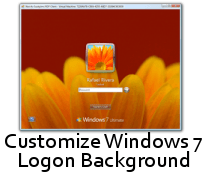 Yesterday we pasted about Windows 7 Logon Changer which lets you to change Windows 7 logon background screen in few clicks, here is yet another similar Free tool for windows 7 Build 7057, Windows 7 LogonUI Background Changer.
Windows 7 LogonUI Changer is developed by Windows7Center.com and allows you to customize the logon screen for Windows 7 without touching the registry at all. Here is features list of Windows 7 LogonUI Changer.
Features of Windows 7 LogonUI Changer
1. The enable option allows you to change the logon background. The disable option restores the logon background back to default with just one click.
2. Resize the selected image to your current resolution
3. Finds the highest JPG compression that would still keep it under 256kb. (Logon backgrounds cannot exceed this size)
4. Saves the selected image as backgroundDefault.jpg and creates a backup of the original
Screenshot of Windows 7 LogonUI Changer