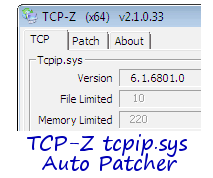 All version of windows has typical network related file tcpip.sys which has a half connection limit in itself, which doesn't allow more than 10 half open connections to be made simultaneously. This has been designed to make your connections more stable and your network more responsive to all computers attached to it.
However if you are frequent p2p & bittorent user or surfing the internet heavily, then this limit may create connection errors or result in connection dropping. TCP-Z is the only program which automatically patches tcpip.sys file to remove TCP connection limit.
TCP-Z has been upgraded to latest version 2.4 Build 20090108 to support 32-bit and 64-bit (x86 and x64) version Windows 7 operating system.TCP-Z is gui utility and patches tcpip.sys to increase limit imposed on concurrent half-open outbound TCP connection attempts.
Screenshot of TCP-Z V2.4.0.46 for Windows 7