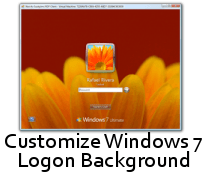 Leaked Windows 7 Build 7057 has many new changes as compared to its ancestor builds 7000, 7048 etc. We have already noted some changes like set of new Windows 7 Wallpapers, New User account pictures and most interesting you can remove many windows 7 component like Internet explorer 8 etc.
Here is another great finding by Rafael Rivera from within windows, you can now officially change Windows 7 Build 7057 login UI background. Windows 7 now supports the ability to load images into the background of the login screen without the use of third-party software or manual hacks.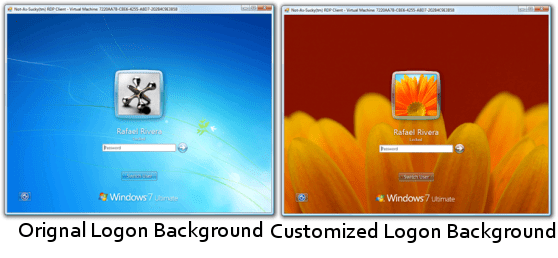 Steps to Change Windows 7 Build 7057 Logon Background Image
1. press win+r key and Type Regedit at run prompt
2. Locate following registry key
HKLM\Software\Microsoft\Windows\CurrentVersion\Authentication\LogonUI\Background
3. Now in right-side pane, change value of OEMBackground to 1.
4. Now place your custom image in %windir%\system32\oobe
5. Create a new folder info and background within newly created info folder
Folder path should look like this %windir%\System32\oobe\info\backgrounds
6. Now place your desired logon wallpaper within this background folder with file name as backgroundDefault.jpg
Images Name with resolutions
backgroundDefault.jpg
background768×1280.jpg (0.6)
background900×1440.jpg (0.625)
background960×1280.jpg (0.75)
background1024×1280.jpg (0.8)
background1280×1024.jpg (1.25)
background1024×768.jpg (1.33-)
background1280×960.jpg (1.33-)
background1600×1200.jpg (1.33-)
background1440×900.jpg (1.6)
background1920×1200.jpg (1.6)
background1280×768.jpg (1.66-)
background1360×768.jpg (1.770833-)
Please NOTE: Images must be less than 256kb in size
The backgroundDefault.jpg image is loaded and stretched-to-fit when a resolution/ratio specific background cannot be found.