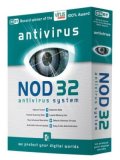 Good antivirus software is must required to keep your computer free from viruses, worms, spywares and other malicious programs. Because of tight integration of antivirus software with system some time it because very difficult to successfully uninstall antivirus from your system.
You may have come across and installed Nod32 antivirus from ESSE. If you are facing an issue while trying to uninstall and remove failed or damaged Nod32 installation then here is Nod32 Removal Tool which will uncomplicated the Nod32 uninstallation task.
Nod32 Removal tool is small sized (only 176KB)free tool developed by Nod32 Netherlands. Nod32 Removal Tool is only in Dutch language. To remove your NOD32 software double-click on the NOD32 Removal Tool, select 'Yes', and wait for confirmation to completely remove Nod32 antivirus software from your computer.
Download Nod32 Removal Tool to successfully Uninstall and Remove Nod32 antivirus from your computer.
Source:Jkwebtalks