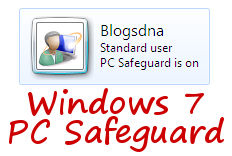 Many New feature of Windows 7 are already discussed here but one feature which is still hidden and many users are not aware of is Windows 7 PC Safeguard. Paul Thurrott from winsupersite has written excellent article on Windows 7 PC SafeGuard.
Windows 7 PC Safeguard cannot searched or easily locate and is only accessible from control panel. This Feature is primarily aimed at shared consumer PCs that need to be returned to their original running state after being used by a child or guest. When PC is rebooted or an account is logged off, all of the changes made in safeguarded accounts are discarded and the system is returned to its original running state.
Features of Windows 7 PC Safeguard
1. Prevents system setting changes
2. Prevents the installation of applications and other software
3. Prevents the user from writing to the disk outside of their user profile
4. Data saved inside of the user profile is deleted when the user logs off
From a user experience perspective, PC Safeguard is almost completely hidden in Windows 7. You can't access it from Start Menu Search. Here is guide on how to enable and configure Windows 7 PC SafeGuard.
How to Enable and Configure Windows 7 PC Safeguard
1. Open Control Panel from Start Menu
2. Go to User Accounts
3. Click on Manage Another Accounts.
4. Now select the user for which you want to set up PC Safeguard
5. Click on Setup PC Safeguard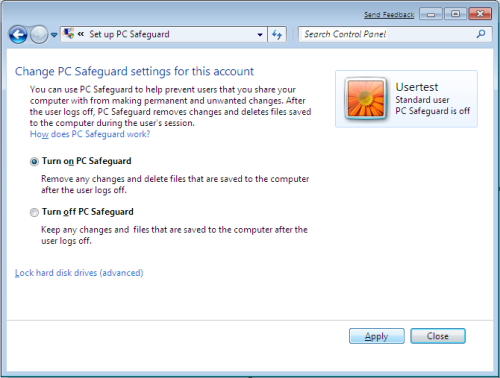 6. Select yes to UAC Prompt
7. It will take some time to apply PC Safeguard Setting
8. Click on Lock Hard Drives (advanced) Once Pc Safeguard apply setting animation stops to configure to lock or unlock Hard Drives for particular user.
9. Click on Close to complete PC Safeguard Settings.
Whenever PC Safeguard enabled user logs into system, following PS Safeguard warning will be displayed.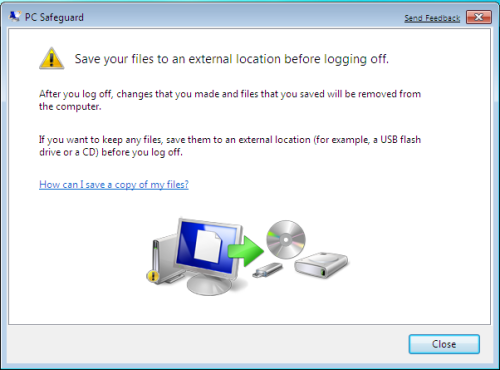 Please keep in mind you can't enable PC Safeguard for administrator account and once you have enabled PC safeguard you wont be able to install any new application in that user profile.
You cannot Use Windows 7 PC Safeguard along with active directory, this feature is only meant exclusive for home users.