Windows has a remote desktop tool built into the OS. The tool is quite good but problems arise when you want to access the computer from a network other than the LAN or if you want access to or from a non-Windows OS. An extension called 'Chrome Remote Desktop' is here to effectively solve these problems.
Chrome Remote Desktop is a free to use browser extension for the Google Chrome web browser. The extension lets two Chrome-equipped computers to let 'remote desktop' each other. The display of the computer being remotely controlled is shown in the controller-user's browser tab.
To get started, you should install the extension and then click on its icon from the Chrome 'Apps' page.
This action will open up a few options. For this review, we'll be going with the first option: Remote Assistance.
Remote Assistance lets you quickly generate a pin for your computer that can be inputted in another instance of Chrome Remote Desktop (on another computer). When the screen comes up, click on the green Share button.

The pin is generated and displayed to you. Note that this pin will be different each time you try to remotely share the desktop. You can also setup a constant pin for your computer – this way you can access your computer from anywhere (as long as the system has Google Chrome running).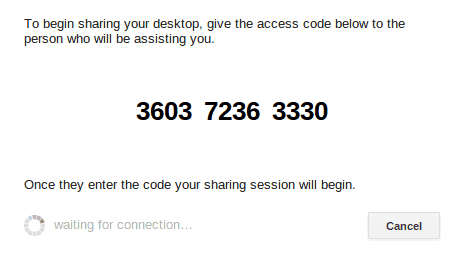 Now open up Chrome Remote Desktop in another computer and follow the same steps but instead of the green Share button, click on the one that says Access. Then type in the pin from the previous step.
Your Chrome tab will then begin displaying the screen of the first user (the first computer).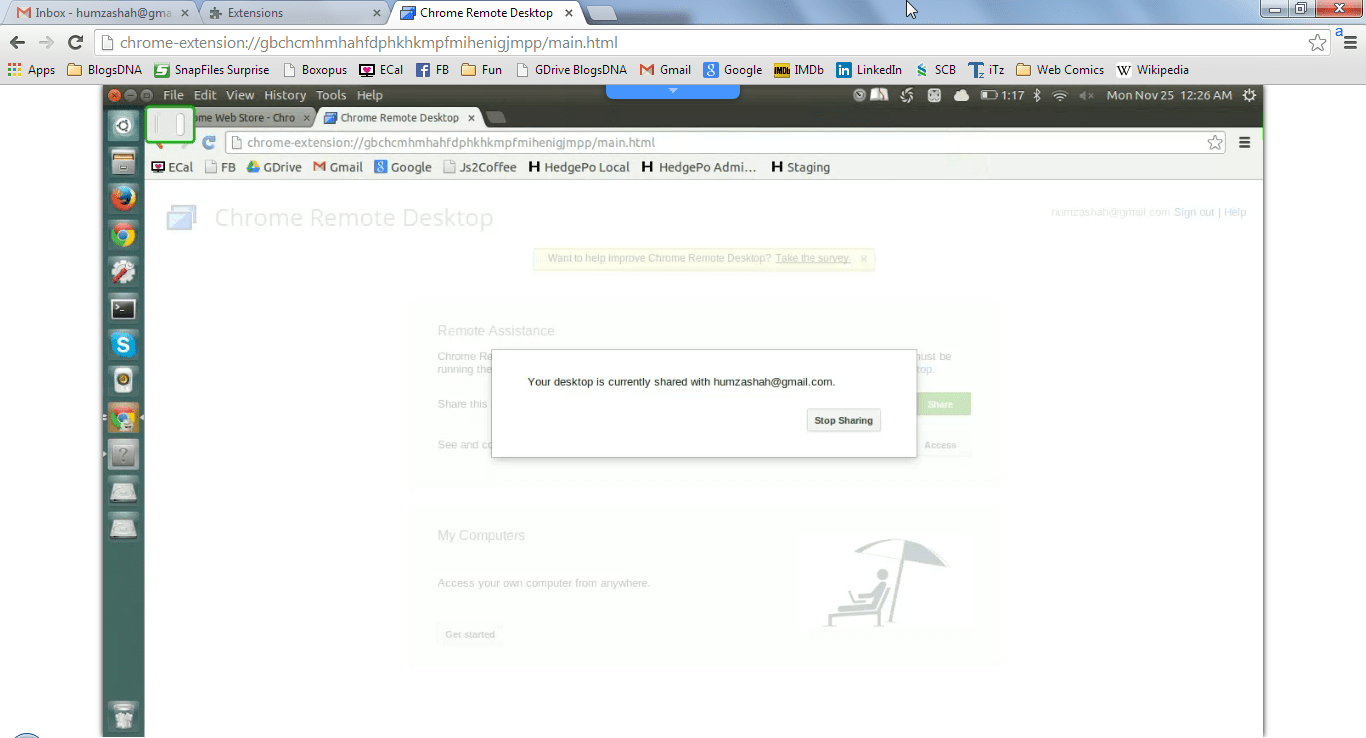 Because Chrome runs on different operating systems, I was able to remotely control my Ubuntu laptop. Here is a screenshot of what my Ubuntu looked like within the Chrome tab.
The mouse movements, clicks, and keyboard actions are all appropriately translated to the end-computer thereby effectively giving you the features of Remote Desktop. To disconnect anytime or to send special keys like "PrintScreen", you can use the options hidden in the top of the browser tab.
As you can see, using this Chrome extension is absolutely easy and Remote Desktop-ing through it could not be anymore convenient! One thing to note though is that if you are going to Remote Desktop to a Windows computer, you will need to ensure that your system settings allow it; relevant options can be found in the 'Remote' tab of your System Properties in Windows.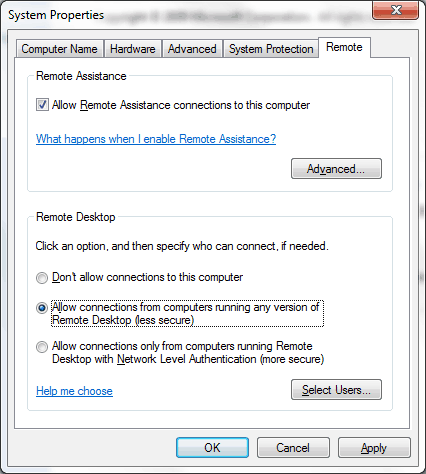 You can get Chrome Remote Desktop by clicking on this link.