Not too long ago, computer users had to open a separate web browser window for each webpage that they were checking out. But fortunately today, many internet users make full use of the browser tabs function. These tabs let us open multiple webpages in a single browser window. Some users though end up opening too many tabs and then find it difficult to find their desired tab and switch between them. To solve this tab management problem on Google Chrome, a tool called 'Fruumo Tab Manager' can be used.
Fruumo Tab Manager is a free to use browser tool that comes as an extension for the Google Chrome web browser. The function of this tool is evident by its name: it helps people manage browser tabs. In addition to letting you find the tab you are looking for, this app lists the total number of tabs in the current window; it shows you the name of those tabs; it lets you close, pin, and reload tabs; it lets you move tabs to a new window selectively; it lets you search your bookmarks and open tabs for webpages; and it can quickly close all tabs, reload all tabs, or simply remove duplicates.
To get started, you will need to install the extension from its page. You will then be shown an excellent HTML5 tutorial (which I now believe all extensions should come equipped with) that will get you up to speed. The extension's icon will be placed in the address bar and this icon will reveal the number of tabs in the current window of Chrome (see screenshot above).
You can click on this icon or use the Alt+Z hotkey shortcut to have the mini window of tab titles drop down from the extension's icon. Here you can type in the name of the tab that you are looking and click on it from the results list to be taken to it.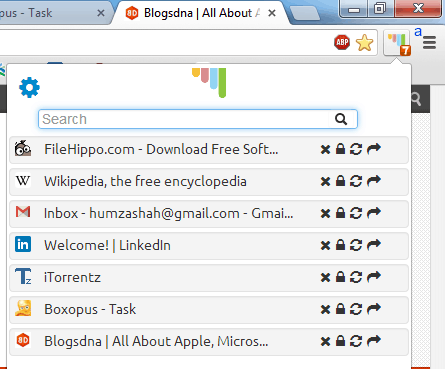 There are icons in front of the search results that let you close that particular tab, pin it, reload it, or open it in a new window.
By preceding your query with a comma sign, you can search your bookmarks for webpages.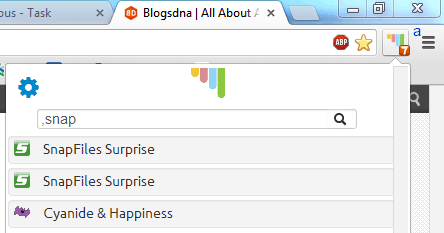 Similarly, by preceding your query with a period sign, you can search your history for webpages. But there is a bit of bad news: while trying out the extension I found the history-searching feature to not be functional; I am hopeful though – I am sure the developers will discover this major bug in the current release and fix it in the next one.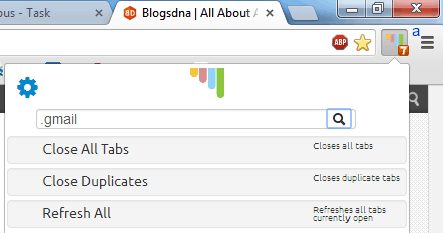 The little gears icon in the top left lets you close all tabs, close duplicate ones, refresh all tabs, or launch that visually appealing tutorial I mentioned earlier.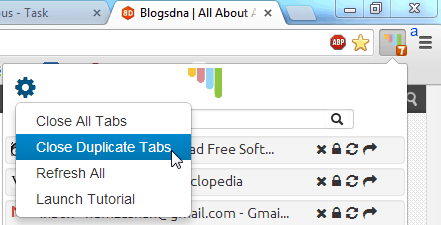 This is not all the extension plans to deliver; in its description on the extension page, further features are promised that include color coding tabs, saving tab sessions, and cross-device tab transferring. With those features incorporated into the current ones (and coupled with bug fixes), this could very well become one of the must-have tools for all Google Chrome users!
You can get the 'Fruumo Tab Manager' for the Google Chrome web browser from over here.