PC gamers often come across an issue where they have to format their system because of numerous reasons, malware, Windows got corrupted, viruses etc. That's that time we realize that those hundreds of hours of playing and saving is going to get ruined. And starting over from scratch is going to be very frustrating. Not to worry as we have a solution; it's called 'GameSave Manager'.
GameSave Manager is free application that works with all windows based operating systems, x86 and x64. As the name suggests, it gives you the ability to easily backup, restore or even transfer your saved games.  GameSave Manager is on 7.6mb (approx…) and you don't even have to install it, yes it's portable. Just unzip the file and run the app. Although you'll be given an option if you'd like to install the application into the system since some users prefer it that way.

As soon you run it, it'll start scanning your computer for supported saves. Depending on how many games are installed and your processor speed, it usually takes a minute to scan everything. It's user interface is pretty simple as well.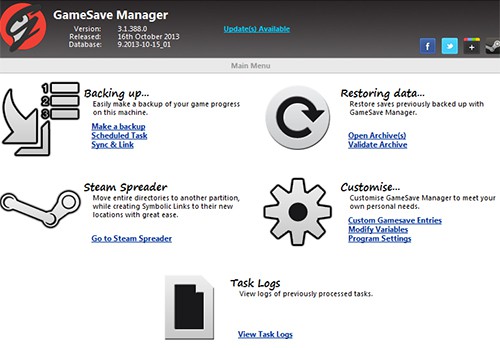 To make backup of your game saves, click on 'Make a backup' and it'll open a new window with all the supported, scanned games that you have installed. You can either manually select or click on select (or de-select) all to make a backup. After selecting, click on the blue icon, left to the red cross (top right). And it'll start the backup task.
Same goes for restoring those saved files. Go back to its main UI window and click on open archive, the one you saved later and you can easily restore your game saves. It's as simple as that. Another awesome feature we liked was its archive creation ability. You can use the '7z' archive (7-zip) format for greater compression which will help you save precious hard disk space.