Optimus 3D was the one of the first full 3D interface based android phone from LG and the good news is it has been rooted successfully on Android 2.3.5 Gingerbread firmware, however the root is only possible on V20x software version of LG Optimus 3D Gingerbread firmware and not for the recent V21 stock firmware. If you are running Gingerbread 2.3.5 having firmware version as V20 then this root solution is for you. You can find the software version from Settings app, general and about section. As shown in below screenshot.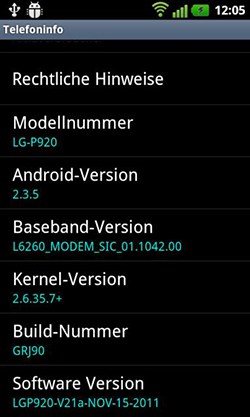 The root has been achieved by Dan Rosenberg who was also responsible for Motorola Droid 4 root. Here are the complete step by step instructions on how to root Optimus 3G Gingerbread firmware. Make sure you have backup of your data before proceeding for rooting also proceed at your own risk, we will not be responsible for any damage.
How to Root LG Optimus 3D P920 on Gingerbread
1. Download Megatron Exploit for Windows from here
2. Download and Install LG ADB drivers
3. Go to Settings -> Applications -> Development and enable USB Debugging mode
4. Connect your LG Optimus 3D to PC via USB
5. Extract the content of zip file download in step 1 and execute run.bat and wait for it to complete the rooting process, if rooted successfully you should see something similar to below screenshot on your command prompt.
Now enjoy your newly rooted LG Optimus 3D on gingerbread firmware.
Via: XDADevelopers