It is always a good idea to disable browsing history for some specific websites, like your Bank's website where you login frequently to check your account balance, pay your bills etc. or any website. If you have multiple users for your computer, your information might be at risk as there is a chance that you forget to logout and the next person who uses your computer can get access to your account. Although, Google Chrome offers incognito mode to browse the web without saving any data, majority of user prefer to disable history for specific websites. Thanks to History Site Blocker, you can take care of this task easily.
History Site Blocker is a useful extension for Google Chrome that allows users to disable history for selected websites without any hassle. Once installed, the extension will show you a notification and you must configure it to disable the history for any website you want.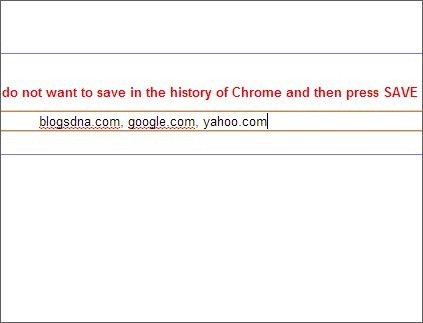 To configure, go to extension settings either by right clicking on any extension from Google Chrome taskbar and go to Manage Extensions page. Open History Site Blocker options and specify the websites you don't want to save in your browsing history.
However, do note that your browser will save any cookies or other browsing data from those websites. In conclusion, I must say that it is a very handy extension for Google Chrome that allows users to browse the web without saving history for any specific website.
Feel free to share your views if you tried History Site Blocker for Google Chrome.
Download History Site Blocker