When you are researching a topic online, you normally have to read lengthy web articles and scan them for the information you need. Mostly you can get the passages you want simply by searching for terms that you are interested. But the built-in finding feature within browsers lets you search for words and phrases one at a time. Fortunately for Google Chrome users, however, there is a tool that lets them highly custom words throughout a webpage; this tool is Pearls Extension.

Pearls Extension is an excellent browser extension for Google Chrome. This nifty tool helps you highlight custom words on the webpages that you view in Chrome. Installing the extension adds a blue sphere icon in your browser's address bar. Clicking on the address bar drops down a window where you can enter the words you want highlighted. In the "This page pearls" field, you can enter words that you want highlighted which are present on the currently open tab; words can be separated by commas and are referred to as 'pearls' by the extension. "This domain pearls" is a field where you can enter words you want highlighted across open tabs of the current domain; obviously, "Every page pearls" is a field where you enter words you want highlighted in all open webpages. The number next to the blue sphere icon indicates the number of detected pearls.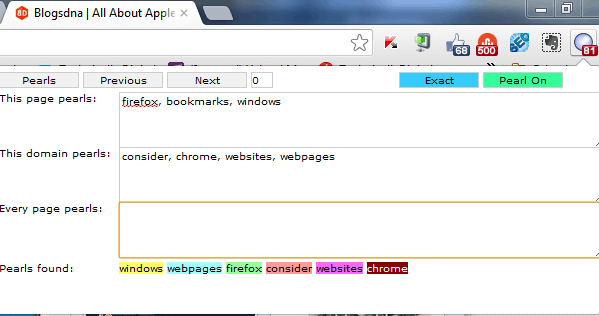 Each different pearl is given a unique color which makes spotting them on the webpage easier. You can simply scroll down the webpage to view the pearls or use the Next and Previous buttons in the top ribbon of the extension's drop down window.
Through simple highlighting, this extension helps you get the information you need from a webpage in a faster manner.