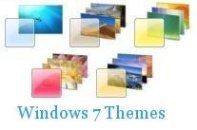 Windows 7 Beta 1 is released now and first thing which you may want to do after installing Windows 7 beta 1 is to change Windows 7 themes. We had posted the trick to get Windows 7 hidden themes which are basically country based Windows 7 themes and will be activated when you are user from those country.
By unlocking hidden windows 7 themes you can have 5 default themes + 5 hidden Windows 7 themes so total 10 windows 7 themes. The number 10 looks little small one and I am sure not all users will be happy with this default Windows 7 themes, well then don't worry ithinkdiff.com had got 22 cool windows 7 themes for you which are absolutely free for download. Click on any windows 7 theme to download and install.
Download Windows 7 Themes
Don't bother to run any of these Windows 7 Themes on Windows XP or Windows Vista as none of this theme will ever work.
Download Windows 7 themes from ithinkdiff.com